Banners are some of the most versatile and well-known signage used by both businesses and consumers. Their versatility is derived from the finishing options available, allowing for a range of display accessories to be used. These finishing options add functionality, durability, and ease of display to help you get the most out of your banner! We'll take a look at the most common banner options available for vinyl banners, fabric banners, and mesh banners. If you're already an expert on banner options, go ahead and click here to jump to the summary chart!
Banner Options
Grommets – Metal grommets are typically placed in the four corners of the banner, giving you anchor points to attach rope, string, hooks, screws and nails, or zip-ties. For larger banners, grommets are often placed every 2-3 feet. The frequent placement of grommets on large banners allows for more suspension or hanging options, holding the banner more firmly in place. Hang banners directly on a wall or suspend them from a ceiling, beams, balconies, or any overhanging surface. Grommets will allow the banner to be pulled taut when they are placed in the four corners and the banner is hung properly.
Check out our past blog post on grommets to learn more about these nifty anchor points!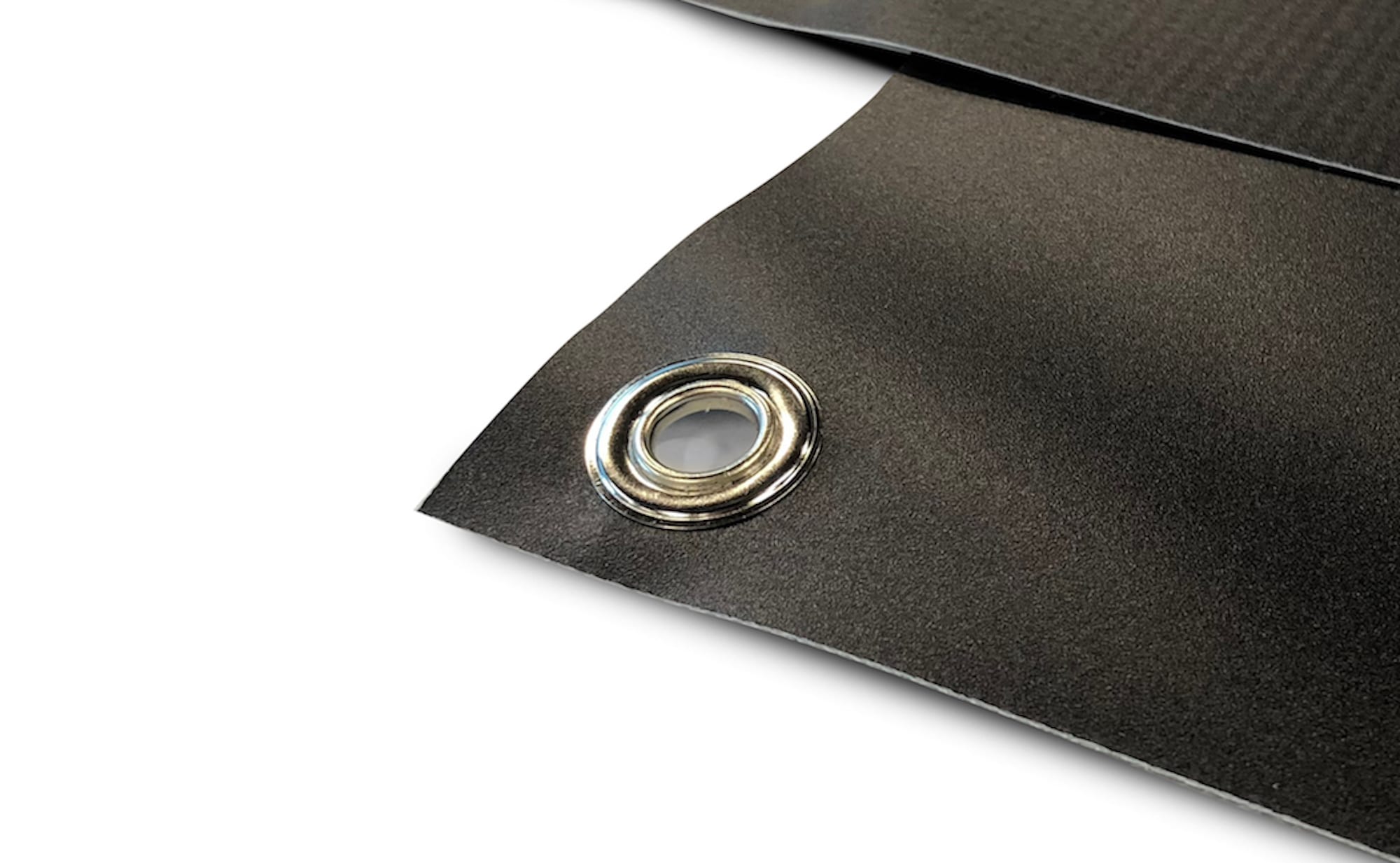 Welded Hems – What are welded hems? Anything with the word 'welded' should imply incredible strength; and that holds true with welded hems on banners. Welded hems—also known as hemming—are part of all four edges of your banner, increasing its durability, which is especially important for banners that have grommets. The hems are 'welded' using a heat press, creating an incredibly strong bond and a smooth, crisp edge for your banner.
There's no need to worry about welded hems messing with your design – the hem itself is heat-pressed before the design is printed, ensuring that the continuity of the design is not affected.
Welded hems will give you the added assurance knowing the edges of your banner won't be torn or frayed when displayed. Tearing or fraying can occur over time when the banner is pulled taut without having the welded hem. This is why all of our banners come with a free welded hem (see exceptions below) and grommets—to enhance the tensile strength of the edges and the banner as a whole and not fear tearing or fraying when display over long periods of time.
Available on:
13 oz. Vinyl Banners (not available on 18 oz.)

Fabric Banners (stitched hem not heat welded)

Mesh Banners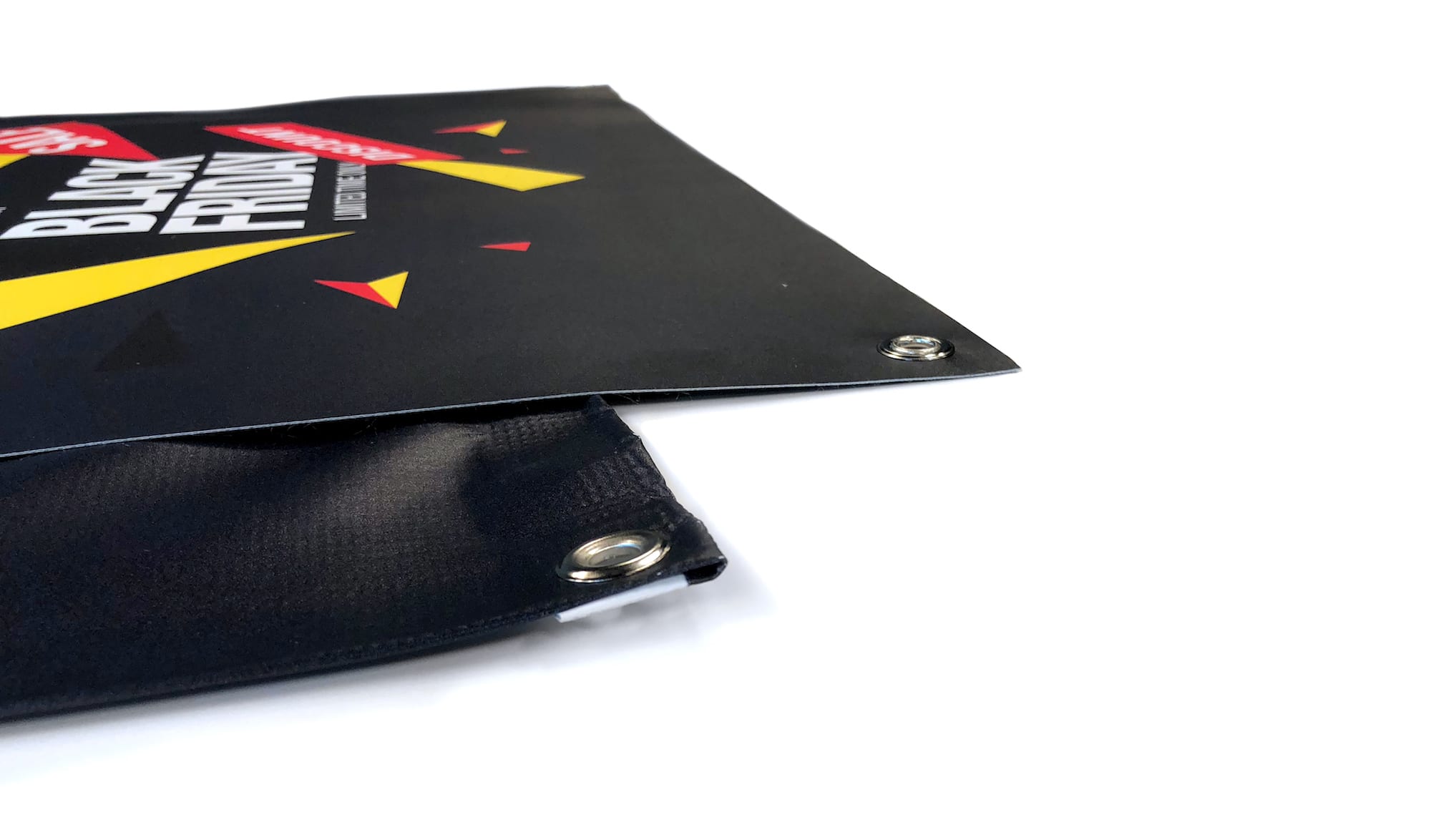 Flush Cut – Flush cut is a type of edge offered for banners. Instead of having a welded hem, banners with flush cut (or no hem) will have a clean cut around the edge. This means the material ends without additional sewing or folding; the name says it all—a flush edge is what you'll get when choosing this option. This cut is typically used for decorative pieces and banners that aren't going to have additional stress from being pulled at the edges.
Don't worry, a flush cut will not affect the quality of your printed design. Your design will extend up to the edge of the banner without any distortion or trimming of the printed image.
Banners with flush cut are typically hung using clamps, draped over awnings or tables, or placed in a frame—flush cut allows the banner to have a completely flat profile. Flush cut banners with grommets or pole pockets can be easily hung against a wall, on a pole, or suspended from a ceiling for an aesthetically pleasing display.
The 18 oz. vinyl banners require a flush cut because of the thickness of the material; creating a hem would result in a thick edge around the banner.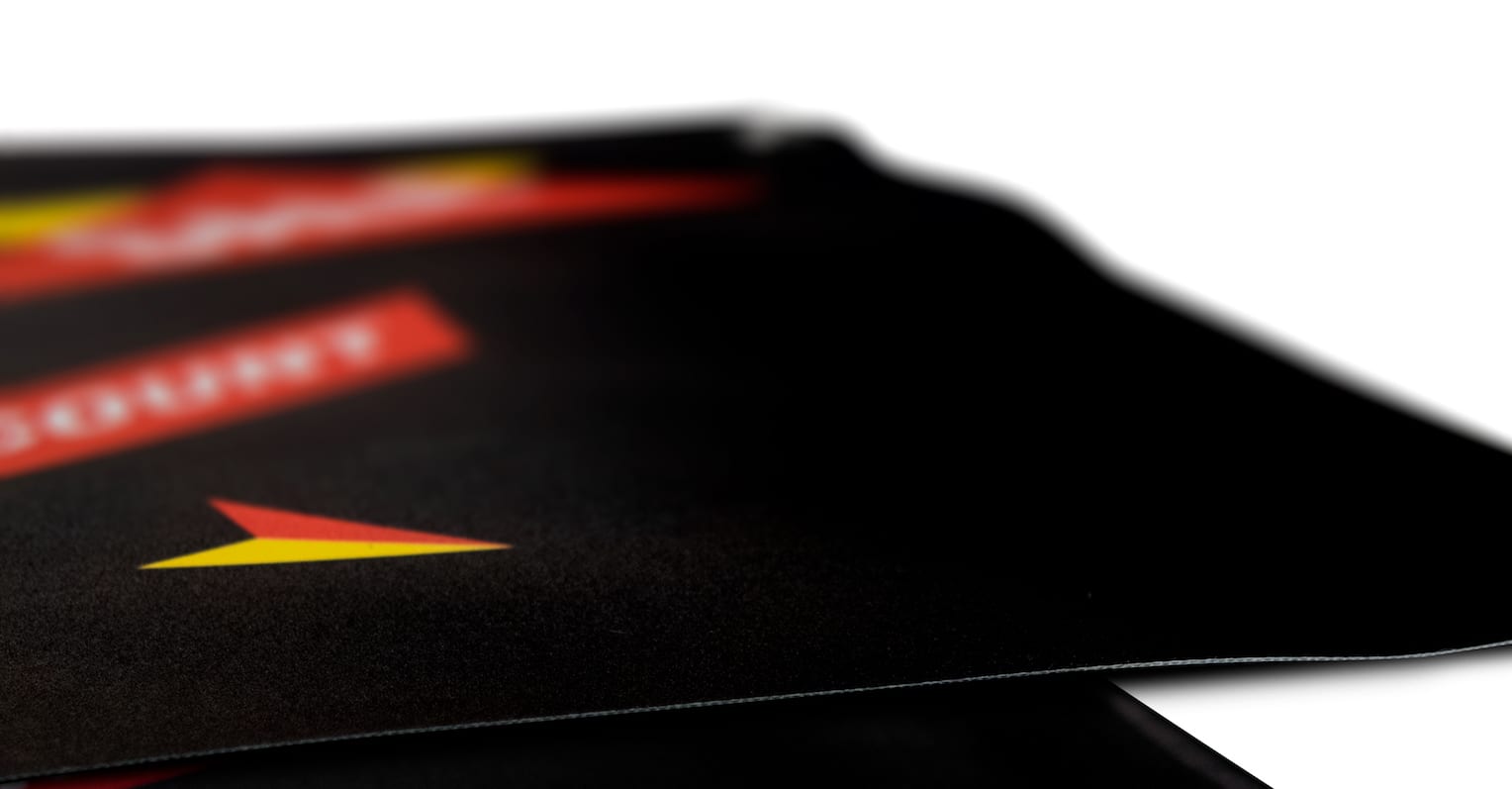 Available on:
13 oz. and 18 oz. Vinyl Banners

Fabric Banners
Pole Pockets – Pole pockets allow poles to be inserted into the banner material in order to display it. Pole pockets can be included on the top or top and bottom of the banner. The pocket itself is the same material as your banner, folded over to create the pocket and sewn using industrial strength threading.
What's the point for pole pockets if grommets exist? Glad you asked! Pole pockets allow banners to be easily carried in parades, processions, and any event you need to mobilize your banner. If you don't want to carry around your banner but still want to utilize pole pockets, consider using them to protrude banners from walls or posts (similar to how a flag would hang). String or rope can also be threaded through the pocket to fasten the banner to objects and surfaces such as fences. Pole pockets are also a common feature for custom pole banners that you see on city streets and school campuses.
Pole pockets require a 3" fold of the banner material. Our design tool will indicate where this area is when you select pole pockets by displaying blue dotted lines on the artboard (our free design services can also help you make sure your banner turns out the way you want it to). Selecting pole pockets will also remove the options for a welded hem and grommets on vinyl banners but not fabric or mesh banners. Flush cut edges will be included when including pole pockets on your banner.
Available on:
13 oz. and 18 oz. Vinyl Banners

Fabric Banners

Mesh Banners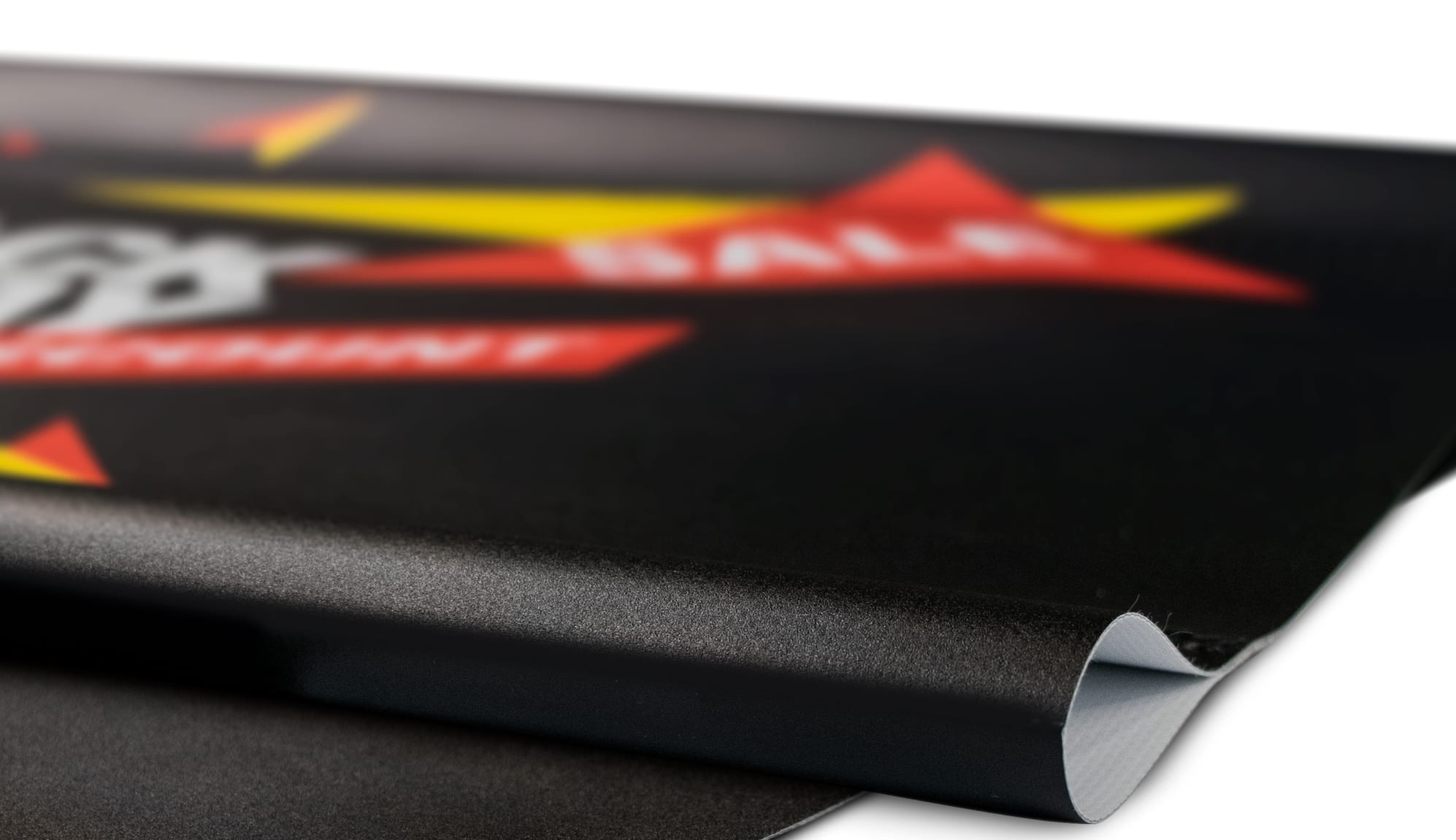 Glossy or Matte? – Our vinyl banner material comes with a semi-gloss finish. However, our ink is more of a matte finish so anywhere you see white will be semi-glossy and anywhere there is ink will be matte. That means if your banner is full color with no white, it will be completely matte. The material of fabric and mesh banners, on the other hand, come naturally matte. Adding your custom design to a fabric or mesh banner will also have a matte finish.
Options Galore
There are plenty of different banner options out there, with some affecting what other options can be included on your banner. We've included a helpful chart that shows which options are available for each banner type as well as what option limitations occur when selecting certain ones.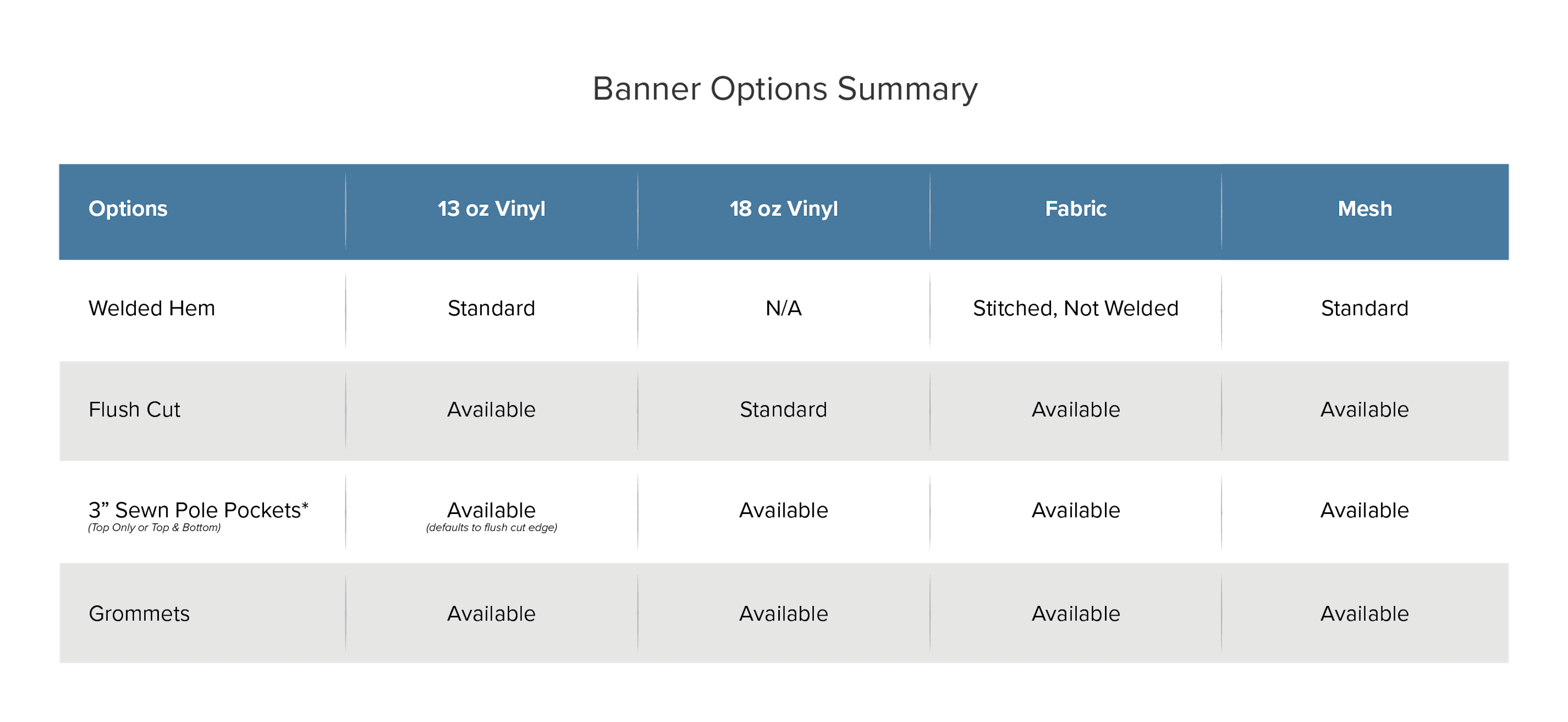 Still need help choosing the right banner options for your display needs? Give us a call at 888-222-4929 and we'll assist you in creating the perfect banner for your next event or special occasion!