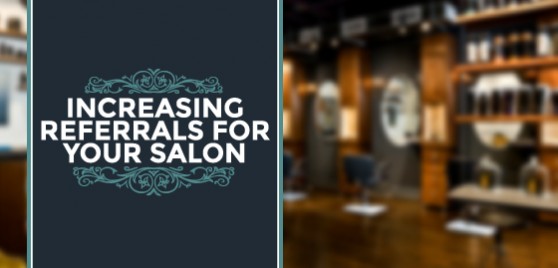 In the salon business, referrals are everything. According to some studies about 80 percent of salon owners say most of their clients are from referrals. But it's safe to say most salons aren't effectively getting referrals. In this post we'll explore how to implement a referral program and increase referrals for your salon.
Referrals most often come through word of mouth recommendations of your current client base. Thus, in order for you, as the salon owner, to increase your referral customers, you first have to keep your current clients happy. While this may seem obvious without doing it well the rest of the referral techniques described below will be worthless if you can't keep your current clients happy. When they're happy, they're more likely to refer you and your salon to their friends and family. In addition to making and keeping your current clients happy, actually getting referrals from them is going to take some strategic thinking and serious effort.
The effort required to get referrals from your customers will be well worth it in the end. The monetary impact of a good referral program can literally change the fortune of a struggling salon. (see the example below) In order to reap the rewards of an effective referral program follow the steps and tactics below.
Monetary Impact of a Referral Program
Before implementing a referral program salon owners should ensure that doing so is in fact going to be profitable. Ultimately the new business generated by your referred customers needs to be greater than any costs required of the program. Let's look at a quick example.
Let's assume that a salon has 100 regular (and happy) customers. These customers visit the salon 6 times a year and on average spend $50 per visit. This means currently the salon makes $30000 in revenue from these customers. (100*6*50).
The salon owner implements a referral program that costs roughly $10 per new customer due to discounts and freebies offered to the existing customers for referring new business. Let's assume that only 25% (an intentionally low number) of existing customers actually make a referral, that the average customer refers 1.5 people and that new customers also make six visits a year and spend $50 per visit.
The results of such a referral program would be 38 new customers (25*1.5) and $9120 in net revenue. (38*6*40). This would represent a 38% increase in your client base and a  30.4% increase in annual revenue. Any salon owner would love that kind of growth! While this is a simplistic example it goes to show the kind of monetary impact a referral program can make for a salon trying to make more money.
Create A Happy Client Base
Before we dive into specific methods to use in your referral program I can't stress enough that having a happy client base is absolutely necessary to a successful referral program. If you currently have an unhappy client base your efforts should be focused on customer satisfaction before you even think about, let alone attempt, to implement a referral program.
On the other hand if you do what your clients ask you to do and do a great job of it, they'll be happy. Whether you cut or color their hair, wax their eyebrows or give them a manicure, if they love what you do then they'll want to brag to their friends about how great you and your salon are. Be sure to really listen to what your clients want and then respond to those requests to meet and then exceed their expectations. When you sincerely listen and then exceed expectations they will be much more likely to refer their friends, family and co-workers to your salon. You can then implement some of the tactics described below.
Lifetime Value of a Customer & Sufficient Incentives
The first step of any good referral program is ensuring that it will be profitable. As mentioned above the costs of the referral program needs to be offset by any future revenue generated by the actual referrals. In order to ensure profitability salon owners must estimate lifetime value and properly incentivize customers.
The beauty of a referral program is that often the lifetime value of a customer allows incentives to appear, and even actually be, significant. Too often salon owners, and many other store operators for that matter, are too stingy with the incentives offered for a referral. Salon owners need to know three things before setting up incentives for referrals. These are: average annual number of visits of a customer, average spend per visit and average length a customer stays with the salon. Knowing these things will allow a salon owner to estimate a lifetime value figure of a customer.
For example, a customer who spends $50 per visits, visits 6 times a year and is with the salon for four years is worth $1200! Thus, giving a current client 10% ($5 if the average spend is $50) off their next haircut is beyond stingy. If you're confident in your estimated lifetime value of a customer salon owners can be much more generous for referrals. In the example above, let's say each referral was rewarded with $75 in store credit. If a current customer provides 2 referrals they've just saved any costs of salon visits for the next 6 months! You, as a salon owner, know that even if you give $150 you are going to get two customers that in total produce $2400 in revenue. So while the $75 referral bonus may seem expensive at first it is actually a very good bargain!
Thus, the first two critical steps of setting up a referral program are accurately estimating customer lifetime value and putting incentives in place that truly motivate customers to give referrals.
Ways to Incentivize Customers
There are a number of different ways to incentivize/rewards current customers for giving you referrals. Your program can include offering a discount on certain services or offering a free service after so many referrals. You could also give a small gift bag of salon products after so many referrals or after their first referral. Whether the reward is a discount on services or an actual product make sure, as noted above, that it is generous and significant enough to motivate your current clients to follow through on the referrals yet not so much that it makes your program unprofitable.
Another great way to incentivize referrals is through promotions. Doing a "refer a friend" promotion where your existing client and the client they refer get some kind of special deal for acting on the referral is a very successful tactic to use. For example, you can give the existing client a free salon product or service or a discount on their next visit, and you can give the new customer a discount on a certain service or product. This way you're not only incentivizing the referrer but the actual customer-to-be. You could also always offer some kind of special discount to all of your first-time customers regardless of whether they are referred or not.
Make sure that your incentives – services or products –  not only work from a short-term and long-term financial perspective but also that they are simple. An overly complicated referral program is as bad as not having one at all! While the planning and calculations that go into a referral program may be extensive and detailed, the actual customer facing referral program should be extremely easy to understand and use.
Promoting Your Referral Program
The next important step in implementing a successful referral program for your salon is to promote it. There are several ways to effectively promote your program.
Email – Hopefully you've both obtained your current customers' email addresses and have their consent to send the occasional marketing related email. If you're doing both of these things and providing value for them through your email marketing this can be an effective way to both introduce and increase referrals. Your email can lead to a landing page on your website that has the full details, direct them to ask about it in the store, have them print off a referral card or all of the above. Just remember to keep it as simple as possible in order to get more people to take action.
Social Media – You can use your social media platforms in various ways when it comes to your referral program. It can be a great way to announce a new program, inform new customers acquired through other channels that you have an existing referral program and celebrate/acknowledge recent successes. Find the platform (Pinterest, Instagram and Facebook work great for salons) that works best and start engaging your customers to give your referral program a digital boost.
In-Store – In store promotion will be critical as there is no guarantee that current customers will open your email or engage with your salon on social media. But if they are truly happy they will undoubtedly be visiting your salon in the near future. Thus, you should be promoting your referral program in at least two different ways within the salon.
First, stylists should make sure to communicate this to clients not only during the appointment but at checkout as well. Just make sure that in both cases it is not overly pushy nor unclear. A simple mention and quick overview of how it works should be enough for those that will be willing to give referrals.
Second, in store signage is a must. Not all stylists will remember to tell customers and even then it may not be communicated well or even remembered by the customer. Window decals on the mirrors or store front and repositionable wall decals throughout the building and near the cash register are two great example of in-store promotion. These signs should concisely communicate that a program exists, what the rewards are and how to get started.
How to Manage Your Referral Program
While it's critical to properly plan and promote your referral program the administration of the program itself is just as important. The overriding principle of the managing your referral program is that it should be simple for both the salon and the customers.
Referral Cards – Many salons choose to use a simple referral card much like discount hair cut chains use to promote a free haircut after "x" number of paid haircuts. The major advantage of using a card like this is the low cost. There are a number of drawbacks including possible fraud, inability to measure the success of the program, lost cards, confusion for the employees and clients, etc. I'd recommend that if you're serious about implementing a successful referral program that simple cards like this be avoided.
Software – Another way to manage referral program is through an actual software program. There are a variety of them out there that make management extremely easy for salon owners. The major drawback of these are that they are the most expensive option of those listed. Salon owners should ensure that the referral system fits for a small salon and is not built more for a purely online or e commerce type business. Referral Candy, Inivitebox and Ambassador are all examples of this type of software but are geared towards online businesses.
App – Arguably the best way to manage your referral program is a hybrid of the referral card and a software program. Using a mobile app will allow not only for easier management for the salon employees but also gives customers an easy way to verify what they've done and and potential incentives coming their way. In most cases if a software platform can be found it most likely will have an app component to it. Though undoubtedly an app expressly for this purpose is out there.
Since most of your salon's new business will most likely come from referrals, it's completely worth your time to create and use some kind of referral program. By properly planning, incentivizing, promoting and managing it your salon will reap the great financial rewards of maximizing referrals from your current customers.