It remains the unofficial start of summer: Memorial Day. And, of course, it's more than that – it's the day we honor those who have died in military service to our country. Once commonly known as Decoration Day (owing to the practice of decorating soldiers' graves with flowers), Memorial Day was created by an act of Congress in 1971 and placed on the calendar on every final Monday in May.
If your business chooses to be closed on Monday, May 25th, ideally you'll let customers know your intentions as early as possible. Sometimes, however, that's just not realistic – and you then end up scrambling to produce a well-made sign that will inform the buying public about your decision. Or maybe you just don't have the resources right now to order a custom sign.
Well, in either case, we can help! We're offering free, printable Closed for Memorial Day Sign templates, so you can quickly get a sign up to alert your customers and passersby that your business will not be open this Memorial Day.
All you have to do is go to the page linked to above, and choose from any of the professionally designed templates our Signs.com design team has created. Within the hour (usually within a matter of minutes), we will then email the template to you.
In this email, you will receive a link to download the PDF file of the template – you can use this file to print the sign on your own office or home printer. And by the way, if your business will be open and you need a quick "We are open" sign for Memorial Day, we have added a few templates containing that message, too!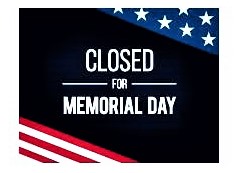 Pinpointing Your Best Locations
So, you have downloaded your template and you've printed out several Closed for Memorial Day signs on your personal printer – now, where should you place them? Every business and store will be different, of course, but here are a few suggestions to think about:
Door/entrance/vestibule – Perhaps the most logical location, a sign placed here is visible to all entering (and/or leaving) your store, ensuring they won't be surprised if they had planned on returning on Memorial Day and picking up a few more items.
Storefront window – Even if passersby don't happen to come into your store, they'll still be able to see the sign in your storefront window. In fact, they might be more likely to enter your store right now, since they know Memorial Day shopping won't be an option.
Cash register/checkout – Everyone loves return clients, so make sure your paying customers are aware of your Memorial Day plans – just in case they had planned on shopping on the 25th. A sign at the register is sure to catch their attention.
Interior walls – If you have some open wall space, particularly if it's toward the front of the store, a Closed for Memorial Day sign can be effective here. Another good possible location: a dressing room door or adjacent space next to the dressing room.
Displays/racks – A small sign set in a frame and placed atop a display or rack, particularly when next to sale or special merchandise, will surely get shoppers' attention. It also serves to send the subtle message, "Buy it now (because we'll be closed if you want to buy it on Memorial Day)."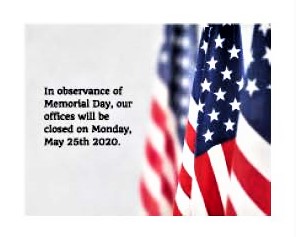 Taking a More Custom Approach
Keep in mind that if you require a longer-lasting, custom sign, the Closed for Memorial Day template designs available to download and print for free are also available to be printed onto a variety of materials. You can choose any custom sign by starting on our homepage.
In fact, when you receive your Closed for Memorial Day sign template, you'll also receive a 10%-off discount code that's good for a one-time purchase of any sign(s) we offer. Furthermore, when signing up to receive your template, you can also choose to opt into Signs.com's email list; subscribers to our emails will receive exclusive deals on relevant products in the future.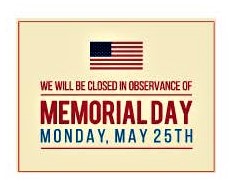 On this year's Memorial Day, perhaps more than any other in recent memory, you may be able to reflect on having experienced significant and unexpected challenges to your business, to your customers, and to you personally. Here at Signs.com, we hope that our free Closed for Memorial Day sign templates can, in one small way, help lighten the load!