Free Memorial Day Sign Templates
If you need a quick and easy way to inform your customers of your Memorial Day plans, you have come to the right place.
Whether you are closed for Memorial Day or staying open with a special sale, use one of these free printable template signs to let your customers know.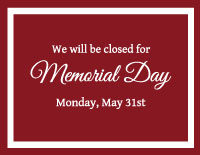 Have this free template emailed to you
We will email this template to you so you can print it right away (the email should arrive within 15 minutes). We'll also throw in a coupon for 10% off your next sign purchase!
Navigating Memorial Day as a Business
Memorial Day – the last Monday in May each year – has traditionally always been a challenging day for retailers and any business open to the public.
On the one hand, many Americans are off work that day and so they certainly have the opportunity to shop. Plus, savvy shoppers recognize that it's nearly the end of spring and start of summer, so retailers are often eager to clear their shelves and racks of spring apparel and post-winter inventory to make room for summer goods.
On the other hand, however, because Memorial Day is a Monday, many shoppers do their shopping on the days leading up to the holiday rather than on the day itself. Plus, Monday tends to be the day many families reserve for their family get-togethers, cookouts, pool parties, etc. And, finally, Memorial Day has the misfortune of falling between two of the biggest shopping holidays of the year, according to the National Retail Federation – Mother's Day (the second Sunday in May) and Father's Day (the third Sunday in June) – all of which tends to provide consumers with a "shopping respite."
So retailers and other businesses must choose wisely when making the decision to remain open Monday, May 31st or to close that day. In 2021, of course, that decision is made even more difficult due to COVID-19 concerns – will consumers have received their COVID-19 vaccines and race to go out shopping on Memorial Day in your area? Or will they be more cautious in their shopping habits?
If you believe that your business will be "shopper light" that day, but still want to remain open just in case (you'd hate to miss out on any rings of your cash register!), consider these two options:
-Remain open your usual Monday hours, but limit your staff that day to just the minimum number of employees. Can you, for instance, open, run, and close the store with just one or two employees?
-Reduce your hours on Memorial Day to just a half-day or so. Because family gatherings are typically scheduled for after noon, you would likely be safe opening only for the morning "rush" – you might even consider opening an hour earlier than normal.
If, however, you opt to close for Memorial Day, be sure you give your customers as much advance notice as possible – you don't want to lose a potential sale if they happen to show up at your storefront on the 31st. Signage can go a long way to help communicate your open/close intentions that day, and that is why we have decided to offer these free downloadable templates. These templates will allow you to quickly put up a notice on what your business' plans are for memorial day.
Looking for a permanent sign? We can help you with that too!
We offer a large selection of large format signs like banners, rigid signs and flags. We can also create small format signage for your business as well.
Frequently Asked Questions
Should I Close My Business for Memorial Day?
As we discussed above, it's a question that many companies – particularly retailers – ask themselves each year. Some choose to close in order to have the time on that day to honor and mourn military personnel who have died in battle, while others close so that they can also spend time with family and friends. Other shops prefer to remain open to make their goods and services available to their customers – even if it's for just limited hours that day. We have free Memorial Day templates for both closed and open options.
How Do I Download My Free Sign?
Simply scroll through the above templates, and click on the image(s) that you choose to print – we'll immediately email you a PDF file of the template you've selected. Once you've downloaded the template, just print it on your office or home printer. Along with your free sign template, you'll also receive a discount code for 10% off your next purchase – feel free to use this discount for any custom sign you might purchase from us in the future. Plus, when entering your email address, you can also opt in to our email list, enabling you to receive future discounts and offers here at Signs.com. .
Can I Download Additional Free Memorial Day Signs?
Yes, you can request as many of the Memorial Day sign templates as you might need – for various store locations, various entrances, or even for various locations within the store (see below).
Where Should I Place My Sign?
The best place to hang a closed or open for Memorial Day sign is typically on your store or company's front window or main entrance – be sure to place it in a spot that's easily seen and, ideally, at about eye level. To give shoppers advance notice of your Memorial Day intentions, you can also place additional signs in your store's interior prior to the holiday – at the checkout, on interior shop walls, in store windows, etc.
Can I Customize My Free Sign?
Sorry, no custom options are available with our free Memorial Day signs. However, you'll find quite a variety of designs to choose from – our design team has created more than two dozen templates that we think will work well for just about any business.
Can I Use the Same Sign Next Year?
That depends upon which free template you choose – as you can see, some of templates do not list the specific date, so those could indeed be used again. Keep in mind that Memorial Day is always the final Monday in May, so the actual date will move each year – in 2022, for instance, Memorial Day will fall on May 30th. Memorial Day will not be held again on May 31st until the year 2027.
My Older Customers Refer to Memorial Day as 'Decoration Day' – Do You Have Decoration Day Signs?
Although 'Decoration Day' was indeed the term once used for the day honoring fallen soldiers (and decorating their graves with flowers), Congress officially established the holiday as Memorial Day in the early 1970s, and most people now refer to it by its current name. We are not offering any of our free templates with the outdated Decoration Day name.
What if I Want to Create a Permanent Sign?
On our homepage, choose the right type of sign for your needs. Then, use our custom design tool to create your sign's design. You can also upload your own file to the design tool, or use one of our templates for the sign. Another option is to utilize our free design services, where our professional designers will create a design for you.