Let's face it: Labor Day isn't the most glamorous of holidays. It doesn't have all the wiz-bang of July 4th. Nor the enthusiastic flag-waving that you'll find on Memorial Day. You're certainly more likely to buy a greeting card for Valentine's Day, Mother's Day, or Father's Day. Plus, many people view Labor Day as the end of summer – which can lend a bit of a melancholy feel to the day.
But here's why the day is important: Labor Day is set aside on the holiday calendar to honor labor and the American worker. Set to be celebrated on Monday, September 7th, Labor Day was first recognized as a federal holiday in the 1890s, and is always celebrated on the first Monday of September in this country (ditto in Canada, by the way, where it is Labour Day). As the U.S. Department of Labor states on its website, Labor Day is "a yearly national tribute to the contributions that workers have made to the strength, prosperity, and well-being of our country."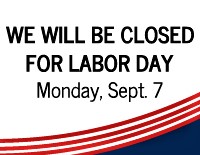 Will you close your store or facility for Labor Day this year – or choose to remain open? No matter which you decide, we're here to help – our free, printable Closed for Labor Day sign templates enable you to quickly post a sign to alert customers and passersby that your business will be closed (or open) on Monday, September 7th.
To get your free Closed for Labor Day sign: Go to the special template page we've set up on our website. There, you can choose from any of the professionally designed templates our Signs.com design team has created. Within the hour (typically sooner), we'll then email you a link enabling you to download a PDF file of the template. Use this file to print the sign on your office or home printer, and you're all set.
Where to Place Your Free Sign
You have downloaded your template and used your personal printer to output one or more Closed for Labor Day signs – now, where to place them? What follows are just a few of the many possibilities:
Store/facility door and entrance: Placing a sign here ensures it's easily visible to anyone entering, leaving, or simply passing by. If you have a vestibule or foyer, place signage there as well.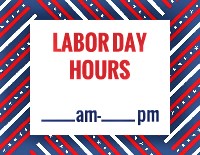 Storefront/front window: The ideal place to catch the eye of a passersby – although you need to be careful to not "overload" your storefront window with too many messages that will distract from each other.
Checkout/cash register/checkout lane: A sign at the checkout is sure to be seen. If you have created a checkout lane for social distancing purposes, consider placing a sign there, too.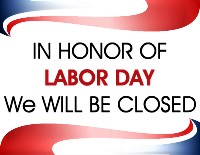 Interior walls: Nearly every store or facility has at least some open wall space (ideally toward the front of the store) where a Closed for Labor Day sign can settle in nicely. Don't neglect your "power wall" – the wall you consider the most viewed wall in your store.
Displays and racks: Highly visible displays are another good spot for a Closed for Labor Day sign, as long as they don't take away from the display itself.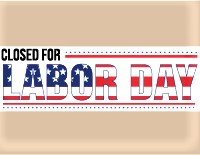 Customer service area: This is a natural space for a Closed for Labor Day sign, as a customer waits for you to retrieve customer or product data, or perhaps wrap a gift.
Restrooms: If you have public restrooms, consider a sign on the entry door as well as on an interior wall.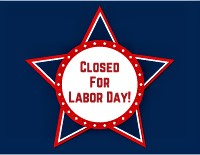 Employee lunch areas/stock rooms: Your employees likely are already well aware of your plans for Labor Day, but reinforcing the message never hurts.
More Signage Options
Do you need a longer-lasting, custom sign? We can help you there, too: Our Closed for Labor Day template designs are also available to be custom printed onto a variety of materials – you can choose any material on Signs.com.
When you receive your Closed for Labor Day sign template from us, you'll also receive a 10%-off discount code good for a one-time purchase of any sign(s) we offer. Plus, when you sign up to get your template, you can opt into Signs.com's email list – as a subscriber to our emails, you'll receive exclusive deals on relevant products in the future.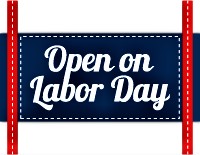 Whether you choose to shutter your facility's doors for Labor Day 2020, or opt to keep them open, we look forward to assisting you with your signage needs!