Free Printable Sign Templates for Labor Day
Labor Day is quickly approaching on September 6th, 2021. These free downloadable Closed for Labor Day templates are perfect for all you business owners that need to display a sign that tells your customers you are closed for the holiday. Consider this a free gift from the team here at Signs.com!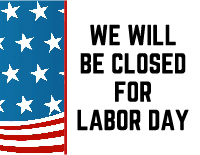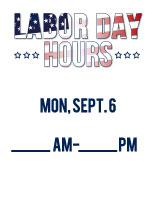 Have this free template emailed to you
We will email this template to you so you can print it right away (the email should arrive within 15 minutes). We'll also throw in a coupon for 10% off your next sign purchase!
Labor Day and Businesses in the United States of America
Labor Day 2021 will take place on Monday, September 6th. The holiday always takes place on the first Monday of the month of September. Labor Day has been a federal holiday since 1894! It was set aside to honor the workers of the United States of America. The holiday is still celebrated for the same reason today, as most businesses with labor workers will give their employees the day off if they can.
While many businesses give employees the day off on Labor Day, many others in consumer products and service sectors use Labor Day as a special sale holiday. Most car dealerships, clothing retailers and furniture stores take advantage of the holiday and offer deals over the weekend.
As a business owner, it is up to you to determine how to handle labor day for your employees. Closed or open for the holiday are not the only options either. You can have a hybrid approach where you reduce your hours or modify your schedule.
Looking for an actual sign? Signs.com has all of the signs you need!
Whether you are planning on having a big sale or are closing your doors for Labor Day, start preparations now by ordering a professional, 100% custom sign! Order your custom sign or decal today and we'll have it shipped out the next business day. .
Frequently Asked Questions
Labor Day Signs FAQ
Are these closed for Labor Day templates really free?
Yes, of course! We created these free downloadable templates for businesses that were in a pinch and needed a sign immediately. Even with our next day production system, it still takes at least a day or two for the sign to arrive if you order an actual sign. If you need something right now because Labor Day is tomorrow, then this page is perfect for you. Signs.com loves our customers, so we wanted to provide a free resource for all of you!
How do I select and receive my free printable template?
First, click on the template that you would like to download and print. Once you click on the template, you will be prompted to enter an email address that we can send the template to. Enter your email address and we'll send you a pdf file of the design that you selected. Download the pdf and print it using your local printer.
Is my free sign customizable?
These free downloadable templates are not customizable. If you would like a custom sign, you can order a permanent sign on Signs.com.
Where should I display my free sign?
It is important to display your sign in a place that any customer would see it. The number one place that these templates are displayed is on the window of the front door of your store or shop. Other common display places are front windows and back doors/windows. The most important thing is to make your sign highly visible for anyone passing by.
How many templates can I download?
You may download as many of these free templates as you would like
How long will my free sign last?
Since your sign is likely going to be printed on a normal piece of printer paper on your local printer, it won't last long. These are for temporary signs that should be displayed for a few days or a week at most. After that point it will begin to look worn out. If you would like a long term and permanent sign, order one from Signs.com!
If I need a permanent sign, how do I create that?
Signs.com offers a few options on how to create a sign that you can use for years to come. First, we have our state of the art design tool. Using the design tool, you can be the designer and create the sign of your dreams. You can also select templates like the ones on this page to add to the design tool. Second, you can simply upload a file. If you already have a file, or if you create your own using adobe products or canva, you can upload the file and order it. The third option is to use our team of professional designers and their skills. Contact our design team and they will create the design for you, for free!