Free Labor Day Sign Templates
Labor Day is quickly approaching on September 4th, 2023. These free downloadable Labor Day templates are perfect for all you business owners who need to display a sign that tells your customers you are closed for the holiday or have a special sale or announcement. Consider this a free gift from the team here at Signs.com!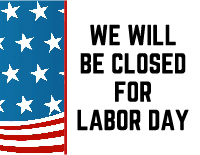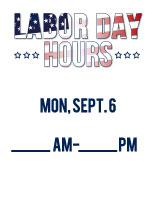 Have this free template emailed to you
We will email this template to you so you can print it right away (the email should arrive within 15 minutes). We'll also throw in a coupon for 10% off your next sign purchase!
Labor Day and Businesses in the United States of America
Labor Day 2023 will take place on Monday, September 4th. This holiday holds significant historical and social importance. It originated from the labor union movement, which advocated for better working conditions, fair wages, and reduced working hours during the 19th century. The labor movement was instrumental in improving the lives of workers and establishing labor rights, leading to the establishment of this dedicated holiday.
Today, Labor Day symbolizes a day of rest, relaxation, and celebration for workers across various industries. It serves as a reminder of the value and importance of the workforce in driving economic growth and prosperity. The holiday also marks the unofficial end of summer in the United States, with many people enjoying the long weekend with family gatherings, picnics, parades, and recreational activities.
While many businesses give employees the day off on Labor Day, many others in consumer products and service sectors use Labor Day as a special sale holiday. Most car dealerships, clothing retailers, and furniture stores take advantage of the holiday and offer deals over the weekend.
As a business owner, it is up to you to determine how to handle Labor Day for your employees. Closed or open for the holiday are not the only options either. You can have a hybrid approach where you reduce your hours or modify your schedule.
How to Use Free Labor Day Design Templates
Choose one of the free Labor Day design templates. Our online design tool will open up.
Customize the template as needed. Upload your images or logo, and add text, shapes, and colors.
Save your design and checkout your order. Not yet ready? Save your progress for another day.
Looking for an actual sign? Signs.com has all of the signs you need!
Whether you are planning on having a big sale or are closing your doors for Labor Day, start preparations now by ordering a professional, 100% custom sign! Order your custom sign or decal today and we'll have it shipped out the next business day.
Frequently Asked Questions
Labor Day Signs FAQ
How are Labor Day signs different from other types of signage?
Labor Day signs typically have designs and messages that are specifically related to the holiday, celebrating the contributions of workers and honoring their achievements.
Are your Labor Day signs durable?
Yes, our Labor Day signs are durable and made to withstand outdoor conditions, ensuring they last throughout the holiday period. With proper care and maintenance, some of these signs can be reused for years.
Do you offer free shipping?
Yes, we offer free shipping for orders $99 or more. This cost excludes rigid materials over 36" and orders that require freight shipping.
Can I upload my own design file?
Yes, you can upload your own design file. Click on 'Get Started' and choose Upload File on the pop-up.
What materials are used for Labor Day signs?
The materials depend on the specific product you choose. We offer adhesive vinyl, vinyl clings, cardstock posters, PVC plastic signs, all white coil coated aluminum signs, polystyrene gatorboard signs, 13 oz. and 18 oz. vinyl banners, polyester feather flags, and plastic A-frames.
Can Labor Day signs be customized with specific messages?
Yes, our Labor Day signs can be fully customized with your specific messages, graphics, and colors to suit your needs.
Are your Labor Day signs weather-resistant?
Most of our Labor Day signs are designed to be weather-resistant, making them suitable for outdoor use even in various weather conditions. We don't recommend displaying the posters and window clings in areas affected by adverse weather conditions.
What sizes are available for Labor Day signs?
We offer a wide range of sizes for Labor Day signs, both standard and custom, and you can choose the one that best fits your display needs.
Can Labor Day signs be used both indoors and outdoors?
Yes, our Labor Day signs are suitable for both indoor and outdoor use, giving you flexibility in where you want to place them.
How can I display a Labor Day sign?
Display and installation of your Labor Day signs depend on the product. For vinyl decals and clings, you stick it on the surface. For posters, plastic signs, aluminum signs, gatorboard signs, and vinyl banners, they can be hung using frames, double-sided tape, screws, or grommets. A-frames and feather flags are displayed using the provided stands.
Can Labor Day signs be reused?
Depending on the material and how they are used, Labor Day signs may be reusable for future years, especially if they are well-maintained.
Can I design my own custom Labor Day sign?
Of course! You can design your own custom Labor Day sign and upload it for printing.
How long does it take to create a Labor Day sign?
The production time for Labor Day signs may vary depending on the product type and quantity. When placing your order, you'll be given an estimated timeframe on the product page itself.
Are Labor Day signs affordable?
Our Labor Day signs are competitively priced, and we strive to offer affordable options for all customers.
Can Labor Day signs be used for personal and commercial purposes?
Yes, Labor Day signs can be used for both personal and commercial purposes.
Can Labor Day signs be used to promote sales or events?
Absolutely! Labor Day signs can be used to promote sales, events, or special offers during the holiday period.
Can Labor Day signs be used for community or workplace celebrations?
Yes, Labor Day signs can be used for community gatherings, workplace celebrations, and other events to commemorate the holiday.
Can Labor Day signs be illuminated or enhanced with lighting?
Yes, some Labor Day signs can be illuminated or enhanced with lighting to increase visibility, especially for nighttime displays.
Are there any guidelines for placing Labor Day signs in public spaces?
When placing Labor Day signs in public spaces, it's essential to follow local regulations and obtain any necessary permits to ensure compliance.
Can Labor Day signs be used alongside other decorations or banners?
Yes, Labor Day signs can be used alongside other decorations, banners, or displays to create a festive atmosphere.
How can I clean and maintain a Labor Day sign?
To clean and maintain your Labor Day sign, simply use a damp cloth and mild soap to wipe off any dirt or debris. Avoid using abrasive materials that could damage the sign's surface.
Are these closed for Labor Day templates really free?
Yes, of course! We created these free downloadable templates for businesses that were in a pinch and needed a sign immediately. Even with our next day production system, it still takes at least a day or two for the sign to arrive if you order an actual sign. If you need something right now because Labor Day is tomorrow, then this page is perfect for you. At Signs.com, we love our customers, so we want to provide a free resource for all of you!
How do I select and receive my free printable template?
First, click on the template that you would like to download and print. Once you click on the template, you will be prompted to enter an email address that we can send the template to. Enter your email address and we'll send you a pdf file of the design that you selected. Download the PDF and print it using your local printer.
Is my free sign customizable?
These free downloadable templates are not customizable. If you would like a custom sign, you can order a permanent sign on Signs.com.
Where should I display my free sign?
It is important to display your sign in a place where any customer would see it. The number one place that these templates are displayed is on the window of the front door of your store or shop. Other common display places are front windows and back doors/windows. The most important thing is to make your sign highly visible for anyone passing by.
How many templates can I download?
You may download as many of these free templates as you would like.
How long will my free sign last?
Since your sign is likely going to be printed on a normal piece of printer paper on your local printer, it won't last long. These are for temporary signs that should be displayed for a few days or a week at most. After that point it will begin to look worn out. If you would like a long-term and permanent sign, order one from Signs.com!
If I need a permanent sign, how do I create that?
Signs.com offers a few options on how to create a sign that you can use for years to come. First, we have our state of the art online design tool, you can be the designer and create the sign of your dreams. You can also select templates like the ones on this page to add to the design tool. Second, you can simply upload a file. If you already have a file, or if you create your own using Adobe products or Canva, you can upload the file and order it. The third option is to use our team of professional designers and their skills. Contact our design team and they will create the design for you, for free!