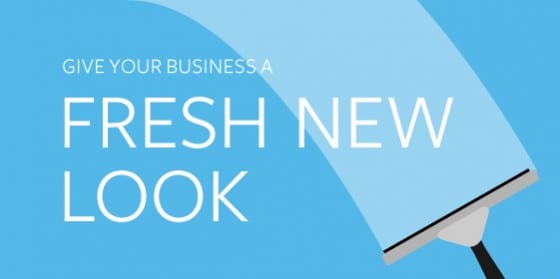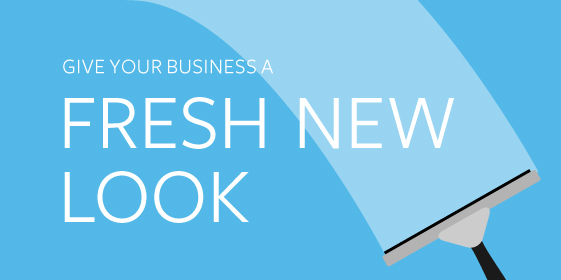 At the beginning of a brand new year, we're often compelled to think about fresh starts. A brand new list of resolutions is stuck to our fridges (which we've cleaned out and filled with healthy vegetables). We've put away our holiday decorations and cleaned out the closets at the same time. And the truly dedicated have frozen the credit cards in blocks of ice (or cut them up) in resolve to clear out the debt and make a fresh start financially.
Your business could use a fresh start this month, too. And often a fresh start begins with a fresh new look. Here are a 7 ways to freshen up your business without spending tons of money.
1) Wash Your Windows
The rain, snow and slush of the winter months sure do make a mess of your windows. If you have a retail shop, you probably have a window washing company come by every few weeks. But in-between, your windows might get pretty nasty. Increase the frequency of your service to keep your storefront looking great.
Some spaces don't have professional window washers, which can become a problem by January. Your employees function better with a little sunlight, especially during drab winter months. Clean your windows or hire someone for the task. You'll be surprised what a huge difference this makes.
2) Clear out Clearance Merchandise
There's nothing worse that Christmas clearance merchandise at the end of January. Resolve to get rid of everything by January 15th, then remove anything that's left from the store. Excess clearance racks just clutter your shop and give it a "discount" feel.
3) Fresh coat of paint
Painting your office or shop can be a major production; you have to move all the office equipment or merchandise and deal with the disruption of painters. But the result is often worth the sacrifice. Nothing brightens up a space more than a fresh coat of paint. If it's been more than three years since your last paint job, it's probably time. And if your walls are the colors of the eighties (think mauve, aqua or peach), you're waaay overdue.
In most areas of the country, it's not a good time to attempt an exterior paint job—the paint needs warmer temperatures to properly cure. For now, just focus on the interior.
4) Fresh signage
Are your signs drooping and sagging? Are they faded and worn? It might be time to look at a sign makeover. If you're currently using paper or cardboard signs, consider switching to a vinyl banner or corrugated sign. These materials hold up much better; they'll last longer and look better, too.
Go through your store or office and find all those little "temporary" signs you made with a piece of paper and a ballpoint pen. It's time to replace those with a more permanent sign.
5) Complete small repairs
How long has that "Door Broken—Please Use Other Door" sign been up? How about the restroom stall with the "Out of Order" sign on it? It's time to go through your business and make repairs where necessary.
You might also spend a bit of time looking for issues you haven't noticed yet. Is there a tear in your carpet or hole in your flooring? Are door knobs loose? Does moulding or trim need repair? Walk through your business with a critical eye and try to see it as a customer might.
6) Freshen up your logo
Lots of companies change their logos every decade or so. You don't usually want to make a complete change—your logo is a major aspect of your company branding. But a little update is a good idea if it's been more than 10 years since the last change.
7) Freshen up your website
When was the last time you did something new to your website? If it was built in 2003, it's time to revamp. If your "website" is one page that lists your hours and contact info, you don't really have a website. If your site has neon colors on it, has flash animation on the homepage, or has music that begins to play when the site opens, it's time to update.
Find a designer and get some opinions about what needs to be done to make your website look fabulous (and like it was created in 2013, not 2003). Hire a web developer if needed in order to have a fully-functional site.
We're looking forward to 2013, and hope you are, too!