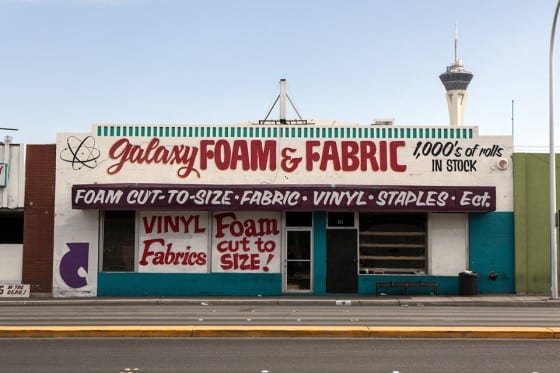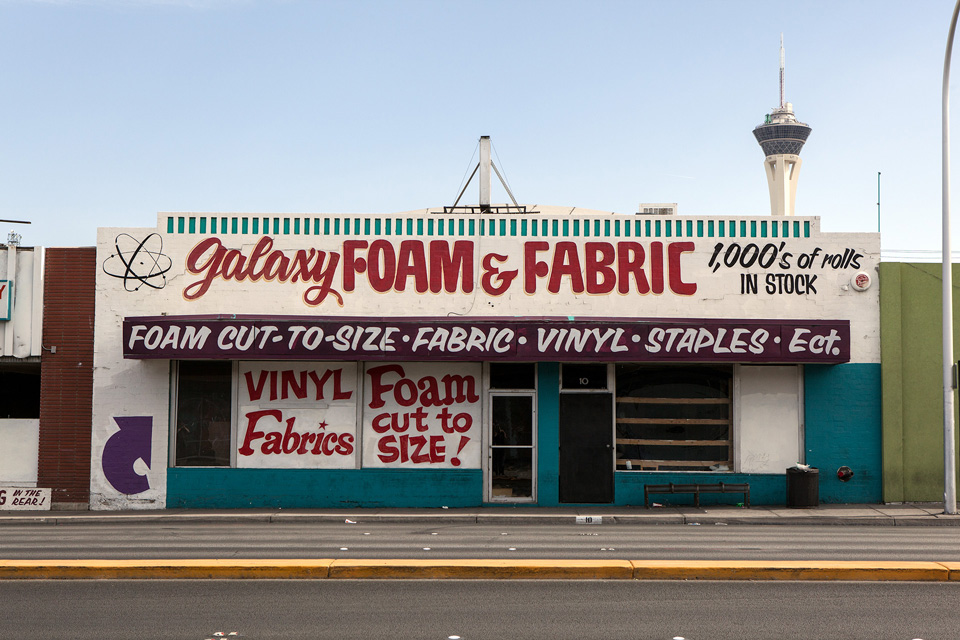 Update: 4/22/2013: While I was attending the 2013 International Sign Association's Sign Expo in Las Vegas a couple weeks ago, I had the privilege of sitting down with Bryan over lunch to discuss the latest happenings with the Vegas Vernacular. It had been about 6 months since our first interview and I wanted to get an update on the organization, what they are currently working on and what's next……oh and to get my print of the Desert Moon Motel I ordered!
Although I loved meeting Bryan at the art exhibit back in September of 2012, this time around was even better. We went to an incredible little place to eat, called EAT, in old downtown and just talked signage. It was the first time I had ever just walked around that area and it really gave me an appreciation for what Bryan and his team are trying to document. Once you get away from the Strip, you realize that a whole other world exists. Just walking and driving down Freemont Street – away from the tourist traps – you quickly realize what Vegas was truly about. It's not about the massive Casinos. It's about the hundreds of family owned motels and businesses that lined the streets. Each one with a unique story. Each one on the verge of disappearing.
Although they have accumulated around 50,000 images, there is still more to be done. Much of their current projects are based on immediate necessity. Not only are the smaller motels and building being closed down, they are being torn down. Bryan said that just knowing what properties are next is difficult. Then trying to get in to photograph them can be an even bigger challenge.
But, aside from the constant need to document the signs, Bryan and his team are right in the middle of creating a platform to catalog and display the images. The best part of the platform, they want to make it available to other organizations, in other cities, to allow them to accomplish the same goal as the Vegas Vernacular. A national platform for all to use as inspiration and education. They have also spent some time trying to track down the artists, like "King" Richard Harris, who actually created the hand painted signage. Their personal stories are as much a part of the dialogue as the signs they created!
For the most part, things continue at breakneck speed for the Vegas Vernacular and the ever changing landscape of Las Vegas sure keeps Bryan on his toes. Let's just hope he is quick enough to document it before it's gone! Read More