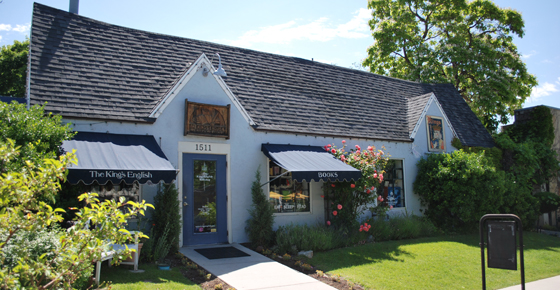 Betsy Burton opened The King's English Bookstore in 1977, with a business partner and just a few thousand dollars in start-up money. Now, more than 30 years later, the bookshop is a vibrant, vital part of the Salt Lake City community. I sat down with Betsy a few weeks ago to ask her about running an independent bookshop during this time of big bookstore chains.
What was your biggest challenge during the first few months?
Like most small business owners who start because they have a passion for whatever it is they're doing, they think that passion will carry them. They think they don't really need to know that much about business – the passion will do the trick. My learning curve was in the business department. I knew how to balance a checkbook and add and subtract. I knew about debt but I didn't really understand about capitalization, so we started out really severely under-capitalized and that impacted us for a long time because we stubbornly didn't want to borrow money.
Not borrowing had a good and a bad side, though. The bad side was that we were undercapitalized which meant that we grew slowly but the good side was that we grew organically so we never really got in debt. We added as we could afford to add and that's a good thing. But I think I could have struck a balance. I could have had a little bit of capital behind me.
You and your business partner were both single moms. How were you able to blend work and family back then?
The passion carried us along in the beginning. We took turns so that one of us would be home with the kids and one would be at the shop. I'd take all the books in their boxes home at night, unpack them and do the invoices at night after Mandy went to bed, and then bring them back in the morning. It was a struggle for awhile.
Later, after I had remarried, I had Nicky. My son has an intractable seizure condition and brain damage. He varies between ages four and twelve socially and cognitively. When Nick was diagnosed Mandy was thirteen and going through all the teenaged girl stuff. My partner at that time, Barbara, was invaluable. I had to be able to come and go. I could never do this alone.
When you first got started, did you ever think you'd hang out with the likes of John Irving and Isabelle Allende?
Oh, it was just thrilling. The first time I met Isabelle, she was so gracious, up-beat and vivacious. Over the years, as more and more people come, you get to know more authors. Some of the most unforgettable experiences I've had are just to get to know authors. When Richard Russo was here, he didn't really want to do anything fancy after the reading. He just wanted to go hang out with the booksellers and have a beer. He was just a real guy.
Most authors are so nice, kind. They appreciate booksellers because they really do understand that we're the ones that find the good books and start them going. And they're very thoughtful people. So it's been one of the great pleasures of my careers – meeting and getting to know authors.
Do you think there are special challenges being a female business owner?
No. It's the one thing you can do that makes you entirely free of all of that. Males don't get preference. Booksellers tend to sort out as people who don't think that way, so I avoided all of that. I started my business in the 70's when the environment was more hostile to women, but if you start your own business, you control your environment and you don't have to worry about it.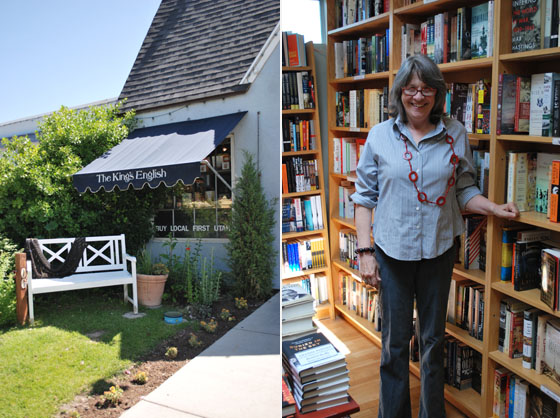 How do you find good employees?
Some are grad students, but a lot of our people are a decade older than that. We hire a lot of mothers who want to work part time. We're always looking for real readers, passionate readers, but also customer service is our big deal here. You can't have somebody that's a literary reader and is snobbish about it. You have to have people who are very accepting and very friendly.
How have the big box stores and Internet booksellers affected your business?
Periodically over the years, it's been a struggle. When the chains came in the 90's that was horrible. There was a time then when we weren't sure we would make it. But if I have one quality I think it's persistence.
Now with Amazon, we don't know where the business is going, because they're getting so many perks from everywhere at some point you just can't compete. They're devaluing books to the point that people won't pay for hardcovers anymore.
The King's English sells eBooks on our website. A lot of our customers use eReaders on trips. But they still read both – eBooks and print books. We want to be able to service our customers. We are much better at guiding customers to books than Amazon.
If people see you as the center of community, that's great for business, among other things. I think people are proud to shop here for more than just friendship or love of books; I think people value community. So I think we're on the map in a whole new way.
The neighborhood is really supportive. We do three story hours a week. People wheel their kids in. We do lots of readings. People come here and shop from ID, WY and MT. They'll come in and buy three boxes of books to get them through a season.
Independent booksellers from all over work closely with each other. It's a really warm and inclusive industry. Another independent shop will get an author that you really can't crack into, and they'll say to that author, "Oh you really need to go to this store." We all help each other. We're all underpaid and impassioned.
How else are you involved in the community?
I'm the co-founder of Local First, which takes on issues that have to do with protecting small businesses. We help businesses brand themselves as local, and we have 3,000 members so we have a very strong brand.
Local First is the other thing I've done in my life that I feel has made a profound difference. We're changing the way people look at the world they live in. The word, "local" has taken on more and more resonance. I feel like it's really important. We don't want to be a world full of corporations. We want a community. And that's really what Local First is about.
When I ask other business owners how they knew when they were successful, they often give me dollar amount – once they hit x-amount of profits, then they knew. For you, I suspect that's a different thing. So, what is success for you?
As long as you can make a little money, enough to get by comfortably and as long as you can pay health insurance for your employees so we can all live with dignity, that's success.
What we're doing here is such a community service, being able to guide people to books that they need at a certain time in their lives, being able to match one book they've absolutely found to be transforming to another one that they'll love just as much, those kinds of things you can't put a dollar amount on those. Being a community gathering place and bringing in authors from all over the world, those are things that give to this community. The older I get, the more important community is to me. I think it's why we're all here. So that's what pays me.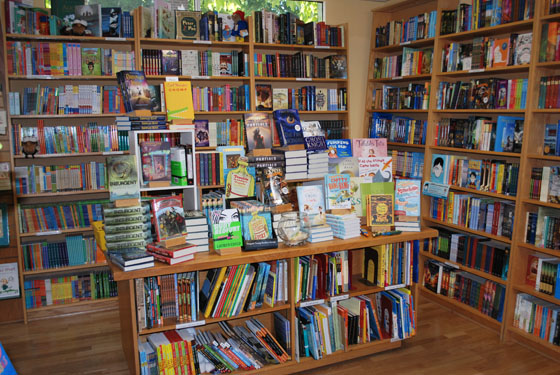 Thanks so much to Betsy Burton for spending time with me. If you get a chance, stop by The King's English on 1511 S. 1500 E. in Salt Lake City, Utah. You can also visit the shop's website at: kingsenglish.com.
To learn more about Betsy and the history of The King's English, read her book, "The King's English: Adventures of an Independent Bookseller."