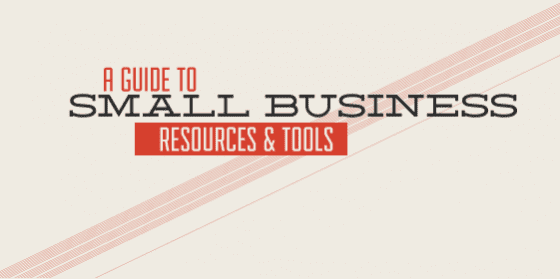 Working with small businesses we understand that many owners have limited budgets and time. While the need to wear many hats in a SMB or start up setting will probably never disappear, that doesn't mean that you can't look for software, tools, and applications to lighten the load. Look no more as we've compiled quite possibly the most comprehensive list of small business tools and resources out there. The list spans every imaginable department and discipline. These tools and resources feature both paid and free tools that will help any owner grow their business tremendously!
Let us know in the comments what tools or resources we might have missed so we can update our list! Last updated July 2013.

Accounting, Finance & Money -Accounting, personal finance, payroll and bill management and payment software and tools.
Advertising – Pay Per Click & Local Listings – Free local business listing websites as well as paid advertising platforms.
Analytics – Analytics software and platforms for big and small businesses.
Building Websites – A variety of website builder software platforms or websites that offer easy to build websites.
Business Development – Business card and development apps and digital storage solutions for converting paper records such as receipts.
Business Planning – A list of tools and software to create your initial business plan or for business planning in general.
Content & Writing – Content creation and marketing software as well as content aggregation tools and writing services.
Customer Relationship Management (CRM) – Affordable to expensive CRM software solutions and tools from a number of providers.
Customer Service & Support – Live chat and customer service software and tools for a wide range of customer support needs.
Email Marketing & Management – Email marketing software solutions for email design and campaigns.
File Sharing – Free and paid file sharing software and websites.
Funding – Crowd funding websites and software for social causes, projects and businesses.
Graphics, Design & Creative – Graphic design and image editor software and services for any project.
Hiring & Outsourcing – Freelance websites and communities that offer businesses quick access to talented and on-demand workers from all fields.
Online Communication – Phone software platforms and solutions as an alternative solution to land lines for businesses.
Online Education – Online training resources and websites that help business owners enhance their skill set.
Online Sales – Sales software solutions to improve all points of the sales funnel.
Payment – Online and offline payment services and software for businesses.
Public Relations – These PR tools help you to get exposure and publicity.
Presentation – Great resources for data sharing along with online presentation software and tools.
Project Management – Many options for project collaboration and project management software and tools.
Research – Get lots of feedback with these online forms, research, and survey services and tools.
Search Engine Optimization (SEO) & Online Marketing – Wide variety of SEO, PPC management and content marketing tools and services.
Shopping Engines – Put your products online with help from these online shopping engines.
Social Media Management – Social media tools and marketing services along with social network management software.
Task Management – Whether you need help with scheduling, task management, time management, or online organization, these tools and software are sure to help.
Team Management – Wide range of online collaboration, content management, team management and conversation management services and tools.
User Testing – Website optimization, feedback, user testing and a/b testing tools and services.
Video Services & Tools – Online HD Video hosting along with video email tools.
Web Hosting – Website hosting services and tools.
WordPress Plugins & Services – WordPress and blogging tools and themes.

Bill.com —  $24/mo to $99/mo
Helps you to automate bill payments, bill workflow, and filing business documents.
Expensify —  FREE to $11/mo/user
They say it best "expense reports that don't suck".
Freshbooks — FREE to $39.95/mo
Cloud-based accounting for small businesses.
Indinero — FREE to $99/mo
Payroll, Accounting, and Taxes all in one simple solution.
Intuit Billing Manager — Per Transaction Costs
Service that allows small businesses to accept credit card payments via their phone.
Manilla — FREE
Helps organize everything into one place.
Mint.com — FREE
Puts everything into one place and helps you track spending, your goals, and your budget.
Outright — FREE to $9.95/mo
This puts your small business finances in one place to help you do you bookkeeping online.
Quickbooks — $12/95/mo to $39.95/mo
A simple accounting software that saves you time paying employees and organizing finances.
Recurly — $99/mo to $399/mo
Spend less time managing bills, gain more insights, and recover lost revenue.
Wave Accounting — FREE
A great way to manage receipts, payroll, invoicing, accounting, and finances all together.

Adwords — CPC Daily Budget
Online advertising through Google.
Bing Local Listing — FREE
Get your company listed and a link to your website on Bing for free.
Facebook Ads — Daily Budget
Reach a huge audience and pick the right people to increase your business.
Google Places Local Listing — FREE
Get recognized through local listings by adding your company and website address.
LinkedIn Ads — CPC or CPM
Great platform to target business decision makers with targeted ads.
NextMark Mailing List Finder — FREE
If you're looking for mailing lists to use on marketing campaigns this is the place to start.
StumbleUpon Paid Directory — $.10/click
Get an engaged target audience directly to your website for cheap.
Yahoo Local Listing — FREE
Get your company name address and website listed on Yahoo's network.

Birst — FREE trial
Helps businesses make data-driven decisions with reports and business analytics.
Google Analytics — FREE
Online measurement tool for your business.
InsightSquare — Starting $99/mo
A one stop shop for what's going on with your business.
Omniture SiteCatalyst — >$1000/mo
Enterprise level analytics suite by Adobe.
SAS — Call for Pricing
They help find opportunities to grow and gain more profit.
Spring Metrics — $199/mo
They will present you with customized content, social media engagements, and incentives to increase your revenue and conversions.
Tableau Software — FREE to $1999
"Helps people see and understand their data."
Woopra — FREE to $199.95/mo
If you want analytics in real-time to help you get an eye into your customer's behavior.

1Shopping Cart — $34/mo to $249/mo
"All-in-one eCommerce solution".
Google Sites — FREE
Share and create web pages for free.
Kafafa — $9.99/mo
State-of-the-art website creator that takes no programming knowledge to use.
Lifeyo — $8/mo to $25/mo
Drag and drop, making your website is as easy as that.
Snap Pages — FREE to $30/mo
Simple website creation
Webs — FREE to $16.67/mo
Easy tools, professional templates, and powerful apps helps you make a professional site.
Web Node — $2.95/mo to $24.95
It's a free and easy website builder
Weebly — FREE to $5/mo
Create a unique site that says you.
Wix — $4.08/mo to $16.17/mo
Create your own website without coding and with 100s of designs.
Yola — $4.95/mo to $19.95/mo
Helps you create a website in minutes.

Bump — FREE App
Bump your phone to transfer your information.
Card Munch — FREE App
Application to turn your business cards into contacts.
Follow Up Then — FREE to $4.99/mo
Makes following up simple with email.
Jigsaw — FREE to $84/mo
A great way to reach business professionals.
Less Annoying Software — $10/mo
Nothing is more important than your customers so this software makes sure you don't miss out on any opportunities.
Shoeboxed — $9.95/mo to $99.95/mo
Turn your receipts into digital data and eliminate your paper clutter.

Biz Plan Builder — $49.99
Make a simple, secure, business plan here.
Business Plan Pro — $79.95
Wanna look through hundreds of examples of business plans? BPP will give you the guidance you need every step of the way.
Capital Business Plan — FREE
Made specifically for startup businesses that will walk you through making your business plan piece by piece.
LivePlan — $11.66/mo to $19.95/mo
They will give you the tools you'll need to create your professional looking business plan.
PlanWare — FREE
A free resource but the site isn't great. It isn't pretty but it gets the job done.
PlanMagic Corporation — $84.95 or $99.95
Creating a business plan with your specific needs.

Casting Words — $1/min to $2.50/min
If you're a tech savvy person who needs transcription services CastingWords is for you.
Contently — Email for prices
Content service employing thousands of freelance writers and journalists for content creation of all types.
Crowd Content — Price per word varies
Content service offering writing for all kinds of digital and print tasks.
DivvyHQ — $29.99/mo to $149.99/mo
Online tool that facilitates content marketing at all stages including the brainstorming, editorial calendar creation and actual content production phases.
Flipboard — FREE App
Allows you to aggregate content pertinent to your industry or business for your daily reading.
Godot — Price per word varies
Content writing service for a variety of content needs.
Hubshout — FREE to $40/mo
They make campaigns that will increase traffic, leads, and rankings.
Inbound Writer — FREE to $40/mo
They bring the knowledge to tell you why your content ranks lower and what they can do to move you up in the rankings.
Speaker Text — $120/hr
A combination of human and artificial intelligence to bring you quality audio and video transcription.

AddressTwo — $9.95 to $49.95
CRM system designed specifically for small businesses.
Highrise — FREE to $99/mo
CRM platform for small to medium sized businesses. Created by 37signals, the maker of popular project management software Basecamp.
Infusionsoft — $219 to $379/mo
One of the more well known CRM solutions, Infusionsoft is a powerful but expensive option for businesses of all sizes.
LeadMaster Lead Management — $35/mo to $80/mo
Web based sales and lead management solution for businesses of all sizes.
NetSuite CRM+ — $79/mo to $129/mo
ERP software solution encompassing e-commerce, ERP, CRM and inventory areas.
Nimble — $15/mo/user
CRM solution touted to help build business relationships to grow your business.
Sage ACT! Pro — $68 to Premium $138
CRM solution focused on businesses and sales teams in particular.
Salesforce — $5/user/mo to $250/user/mo
Arguably the most well known CRM solution on the market.
Salesnet — $30.00/mo/user to $70/mo/user
Web based CRM solution focusing on improving sales effectiveness.
Sugar CRM — FREE to $600
One of the better known CRM platforms out there. Can be very spendy and often used for bigger companies.


Agendize — $20/mo to $50/mo
Software solution that allows businesses to offer click to call, chat and appointment bookings to customers.
Assistly — $29/mo/user or $39/mo/user
Formerly Assistly, Desk.com enables you to connect with your customers wherever they may be.
Get Satisfaction — $425/mo to 4850/mo
Custom support tool that allows your community to interact and provide solutions in addition to your own customer support.
Netop — Contact for pricing
Flexible live chat software for customer support and service.
Olark — $15/mo to $219/mo
A flexible and easy to use live chat tool that allows you provide customer support within your preferred IM client.
Zopim — FREE to $20/mo/user
Easy to use live chat tool for customer support.

ActiveCampaign —  $9/mo to $225/mo
Robust email and newsletter marketing software with customizable email templates, analytics and more.
AWeber — $19/mo to $130/mo
Very popular email marketing software that boasts over 120,000 clients.
Constant Contact — $15/mo to $150/mo
Constant Contact offers mainly email marketing but event and social media solutions as well.
Emma — $30/mo to $420/month
Email marketing service offering mobile-ready and customizable templates and much more.
ExactTarget — Contact for pricing
A SalesForce company, ExactTarget is one of the bigger solutions and as such is geared towards enterprise type businesses.
GetResponse — $15/mo to $65/mo
Easy email marketing solution with a landing page creator and 500+ email templates.
MailChimp — FREE to $15/mo
One of the most well known and powerful email marketing solutions out there.
Vertical Response — $10/mo to $240/mo
Email marketing services that offers over 700+ professional templates.

Box.com — FREE to $15/mo
Very popular file sharing solution with over 150,000 businesses using it.
Dropbox — FREE
Extremely popular file sharing service that offers 2GB free as well as Pro and Business plans.
Egnyte — $8/employee/mo to $15/employee/mo
Enterprise file sharing and and other IT solutions for big businesses.
YouSendIt — FREE to $15.99/mo
Soon to be called Hightail, YouSendIt is a file sharing solution that includes the ability to sign documents, share content and access files from any device.

Crowdrise — FREE
Crowdfunding specifically for social causes and fundraisers.
Crowdfunder — FREE
Crowdfunding specifically for businesses both on a local and global scale.
IndieGoGo — FREE Campaign 9% Fee on Funds Raised
International crowdfunding for projects and businesses of all types.
Invested.in — FREE
Social fundraising solution for businesses, charities and individuals of all sizes.
Kickstarter — FREE Campaign 5% Fee on Raised Funds
Crowdsourced funding platform for every project imaginable.
Prosper — FREE
Peer to peer lending solution for personal loans and capital to pursue businesses.
Rockethub — Reach Goal: 8% Fee Don't Reach Goal 12% Fee
A non- all or nothing crowdfunding platform for projects big and small with a focus on arts, sciences and businesses.
SoMoLend — FREE
A solution that automates the loan application and payment process and lets borrowers such as SMB owners set their own terms and get funding.

99Designs — $299 to $799
One of the most well known logo, web and creative design communities on the web. List your creative project and choose a winner.
CreativePro — FREE
Online resource for graphic designers and creative professionals of all stripes.
CrowdSPRING — $269 to $729
One of the biggest marketplaces for graphic design, logo and naming services.
Hatchwise — $75 to $200
Logo, design and writing creation site. Submit your project and pick from the winning design.
Ideabook — FREE
Tutorials, articles, inspiration and other resources for graphic designers.
Pixlr — FREE
Limited but easy to use online photo editor that works great as an alternative to more expensive software solutions.
Splashup — FREE
Online image editor offering a wide range of capabilities for no charge.

Amazon Mechanical Turk — 10% Commision on Each Task Completed
Amazon's service offering a massive workforce for tasks of all varieties.
CrowdFlower — $100/mo
Website and community for large enterprises looking to evaluate and leverage data sets and information.
Elance — Your Choice Plus 8.75% Fee
Probably the most well known freelance community. Find professionals in all fields from over 2 million listed freelancers.
FancyHands — $25/mo to $65/mo
Service that allows you to focus on what's most important and outsource the rest to a hired personal assistant regardless of your location.
Fiverr — $5 and Up
Website that offers projects and services that only cost $5. In contrast to the more professional competitors in the list Fiverr often skews to the humorous and mundane and sometimes questioned on quality due to the low cost.
Freelancer — Compare Prices and Select Bidders
Large online freelancing and outsourcing solution for small business and individuals alike.
Guru — Free to $45.44/mo
Marketplace of freelancers in technology, creative and business fields.
oDesk — 10% to oDesk and 90% to Contractor
Extremely large community of on-demand professionals from a wide variety of fields. Currently used by over 500,000 businesses.
TaskRabbit — Varies (Pay to Get Your To Do List Done)
Outsource even the most mundane tasks at home or at work by using screened and local people.

Google Voice — FREE US and Canada
Free service offered by Google to make PC-to-phone and PC-to-PC based calls.
Grasshopper — $12/mo to $199/mo
Phone services that allows small companies to forward calls to mobile phones and many other phone services.
HelloFax — FREE to $39.99/mo
Online services that boasts that it completely removes the need for any kind of paper or fax machine at all.
Ring Central — $9.99/mo to $24.99/mo
Cloud based phone systems that offers voice, fax, text and conference solutions for businesses.
Skype — $2.99/mo
One of the most well known video and phone call services on the web.
WorldTimeBuddy — FREE
Simple online tool that helps you convert time to any area in the world to help businesses communicate across the globe despite time differences.

Learnable — $15/mo to $29/mo
Online resource to learn web design and development through courses, ebooks and more.
Lynda — $25/mo
Online learning portal for technology, business and creative skills.
Mindflash — $149/mo to $999/mo
Digital service that allows you to upload and manage your training digitally.
Tuts+ – $19/mo
Online learning website offering courses in a wide variety of web and graphic design areas.
Udemy — $49/course
Large selection of online courses in all disciplines to improve your skill set as a business owner.

Ambassador —  $99/mo to $1499/mo
Software solution to track and manage customer referrals.
Big Commerce — $24.95/mo to $299.95/mo
Popular ecommerce software solution for small businesses.
Shopify — $29/mo to $179/mo
Simple but powerful software platform to create online stores for small businesses.

Cimbal — FREE
Mobile system designed to increase sales and deliver local deals through mobile payment and promotion network.
Paypal — 2.9% fee + $.30/trans
Arguably the most popular and preferred online payment service on the web.
Square — 2.75%/swipe or $275/mo
Software and hardware designed to turn any mobile device into a payment platform including swiping credit cards.

 HARO — FREE
Service that allows businesses to sign up as experts to increase likelihood of free publicity.
MyLocalReporter — $19.99-$49.99/pitch or $29.99-$99.99/mo
Service that allows SMBs to find and pitch local journalists to increase PR exposure.

iCharts — FREE to $165/mo
Online resources of tens of thousands of charts to better share and communicate data.
Prezi — FREE to $13.25/mo
Online service that allows users to share and organize ideas and presentations.
Slideshare — FREE to $49/mo
Website that allows users to upload and share presentations in PowerPoint, Word and PDF format.

 AtTask — Starts at $20/user/mo
Small and enterprise level project management in the cloud.
Basecamp — $1/day to $10/day
Powerful, flexible and very well known cloud-based project management software.
Central Desktop — $99/mo
Online collaboration and project management software based in the cloud.
FreedCamp —  Free if under cloud space limits
Easy but limited project management software as a free alternative to Basecamp.
Jira — $50/mo to $1000/mo
Project management software geared specifically towards process of building and selling tangible products.

 Ask Your Target Market — $.95/respondent and Up
Online market research app with 4.5 million users to quickly survey and gather data.
Customer Thermometer — $8/mo to $89/mo
Tool to create simple and powerful surveys to improve marketing and customer satisfaction results.
Google Forms — FREE
Google service that offers easy to build surveys and questionnaires for primary research efforts. Found in Google Docs.
Survey Gizmo — $75/mo
Online survey software tool to improve all facets of a business.
Survey Monkey — FREE to $50/mo
Very well known survey and questionnaire tool for gathering primary research.
Topo.ly — FREE to $20/mo
Online service to build interactive maps from Spreadsheet data.
Wufoo — FREE to $199.95/mo
Tool designed to help build online forms with database integration.

 Bing Webmaster Tools — FREE
This will help you improve your site, know where to start, where to expand, and why people came to your site.
Buzzstream — $19/mo
"Web-based software that helps the world's best marketers promote their products, services and content."
Google Webmaster Tools — FREE
These tools will give you data and diagnostics to help you create a google friendly site.
HubSpot — $200/mo to $1000/mo
This is more than an SEO website it's an All-in-One Marketing Software (ex. social media, blogging, SEO, landing pages, email, etc).
Moz — $99/mo to $499/mo
Gives you all your inbound marketing data in one place.
Raven Tools — FREE 30 Days to $249/mo
Along with HubSpot this is an nicely wrapped marketing software that can do it all (content marketing, PPC management, social media management, and SEO).
SEOBook — $300/mo
This is a site to help train you in SEO. Some tools provided are member's forum, videos, and more.

 Amazon Product Ads –– CPC
This will put your products in front of millions of customers on Amazon. One of the highest conversion rates of all the shopping engines.
Become.com — CPC
Become provides research information to help shoppers find the right product, review product details, reviews, articles, and other relevant shopping information.
Bing Shopping — CPC
A much smaller market than Google but still gets your products out there to a lot of eyeballs.
Ebay — seller fee or CPC
Online auction site.
Etsy — FREE or Search Ads by Impression
Craft focused "homemade" marketplace site.
Google Merchant (Product Listing Ads) — CPC
Get your most for your money getting your product ads spread around on Google.
Nextag — CPC $150 Minimum
Nextag's CPC pricing model allows merchants to optimize where their products appear on comparison pages.
Pricegrabber.com — CPC
Shoppers can compare product price, reviews and merchant ratings before making a purchase along with the option to share products on Yahoo Shopping.
Pronto.com — CPC
Shopping site which provides shopping results for customers looking for low prices and top performing merchants.
Shopping.com — CPC Runs Through ECN
Ebay owned Shopping.com helps consumers make quick, informed purchasing decisions with its product reviews and ratings.
Shopzilla.com — CPC
Shopzilla connects shoppers with over 100 million products across its partner sites such as Bizrate.
TheFind.com — CPC
This shopping search engine displays product information, coupons, and local searches for merchant listings.

 Buffer — Free to $10/mo
Organize all your social channels in one place and send your message out at the time you want.
CrowdBooster — 30-day Free Trial
Social media marketing platform that helps measure and improve your social media efforts.
EdgeRank Checker — FREE to $15/mo
EdgeRank ranks objects in the Facebook News Feed to better maximize your Page.
Facebook –  Twitter –  Pinterest –  StumbleUpon –– FREE
Get started on all these platforms and build up your social audience.
Hootsuite — FREE to $10/mo
"The leading social media dashboard to manage and measure your social networks".
NorthSocial — $1.99/day to $5.99/day
A great way to get sweepstakes, coupons, signups, deals, and more on your Facebook page.
Postling — FREE
With their tools you'll get insights, alerts, and helpful tools to get the most out of social media.
Rapportive — FREE
Connect with people on LinkedIn, Facebook, Twitter so you can immediately see what people look like, where they're based, and what they do.
SocialBro — $6.95/mo
Stand out, build influence, expand your community, and rise above your competitors.
Social Crawlytics –– FREE
This is a sneaky way to see what content your competitor's are sharing the most.
SproutSocial — $39/mo
Popular software platform to manage and measure social media marketing efforts for companies of all sizes.
 Topsy — FREE
Paid and free versions offer social media insights for both measurement and planning efforts.
TweetDeck — FREE
Helps you keep up on twitter feeds and how well your tweets are being spread.

 Appointy — FREE to $39.99/mo
An online scheduling software to help business grow virally.
Doodle — $39/yr to $479/yr
Simplifies the process of scheduling events, whether they're board or team meetings.
Evernote — FREE to $5/mo
You can organize projects and to-do's and share them with team members to get more done.
Rescue Time — $30/mo and Up
Helps to make you better at managing your time and spot where you're inefficiencies in your day.
Workflowy — FREE to $4.99/mo
It can help you organize personal to-dos, take notes, write papers, collaborate on large team projects, and much more.

 Google Docs FREE
An excellent free tool that allows users to create and edit documents online while collaborating in real-time with other users.
Huddle — $20/user/mo and Up
An alternative to SharePoint for enterprise collaboration and content management.
Microsoft Sharepoint — $9.95 to $99.95
A great way to help you organize information, engage with your team, and share ideas.
Teamly — FREE
Turn a flow of conversations on the tibbr wall into actionable tasks.
Yammer — FREE to $8/user/mo
Connect your company like your own private social network.

 Concept Feedback — FREE
Share constructive website feedback, network with potential clients and get better at what you do.
Optimizely — $17/mo to $359/mo
They help you track what matters (clicks, sign ups, conversions, etc) and actionable data.
Unbounce — $49/mo to $199/mo
If you want an easy way to build, publish & A/B test your landing pages without much technological knowledge.
Usertesting.com — $49/participant
This lets you look over the sholder of your target audience while on your site.
YouEye — Starting at $39
Still in beta but a great way to get eyes on your site and in depth feedback.

 Dailymotion — FREE
Posting a video on dailymotion puts you on the 32nd most visited site worldwide totaling more than 2.2 billion views/mo.
Hulu — $60/thousand Viewers
Hulu has a huge audience and is a way to target a large amount of people for quick exposure.
MailVU — $2.50/mo to $90/mo
Video messaging through email.
ViewBix — $4.99/mo to $99.99/mo
Viewbix empowers companies to leverage their videos by inserting interactive apps and sharing that experience across the web, mobile and social networks.
Vimeo — FREE then $9.95/mo and Up
Vimeo makes putting your HD videos online easy, if you pay for the Plus package you get more storage and complete control.
YouTube — FREE, Ad Packages $9/day
You can put up your own video on YouTube and market that way or you can pay to get text, image, or video ads showing on featured videos.

 Amazon Web Services — FREE
They offer the complete infrastructure and application services that enable you to run virtually everything in the cloud.
BlueHost — $4-$10/mo
From the business owner to the individual who desires full functionality on a small budget, Bluehost is a complete web hosting solution.
Comcast Business Class — FREE with Internet Service
They offer the free service and with that comes smaller capabilities including an basic site with a maximum of three pages, 10MB of storage space and a 100MB data-transfer limit each month.
Go Daddy — $2.99/mo to $7.49/mo
Reliable hosting that's lightning-fast – even during the biggest traffic spikes.

 BackWPup — FREE Download
It backs it all up for you so you only need to worry about writing.
Broken Link Checker — FREE to download
This handy tool checks all the sites you've linked to before they become an issue.
Genesis Theme — $59.95 or $349.95
Lots of great template options with a wide range of pricing. They give you full support and theme updates.
Quttera Malware Scanner — FREE to Download
This tool helps if you're using a theme and aren't comfortable with coding, this will help keep your site safe.