In this week's installment of our Small Business Success series we chatted with April Wachtel of Swig + Swallow about her unique cocktail mixers and her experience of starting a small business through direct-to-customer distribution and customer and one-on-one customer relations.
April purchased a vinyl banner to display at events and on-site tastings to help promote the Swig + Swallow brand.
Tell us about yourself
I'm a passionate rock-climber, cocktail educator, and lover of great food and drink. I have worked for over 20 years in the spirits industry in numerous positions ranging from bartender to manager, event planner to spirits brand ambassador and as a consultant. I also host and produce the Movers and Shakers podcast, on people and ideas that are changing the beverage industry. I love learning, so I'm always seeking out opportunities that pull me out of my comfort zone and help me build skills.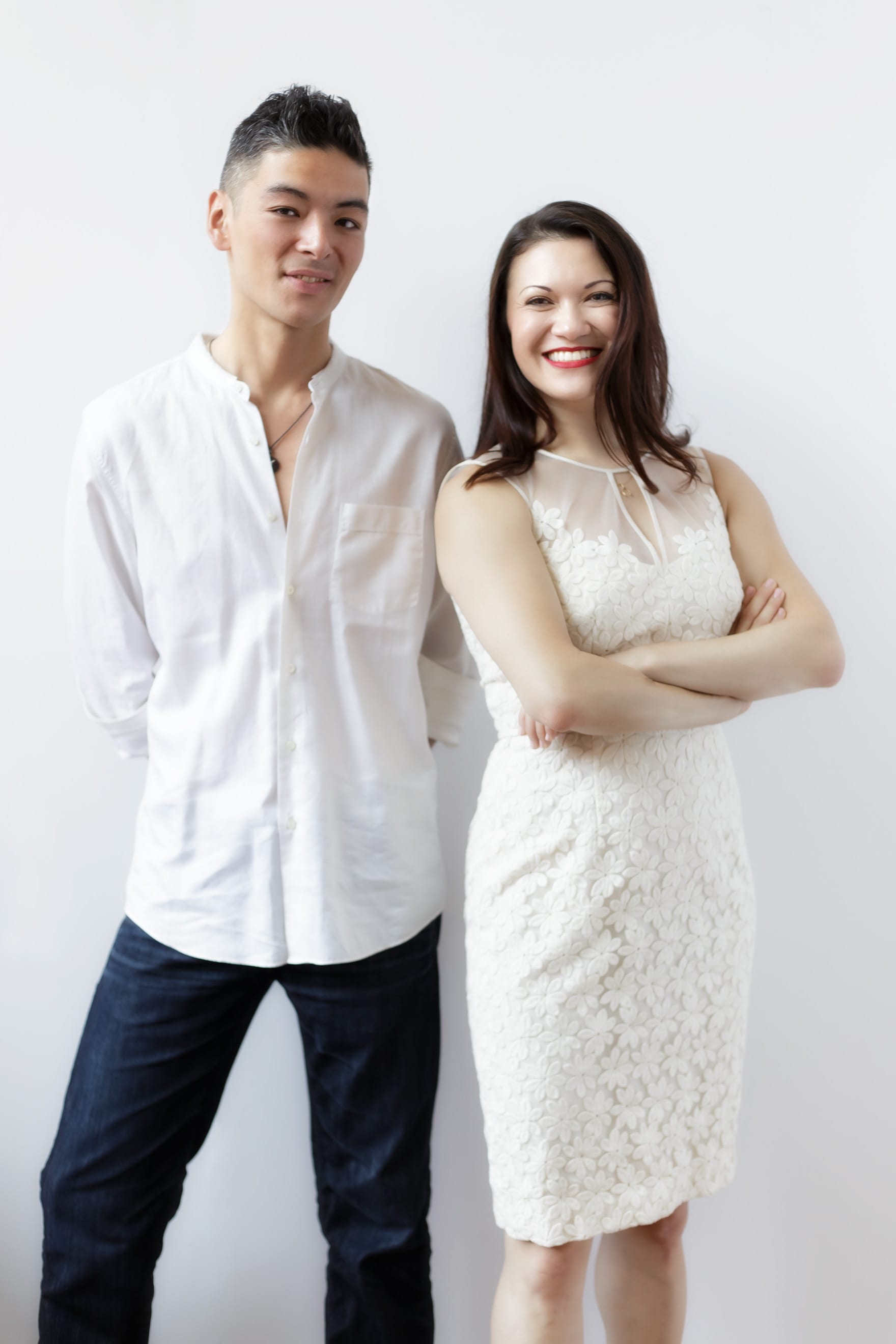 April Wachtel and Gates Otsuji of Swig + Swallow
What does your company do?

Swig + Swallow makes fresh, mixologist-designed cocktail mixers. Our bottles are sold half-full, so customers add the spirit directly to the bottle! Our choice was to start with 6 of the most iconic cocktails – the Margarita, Moscow Mule, Mojito, Daiquiri, Cosmopolitan and Whiskey Sour. Our syrups are custom-made and all the citrus is freshly-squeezed. We don't add any preservatives, flavors or color – our bottles go through a high-pressure processing so this ensures a shelf-life of up to 3 months from production! We also have 2 different sizes – a 32 ounce, party size "halvsie" mixer that makes 10 cocktails and a cute 8-ounce mini "halvsie" mixer that makes 2 cocktails.
Where did the idea for your company come from?
I spent many years working as a spirits brand ambassador where I had to produce cocktails for large volume, high-profile events. There was so much waste and inefficiency, not to mention the many hours of prep and production it takes to produce consistent, high-quality craft cocktails at volume. I started wondering if there was a better solution. After many years of teaching cocktail classes, I saw that people consistently added too much spirit to their mixer and struggled to obtain the right balance between sweet and citrus. The concept initially began as a batching service – designing the cocktail menu for each event, preparing large quantities of mixers off-site, and delivering them in large half-full jugs to each event. There was difficulty in this constantly-changing landscape (catering to the individual needs of every different client for each unique event). Finally, (and happily!) we settled on our Swig + Swallow concept, with the 6 different craft cocktail mixers to choose from. This has allowed us to really hone and perfect our recipes, as well as plan for production and meet consistent standards with our products.
What is your unique selling proposition?
Our unique selling proposition is two-fold: 1) That these are the highest quality mixers you can find, and 2) that we sell our bottles half-full for convenience and portability. Our vision was to eliminate the need for any measuring tools, to strike the right balance between sweet and citrus, and foolproof the craft cocktail-making process. There is no faster more convenient way to make craft-quality cocktails, period.
What is one strategy for gaining customers that you have been successful with?
We have found on-site tastings to be very useful in promoting engagement with our product. Since our concept is unique and we are a new brand, consumers don't always know what to expect when they hear about our mixers. We find that once consumers get to taste the product, they love it and they buy it.
Is there an area that you've struggled with in regards to customer acquisition that you believe is critical to future success? If so, how are you overcoming that?
Since our product is sold half-full, it has been somewhat of a challenge to give customers the assurance that the product has been unopened, and is intended to be half-full. The instructions are clearly marked on the bottle, but it is still a new concept we are introducing to the market. This year we designed little bottle tags that you flip over to indicate that the bottle has been 'filled with spirit'. We are also looking into tamper-evident seals, to further indicate that the product has been unopened. We really want our consumers to know that the half-filled bottle is intentional.
What is one of the biggest challenges you have had with your business and how did you overcome it?
One of our biggest challenges has been the labeling of our bottles. For the first year, we hand-applied all the labels using heat guns! It was incredibly time-consuming and once the product got very cold or wet, the labels did not quite stand the test of time. That has been quite an ongoing challenge. We have finally arrived at a new label printing solution. We're still working out the kinks of the design, but we are excited to be on a new path and no longer spending days applying the labels by hand!
If you could rewind time is there anything you'd do differently? If so, what?
Not really. If we had lots of money to spend from the start, we'd be in a different place, but we're very happy about where we've gotten in this much time.
If you had advice for other SMB owners, regardless of the industry, what would it be?
Stay positive and keep going. There will always be numerous challenges that arise and sometimes take longer to overcome than you would like. I have found it helpful to keep an open mind – whether it means re-evaluating our concept, by seeking outside advice from industry friends or mentors, or just to re-invest in what my experience has taught me. Just because a product does not immediately take off, does not mean it is not valuable. Sometimes (especially in the beverage industry), there can be a steep learning curve in order to educate consumers about a 'new' product. I also think finding the right distribution channels is key. It is all really trial and error, but we keep going because we truly believe in what we do, and we know it's going to be a success.
How do you "WOW" your customers?
We wow our customers by crafting really delicious, consistent craft-quality cocktail mixers. We really pride ourselves on creating the freshest, cocktail mixers, that can be enjoyed on-the-go or in the convenience of your home.
What do you think the future holds for your business?
We've already got a solid presence online, and we're really excited to enter more foodservice and retail stores and build our national distribution.
Without sharing detailed financials can you speak to your growth to this point and why you think it will continue?
Our product is a funny one. We have been building traction in our DTC channel, as well as in foodservice, but for us, the main indicator of the validity of the idea is that people's eyes light up when they understand the concept, and when they taste it, they buy it.
Where can we find you online?
Editor's Note: We really appreciate April and her willingness to give insight into her experience as a small business owner. Taking over 20 years of experience in the spirits industry and putting into practice by creating a unique product isn't easy but she's been able to 'shake' up the industry. Focusing on convenience and quality of the product has helped Swig + Swallow craft a recipe for success. Going to on-site tasting events allows the brand to interact directly with customers – this is especially perfect for a brand that do-it-yourself craft cocktails. Through positivity and patience, April has been able to overcome challenges in entering a saturated industry. As she plans to expand the presence of Swig + Swallow through national distribution channels, April has been able to utilize DTC (direct-to-consumer) channels to grow the company. We can't wait to see  Swig + Swallow continue to make waves and cocktails in the spirits industry!