At Signs.com, we live and breathe signs. We spend most of our waking hours learning new ways to improve, not just our catalog but every single product in it. We also earmark time to review what our customers have to say — the good, the not so good, and what we can do to make both better, and what that might cost.
But if we're being candid, a testimonial from a satisfied customer is priceless. So, humor us a little. Today, we're sharing with you real and heartfelt reviews from our delighted customers and a little insider knowledge on how we were able to make them happy.
Quality and Durability

Our vinyl banners are designed to withstand the elements so that you can use them for a long time and get your money's worth. We use 13 oz. and 18 oz. variants of 100% vinyl for our vinyl banners, which are resistant to water, tearing, and fading. This material is created with a weft inserted knit or an internal scrim which makes it durable enough for both outdoor and indoor use.
Another resilient material we use for our banners is mesh. This type of vinyl is 30% perforated and is perfect for locations where the weather is normally windy and for banners that are meant to be displayed on fences or between posts. Just like solid vinyl, the mesh type is weather-proof and able to repel water without sustaining damage.
We also offer fabric banners which are made of 6.8 oz. 100% polyester and are washable, wrinkle-resistant, and lightweight. This fabric comes with a light sheen which shows through after printing using dye-sublimation process. It may be lightweight but it's also scratch-resistant and water-resistant, so you won't have to worry about it getting run-down when displayed outdoors.
User-Friendly Online Design Tools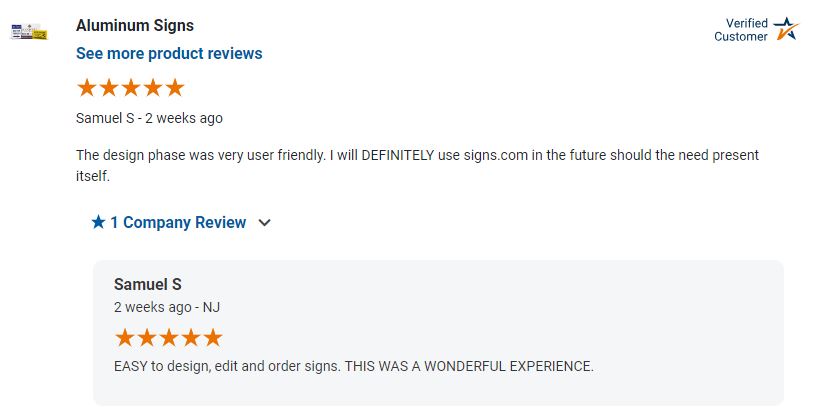 It's true that not everyone is a designer but at Signs.com, you don't have to be. We understand that it isn't easy to stare at a blank page and not know where to begin. Can you remember how much time you spent the last time you tried to pick one font? We've all been there. We also believe that time is a precious currency, and we want to help maximize your resources regardless of the size of your budget.
With Signs.com, you'll have our online design tool and diverse options for design templates at your fingertips, and you can use them all for free. You can start with a blank canvas, or you can search our template library for industries like real estate, media events, and education or banner uses like promos, warning signs, and political signs. Once you pick out a template, you can modify it according to your banner's purpose and branding. Our online design tool is built with customization features that let you add text, insert shapes, change the background image, and switch up the colors.
But wait, there's more. You can upload your own design file to our online design tool and lay it out on a banner size of your choice. Lastly, you can avail our free design services which allows you to collaborate with one of our professional graphic designers and bring your ideas into full color.
Quick and Easy Installation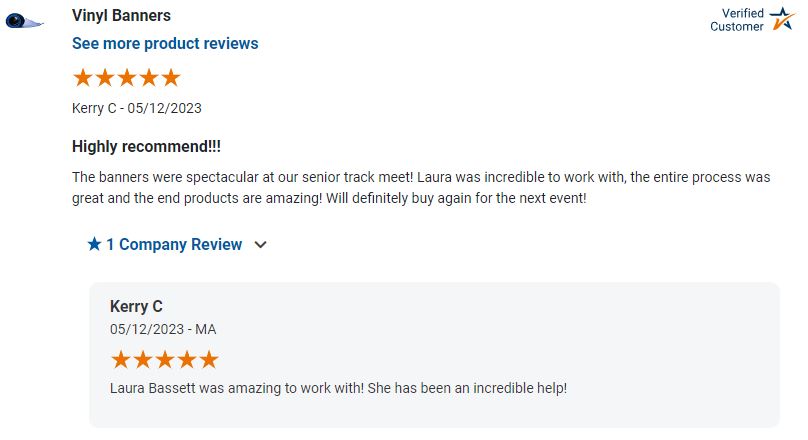 Banners are set up differently depending on purpose and location, so we prepared for every possible scenario that you'd like to install yours. For starters, solid vinyl, mesh, and fabric banners may be designed with grommets or pole pockets to make installation easy. They can also be hung using bungees, nylon ropes, hanging clips, zip ties, and suction cups. These will help you set up your banner on fences, walls, or hooks and keep them in place. You can order any of these additional accessories upon checkout.
If you're looking for something that will double as décor, you can choose from our line of step and repeat banners. These come with durable poles and stand and a carrying case so you can take your banner from one event location to another with ease. X Banners are available as well. These are the ones attached to an X Banner stand made of aluminum and fiberglass. A retractable banner on the other hand looks sturdy and polished with its firm metal base and portable setup.
Another popular choice for outdoor banners is flags, available in different styles — teardrop, feather, and flag. These are set up using poles and suspended to the ground using a ground stake, a base with waterbag, or a cross base. Flag banners are easy to assemble, and the poles may be packed away with the base, so you move the sign around as you like and store it after use.
Stellar Customer Service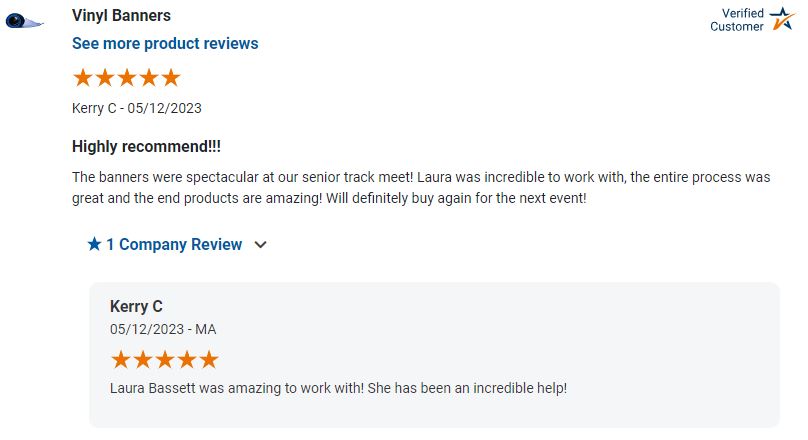 To better serve our customers, we cater to varying preferences for assistance. Whether you prefer speaking with a representative or conducting independent research, we have you covered.
Our website is built with a Live Chat button so you can talk about your banner needs in an instant. And you don't need to worry if you don't know exactly what you like yet. Our customer representatives will walk you through the process of choosing, designing, and ordering your banner. They'll even deliver fantastic after-sales service!
You can also call us at 1-(888)-222-4929 or 801-441-3400 if you want to touch base or fill out our contact form and we will get back to you as soon as possible. That's a promise.
We made our FAQ pages robust with information for those who like to keep themselves informed prior to ordering. In fact, our product pages also come with their own FAQs, and we regularly update these pages as necessary to ensure that the information is accurate and true.
We're only able to take pride in every single effort to make Signs.com the perfect place to order banner signs because of the happy customers who share their testimonials and those who offer their constructive feedback so we can continue improving. No matter the size or design, let us help you make your dream sign today. Enjoy the full Signs.com experience and we will be with you every step of the way. Take this as your sign!