One of the most professional ways to hang a sign in a business setting is to use standoffs. First impressions are important to guests and customers. Having a clean, elegant finish to your sign sends an unspoken message of trust, and pride in what you do.  As a visitor to a restaurant, an office, or a public building, you might not notice exactly how a sign is hanged, but it's the small details that make all the difference in how a sign looks and feels.
I'm going to dive into the details of sign standoffs—what they are, why and when you should use them, and how they work. I'll also go over which signs work best with standoffs and how to easily add them to your order with our user-friendly design tool. I'll finish off today's post by sharing a few examples of fully installed standoffs. Let's dive in!
What are standoffs?
Standoffs, sometimes called standoff screws are a hardware option for hanging a rigid sign through drilled holes. Standoffs attach your sign to a wall, placing an aesthetically pleasing gap of one inch in between the sign material and the wall. The result:  a dramatic and eye-catching display.
Standoffs function as fasteners, creating a durable mount for any sign. They also become part of the design and presentation of the finished sign. Standoff screws are usually round and fit through the drilled holes on your sign. Standoffs are commonly made of aluminum, brass, or nylon. There are many different finishes for standoffs including brushed, chrome, nickel, anodized, and more. Our standoffs are a beautiful brushed, anodized aluminum that look great with any sign.
Why use standoffs?
There are many ways to hang your sign, however, unlike traditional signage installations, standoffs give your sign a refreshing three-dimensional look. With standoffs, your sign is projected from the wall for an eye-catching display sure to impress any visitor. Standoffs allow your sign to literally pop from the wall.
Standoff screws are not only attractive, they also support the weight of a sign firmly to a wall, so you don't have to worry about your sign falling down from tape or other adhesive hanging methods. Standoffs are the preferred option for logo signs above a reception desk, a directory sign, and even look good for room identification signs. You can also use standoffs to hang a permanent menu in a restaurant or hang a piece of art printed on acrylic or metal    
How standoffs work
A standoff screw is an assembly of hardware that includes the standoff mount, screw, washers, and dry-wall anchor. By itself, a standoff screw isn't very strong, but like a bundle of sticks, when multiple standoffs are used together—one in each corner, or centered—they can hold a sign in place for years.
To use this elegant hanging solution for your needs, the sign must have predrilled holes where the standoff screws will be placed. When you order a sign from us using our design tool, drilled holes will automatically come with your sign when you choose to include standoffs with your sign. You can also select to have holes drilled without ordering standoffs if you desire.
The most common arrangement for sign standoffs is to have them placed in the four corners of a square or rectangular sign. You can also have the standoffs placed in the corners and the top & bottom of your sign for added support. If your sign is created with a contour cut, meaning that the shape of the sign is custom, then you can select custom placement to have your standoffs wherever you want.
If you select custom placement in the design tool, you'll be prompted to provide a note describing where you want your holes drilled for your standoffs. Be as specific as you can to ensure your sign is created the way you want it. Another option is to have your standoffs placed at the top and bottom center of your sign or simply from the top corners only. Here is a complete list of the options for mounting your sign with standoffs:
Four corners

Corners & top & bottom center

Custom placement

Top & bottom center

Top corners only
The best way to mount the sign with standoffs is to take measurements where the hole centers will be and lightly mark the wall with a pencil. You can also hold your sign up to the wall and use the pre-drilled holes as a template to mark the wall with a pencil where to drill. Just make sure you use a level so your sign is mounted straight. A small hole is drilled into the wall where the anchor is then inserted. After the anchor is placed, the standoff is placed over the anchor and the screw is drilled into the anchor through the hole on the back of the standoff. Once the standoff is in place, the sign with predrilled holes is held over the mounted standoffs with a plastic washer between the end of the standoff and the back of the sign. The Standoff screw cap is then threaded into the standoff housing with a second plastic washer on the front side of the sign.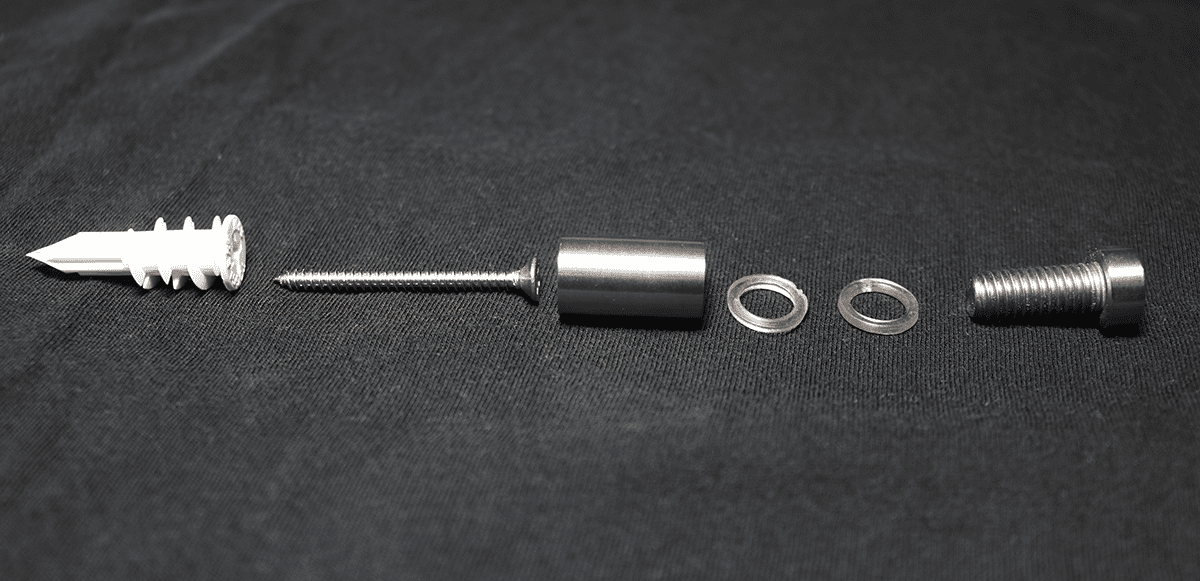 Materials Compatible with Standoffs
There are a few sign materials where standoffs make a lot of sense and really add to the end result of the display. Our custom brushed aluminum signs and custom acrylic signs make beautiful displays for company logos, name signs, directories, and many other interior signs. Click on one of the sign types below to start creating your own custom sign with standoffs.
Standoff display examples
Signs with standoffs look great and I want to show a few examples of some amazing mounted signs here. As a note, we recommend using standoffs for internal use with your signs, however, it is possible to mount a rigid sign outdoors with standoffs. Standoffs must be mounted to a solid surface in order to work.
If you are planning to mount your sign to any surface other than dry-wall, you'll need to plan for how to drill into that surface and place a screw anchor so that the standoff bracket will be firmly attached. For surfaces like concrete or brick, you'll need to purchase cement anchors, separately. If you're mounting a sign to a wooden surface, you can simply drill a pilot hole and mount the standoff brackets directly into the wood without an anchor.
Let's have a look at some great examples of the finished product: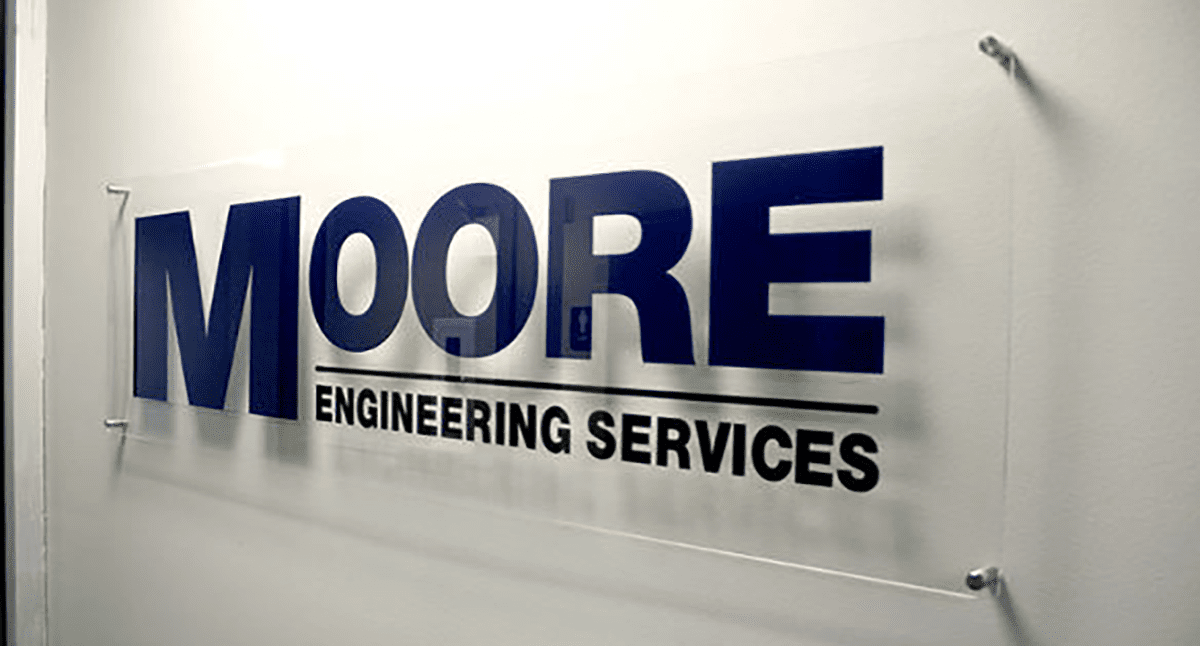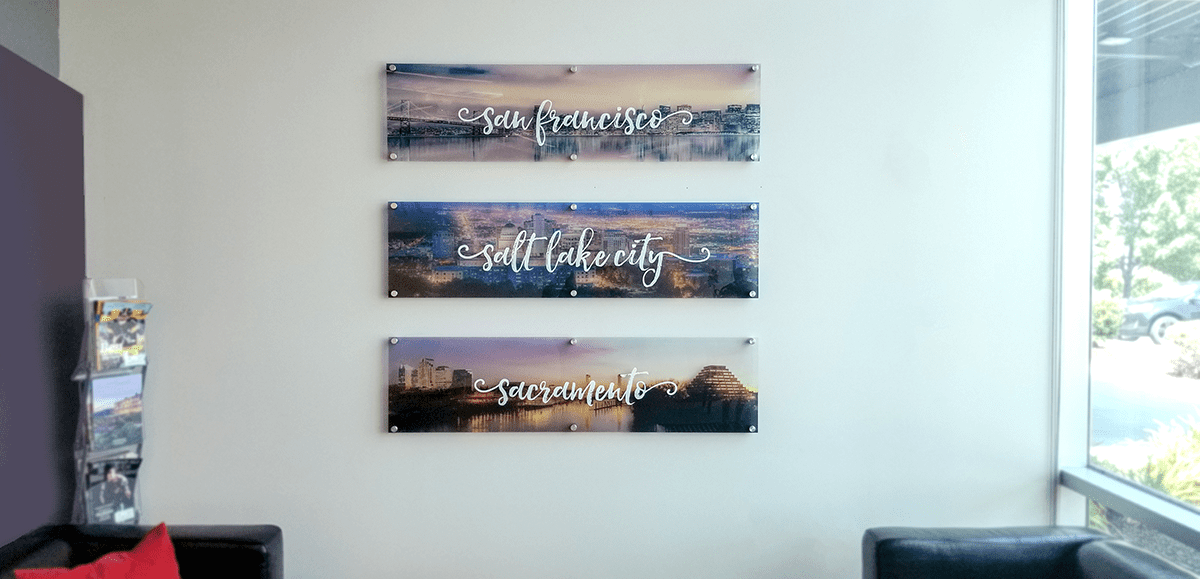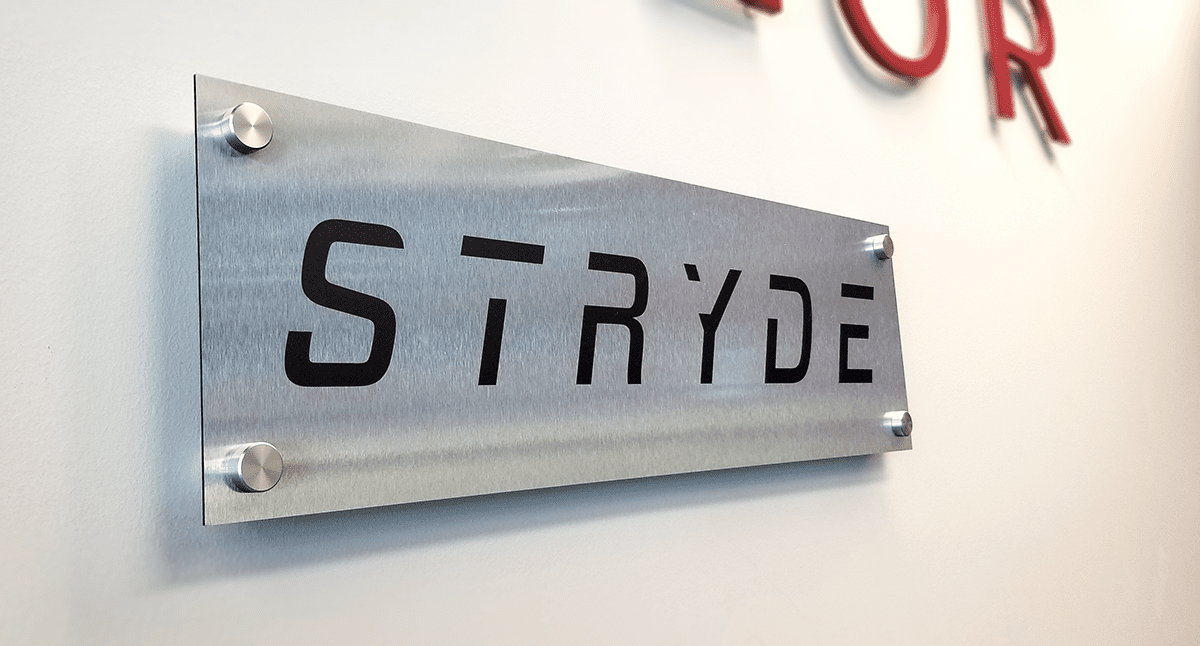 Thanks for reading, and if you have any other questions about standoffs or anything sign related don't hesitate to reach out to our amazing customer service team. Give us a call or chat online.