Welcome to the official Signs.com guide to table runners, the sizes they come in and how to use them in effective ways. We print thousands of table runners each year and have learned which sizes work best for a variety of situations. We will go over the different types of table runners, give you a table runner sizing guide, what situation you would use each one for and printing and customization options for your table runners.

What is a table runner?
A table runner is a piece of fabric that is placed on top of a table (with or without a tablecloth) and runs across either the width or length of the table, typically draping over the ends of the table. There are various uses for table runners, including creating a theme and ambiance for your display, showing off colors and logos in a smaller printed area than a full tablecloth and for home use and decor. Table runners are typically placed down the center of a table in both vertical and horizontal fashions. 

Situations in which you would purchase a table runner
So why would you add a table runner to your table? There are many reasons people order our table runners. If you have a trade show display booth for your company, you would likely purchase a table runner with your logo on it to show off your brand. For a wedding table, banquet table or any special event, table runners can provide a special design to add to the special day. Table runners are also commonly used in dining rooms in homes, which are typically generic rather than custom printed. Any time you have a table and want it to add to its look, a table runner is a great way to do so.

Standard table runner sizes (and standard table sizes)
It is important to mention that there is no wrong table runner size. It all depends on how you plan on using the table runner and what you want it to look like. There is a difference in an event table runner for a trade show or wedding and a home decor dining table runner. With event table runners, it is preferable to have the runner extend ¾ of the way down the table front. With a dining table runner, it is more common for it to hang 6 inches over the edge. Keep planned uses in mind when selecting the right table runner.

One thing that you will want to look out for is the length of the table runner. Ideally it should hang to the floor on the front and the back of the table. Signs.com standard table runners are all 90" in length.

When it comes to the width, you can use your logo or print as a guide to what table runner you want to use. For example, a logo that is taller and more vertical, you could have a thinner width on your table runner and still feature the design. If you have a longer message or a wider logo, you could benefit from a wider width on the table runner. Signs.com offers various width options to meet your needs, including 24", 30", 36", 42", 48", 54" and 60".

The standard event table is 6'-8' in length and around 2.5' wide. Below is an image that shows you what different width options look like on a standard 8' table.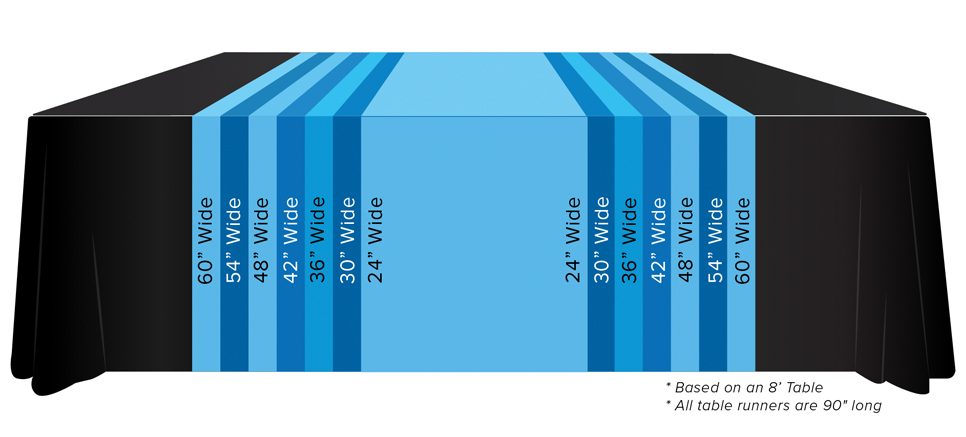 Table Runner Ideas
This is more than just a table runner sizing guide though. Here are some tips for fun ways to display your table runners. Feel free to get creative with your table runner displays. A few creative ideas that we have seen include:

Put two different table runners in an X formation across the table. This works particularly well with a round table.
For a dining setting, use multiple table runners across the width of a table. These can act as placemats and connect people that are sitting across from each other.
With other tables for events, use a table runner down the center of the table to highlight a centerpiece or object.
Printing options for table runners
Many custom table runners for events, businesses, banquets and weddings are printed with a singular logo/image on the front ⅓ of the table runner. That is the classic set up, tried and true. It is important to note that Signs.com offers many different printing options beyond the standard frontal print.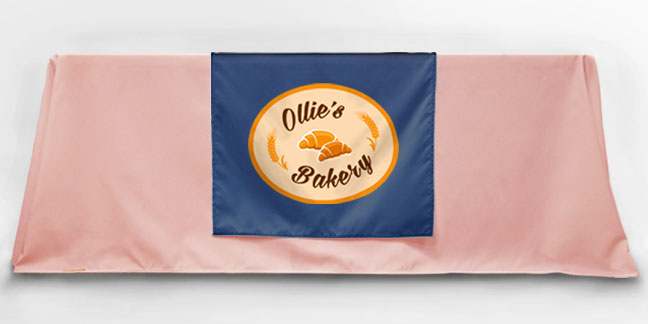 Another cool way to display a table runner is by printing on the front and the back of the table runner. This works really well if people will be approaching your table from both sides of the room. It is also a clever way to have one table runner with two designs for a single display or one sided table. That way you have two different design options depending on the event.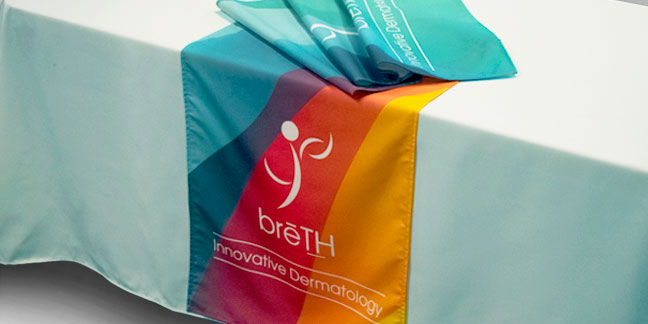 You can also maximize your real estate with designs on a table runner. We print on any area of the table runner. Options for that include logos or images on the front and back as well as a different representation of your brand on the top. You can also use a background or fun design across the entirety of the table runner. If you can design it, Signs.com will print it. If you don't have the resources to design it, just think it, and Signs.com will design it for you with our free design services.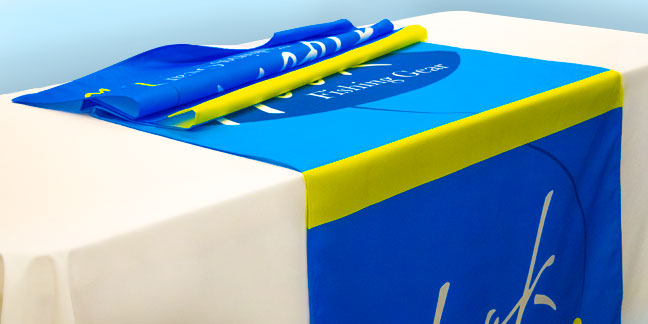 Thanks for reading this table runner sizing guide. Regardless of what you are looking for, Signs.com is here to help. Our team is always available to answer questions via live chat, so feel free to reach out to us at any time. You can call us any time during the day at 1-888-222-4929. Let us know if you have any questions regarding table runners, their sizes and their uses. We would be happy to help you with all of your table runner needs.