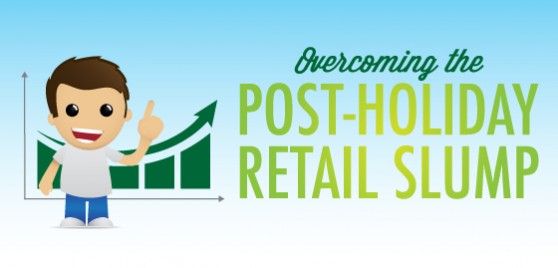 The Christmas shopping season — the busiest time of the year for retailers — is over, and while most people enjoy the calm after the holiday storm, retail businesses can't afford to.
January tends to typically be a slow month for retail stores. This is because people have reached or surpassed their Christmas holiday spending budgets with shopping and traveling. Even though per person spending is down 2 percent from 2012, consumers spent on average nearly $750 during the 2013 holiday season! Recent reports show that there was 42 billion spent online alone. While final offline spending numbers for 2013 haven't been released, growth was slower when compared to online spending but still accounts for roughly 20-40 percent of a typical retailers' total annual sales! With that much money being spent during a short period, consumers won't have a lot of money to spend on shopping in January, especially since Valentine's Day is just over a month away and that tends to be a big spending event as well.
But just because January is a slower month compared to the holidays doesn't mean your business can't drive sales during that time. Here's a list of four tips to help your small retail business drive revenue during the typical down period after the Christmas shopping season.
1. Target Customers Based On Their Purchases During the Holidays
Look over your sales during the holiday shopping season and target customers based on their purchases. Segment your customers based on purchase type, and send them emails offering sales or coupons on items that go along with whatever they bought. If email marketing isn't an option, more traditional forms of marketing such as direct mail campaigns and even exterior promotional signage can be effective. Just remember that they are maxed out on spending so the item(s) you are promoting need to make sense! For example, let's say you're a sporting goods store and multiple customers bought baseball bats. You can let them know you're having special limited time deals on batting gloves or baseballs. They may not realize how much they need or want a certain accessory for their latest purchase unless you tell them about it. Additionally, deferred payment options would be a critical aspect of any post-holiday advertising and messaging.
2. Hold a Contest For Your Customers
Depending on your business, you can run some kind of contest that's related to the goals your consumers set for the New Year. People set a variety of New Year's resolutions: lose weight, eat healthier, exercise more, travel somewhere new, get a different hobby, etc. If you can somehow appeal to your customer's resolutions and offer the winner an item that helps them achieve their goal, they're likely to get involved with whatever contest you're holding. It's best to do it right after the New Year starts, since a good amount of people tend to lose their drive to stick to their resolutions not too long after they've been set. Contests are a great way to help drive your sales because people love winning and getting free things. And if for some reason someone doesn't win, they may decide they need whatever prize you were offering and buy it after the contest is over. Just remember that discounting and offering contests too often can condition customers into a "buy-only-when-discounted" mode that the entire retail industry is grappling with due to year after year of holiday discounts.
3. Launch New Products
Another way to boost your revenue during a typical slower time is by launching a new product or a new line of products. If you plan this launch just right, you could relate your product(s) to an upcoming holiday, like Valentine's Day, or to goals and resolutions customers set for the new year. There is definitely a segment of people out there, the early adopters, that are always looking for the latest and greatest. Assuming your product line or offering is one in which you can offer something new then this might be enough to entice them to spend more money right after the holiday season. It goes without saying that taking this approach means that for some reason it makes more sense to launch the new product(s) post-holiday season instead of right before it. One of these reasons might be so that you're product isn't overshadowed by the glut of new products released in time for the holiday shopping season. As a small retailer this isn't a bad strategy to pursue!
4. Take Advantage of Certain Social Media Sites
Small businesses are firmly on the social media train. And if you don't believe that and aren't using it to promote your brand, then you are most likely missing out on good business. Social networking sites allow you to reach out to your customers about sales and contests like discussed above. A well-known and great one for retail stores is Pinterest. If you have a website, make sure your online customers can pin your items and add them to a wish list on one of their Pinterest boards. When they do this, all their followers see your product they pinned, which usually turns into a domino effect of people seeing and repinning your product. It's free advertising for your business and can be an excellent source of referral traffic to your online property. Make sure you also leverage rich pins in your attempt to increase sales through your Pinterest marketing.
So while some retail businesses see a drop in revenue from the end of the Christmas shopping season through the first part of the new year, don't be one that falls into that category. Follow these four tips and increase instead of decrease your sales during this time. Even if your customers spent most of their money or maxed out their credit limit, many of them probably received some money and/or gift cards for Christmas that they need to use now.