How to Get Rid of Door to Door Salespeople Once and For All!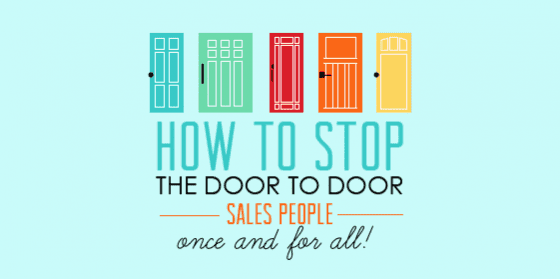 Do you need a new alarm system? Pest control? Books, cleaning products, a new vacuum cleaner? If you live in the suburbs, odds are good that you won't even need to leave your house to have the opportunity to purchase a wide array of goods and services: Summer is the season of door-to-door salespeople.
Some people must be excited to see these folks. After all, companies are still sending out hundreds of sales reps (often college kids on break) into neighborhoods all over the country to make appointments for services or sell products, so the practice must be effective. Many people, however, dread the ring of the doorbell on a weekday afternoon. How do you get rid of the door-to-door salesman, once and for all? We have an idea.
Constitutional Protection for Door-to-Door Salespeople
The first thing you need to know is that the door-to-door salespeople canvassing your neighborhood have a constitutional right to be there.
The First Amendment to the United States Constitution states:
Congress shall make no law respecting an establishment of religion, or prohibiting the free exercise thereof; or abridging the freedom of speech, or of the press; or the right of the people peaceably to assemble, and to petition the Government for a redress of grievances.
In 1976, the U.S. Supreme Court stated that speech that, "does no more than propose a commercial transaction" is protected by the First Amendment. Since that case, the Supreme Court has upheld free speech for commercial purposes.
So, the door-to-door salesperson on your front porch is protected by the First Amendment, though there are some legal restrictions that can be placed on his or her activities.
Local Ordinances Regarding Door-to-Door Sales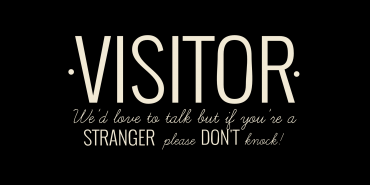 Ordinances regarding door-to-door solicitation are typically passed and enforced by local municipalities, and vary widely from place to place. The U.S. Supreme Court has ruled on numerous cases involving door-to-door sales, and has deemed that many ordinances are unconstitutional.
Guidelines for Municipal Restrictions on Door-to-Door Sales
In 1983, the U.S. Supreme court ruled that restrictions on the time, place and manner of door-to-door sales must meet certain criteria:
1. Be content-neutral.
2. Serve a legitimate governmental objective.
3. Leave open ample alternative channels of communication.
4. Be narrowly tailored to serve the governmental objective.
The term, "governmental objectives" sounds ominous, but basically it's just referring to the government's interest in protecting its citizens from crime and also protecting citizens' rights to privacy.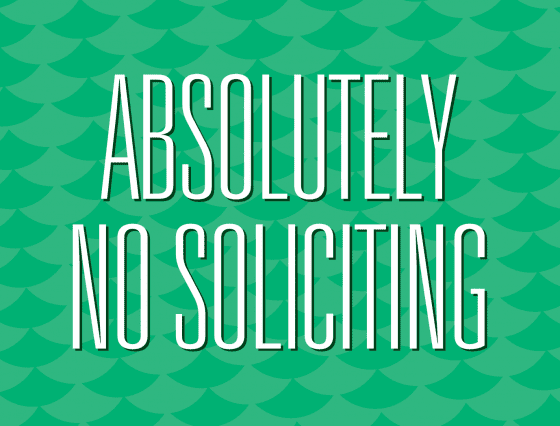 Many municipal solicitation ordinances include a time frame during which door-to-door salespeople may operate. The theory behind these rules is that often criminals pose as door-to-door salespeople, and that citizens have the right to privacy. However the Supreme Court and other courts of appeals have ruled on numerous occasions that many of these solicitation ordinances were unconstitutional.
One Example
In 1987, the U.S. Court of Appeals, Seventh Circuit, ruled that a Watseka, Illinois ordinance that limited door-to-door solicitation to the hours of 9:00 a.m. and 5:00 p.m., Monday through Saturday, was in violation of the First Amendment. The city had created the ordinance because citizens had complained that door-to-door salespeople were interrupting their dinners and generally being an annoyance. The city was also concerned that the salespeople might contribute to crime in Watseka, and that the potential crime was more likely to be committed after 5:00 p.m..
The court found that the ordinance, "impermissibly infringed upon the First Amendment rights" of the defendant.
While the Watseka case didn't involve Girl Scout Cookies, the court reasoned that some citizens might welcome the opportunity to speak with salespeople, and would be in need of the services or products offered. The court pointed out that under Watseka's current laws, "Even Girl Scouts will have a difficult time selling their cookies by 5:00 p.m." Which is a good point—who wants to miss out on an opportunity for some Thin Mints?
People Love Girl Scout Cookies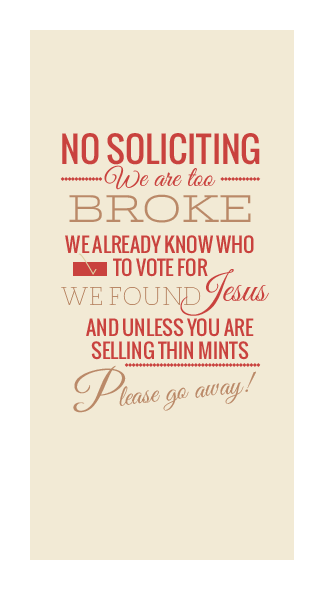 The fact that door-to-door salespeople have the right to canvass in your neighborhood isn't all bad—some people like the opportunity to see the goodies that companies offer.
The Court of Appeals also noted that there were other ways in which the city could protect its citizens rights to privacy and keep crime in check:
1) Watseka required salespeople to be registered with the city, and allowed the city to refuse permits to those convicted of felonies within the last five years, which offered some protection to citizens from potential crime.
2) The ordinance also allowed residents to post "No Soliciting" Signs on their homes in order to protect their privacy.
How to Get Rid of Salespeople – No Soliciting Sign Laws & Ordinances
So, the door-to-door salesperson in your neighborhood has every right to be there. And she has every right to knock on your door to see if you want to buy her stuff. And sometimes, you might want to buy her stuff… especially if she's selling cookies.
But if you really don't want annoying door-to-door salespeople bothering you, you do have one course of action: Post a No Soliciting sign and have the law or ordinance work for you.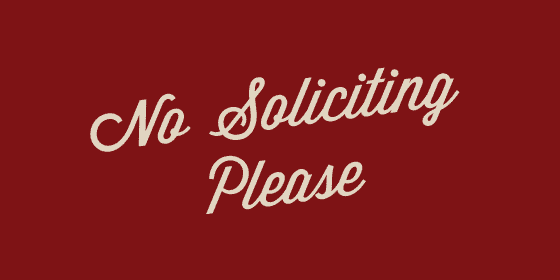 The Supreme Court has repeatedly ruled that a homeowner's right to privacy trumps a door-to-door salesperson's right to free speech. Though he may have the right to be in your neighborhood, he doesn't have the right to knock on your door if you have a sign posted stating that he's not welcome to infringe on your privacy.
Local ordinances or laws often address "No Soliciting" signs. For instance, in West Jordan, Utah, the ordinance regarding residential solicitation states that door-to-door salespeople must a) check for "No Soliciting" signs. b) If a sign is present, the salesperson must forego all efforts to solicit and c) leave immediately.
The city of West Jordan also states that it's a crime to violate a "No Solicitation" notice by ringing the doorbell, knocking on the door or otherwise contacting anyone on the property.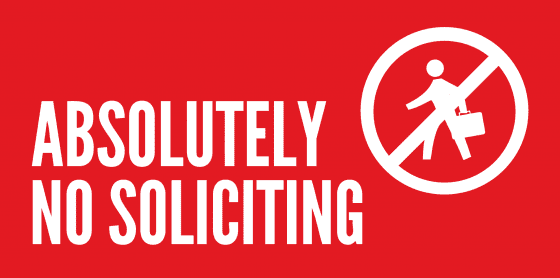 If you want to get rid of door-to-door salespeople for good, install a "No Soliciting" sign. You can customize one on our site, or simply use one of our templates: click on any image in the article to go right to our "No Soliciting" Signs Page.

Customize our most popular designs