Your Ultimate Guide to Yard Sign Printing
It doesn't matter whether the position is on a local or national level – come campaign season, every candidate running for office will scramble to stick their yard signs on every lawn, sidewalk, and roadside. And why shouldn't they? Yard signs have been around for centuries, and studies prove they increase a candidate's chances of winning a seat.
If a yard sign can influence election results, imagine what it can do for your business. In this guide, we will walk you through everything you need to know about yard sign printing.
Anatomy of a Yard Sign
Every yard sign can be broken down into two parts: the sign itself and the support which comes in different styles: stake, frame, and post.

Sign

The sign itself is made from either corrugated plastic, rigid plastic such as Sintra, or aluminum.

Some printing companies also offer polybag and plastic-coated cardboard yard signs, but these materials are not as weather-resistant and are more difficult to recycle.

Although yard signs are more flexible with shapes and sizes compared to brochures and posters, most states still have regulations for business signs. One of the most common sizes is 24" x 18" – this has enough space for important information such as the business name and operational hours and is large enough to be seen by passers-by.

You may have noticed that some yard signs, specifically those that advertise properties for sale or lease, have a smaller sign below or above the primary sign. This is called a rider.

When it comes to shape, rectangle in landscape orientation is a popular choice. However, thanks to advancements in printing technology, yard signs can now be die-cut into any unique shape. Some common examples are football and megaphone yard signs for sports tournaments, individual letters for outdoor parties, food-shaped signs for restaurants, and even arrow-shaped signs for real estate.

Stake

If your yard sign is made of corrugated plastic, the best way to display it is with a stake.

Stakes are made from welded steel wires that slide easily into the sign's flutes. Depending on the size of your yard sign and the style of the stake, you might need more than one for maximum stability.

Frame

Yard signs made from aluminum or rigid plastic are best displayed with an iron frame Unlike stakes, metal frames are available in limited sizes.


Post

Another way to display yard signs is with a signpost. This is the preferred option of most real estate companies and professionals, as well as brands that want a more premium feel for their advertisement.

Why Should You Use Yard Signs?
There are three specific reasons why yard signs are superior to other traditional and digital promotional materials.
1. Specific Targeting
Local businesses mostly depend on word-of-mouth advertising to spread awareness about their products and services. Since the target market are people who live nearby and visitors passing through town, placing yard signs in main roads and intersections is more cost-effective than investing in social media ads or mounting pole banners.
2. Low Cost
Unlike radio commercials and pay-per-click ads that can quickly eat up your marketing budget before they even reach your intended audience, yard signs are a much more affordable choice, and they can reach your prospects instantly.
And unlike brochures and direct mail, you don't have to worry about running out of yard signs to give away. Just display it somewhere frequented by people and you're good to go.
3. Social Proof
When a homeowner voluntarily places a yard sign of a business they support on their property, they can entice or even influence neighbors and colleagues to check the business out even without asking them verbally. This phenomenon is known as social proof. It's why we check customer reviews before buying a product, or why people trust recommendations from their favorite celebrities and influencers.
When to Use Yard Signs
Yard sign printing is usually associated with real estate professionals and political candidates during election season. But businesses in different industries can actually use these versatile yard signs in their own promotions. Here are some ideas:
Spread the good news about your business' reopening with eye-catching yard signs.


Announce new product or service offerings with hard-to-miss signage that will entice both your existing customers and new visitors.


Boost sales by promoting your in-store activity or upcoming promo with yard signs placed in high-traffic areas.


Distribute yard signs to loyal customers or supporters so they can help promote your business, campaign, or advocacy in their neighborhoods.
Holding an event? Make the venue easier to navigate by marking important locations such as entrance and exit points, restrooms, registration booths, and parking areas.


Rake in approvals and positive reviews from customers and visitors with directional signs. Customers would greatly appreciate you leading the way. No one likes being lost, after all!
Yard Sign Printing Dos and Don'ts
Putting up a yard sign takes more than just staking one into your front lawn and calling it a day. Here are some important reminders before you embark on a yard sign campaign.
Do apply for a permit.
Just like any outdoor signage, you need to ask for permission before you install your yard signs. The requirements for an outdoor advertising permit depend on the state you live in. Some homeowners' associations also have rules on setting up yard signs in the neighborhood.
Don't put up yard signs without inspecting the area first.
No matter how large or vibrant your yard sign is, it won't bring customers to your store if trees are blocking it. Check every viewing angle for obstructions when selecting a location for your signage – right in front, a few meters away, from the other side of the road, etc. It should be within the line of sight of every passer-by, even drivers, and commuters. Since yard signs are made of translucent materials, consider adding lights to increase visibility at night.
Here's a short video about the key factors that affect sign visibility:

Do print on both sides.
A rule of thumb when installing yard signs is to place them at an angle instead of directly facing the road. By printing on both sides, your yard signs could be read by people passing from both directions.
Don't just order one yard sign.
Unless your sign is as big as a billboard, displaying several yard signs is the most foolproof way to grab people's attention and make your message more memorable. According to the Rule of Seven, prospects must be exposed to an advertisement at least seven times before they're inspired to act. Place your sign in high-traffic areas as well as on intersections and main roads leading to your business. You can even add arrows so people know they're headed to the right address.
Do keep it short.
In 2018, an experiment that we did showed that outdoor signs with only six words were 90% more effective in eliciting the desired response from passing drivers. So save the knock-knock jokes and the inspirational quotes for the posters and banners – the best yard signs are those that are straight to the point.
Read: How to Drive Engagement With Outdoor Signs
Don't forget the call-to-action.
Why are you putting up a yard sign in the first place? The call to action is what pushes the reader to act. If the purpose of your yard sign is to invite the public to an in-store event, add "Join Us" or "Register Now" to your copy. If it's a way of finding a sign, consider adding "Visit Us Today" along with your store hours.
How to Design an Attention-Grabbing Yard Sign
Depending on the design, your yard sign can either be an eye-catcher or an eyesore. Avoid becoming a neighborhood nuisance by following these design rules for custom yard signs.
Choose the appropriate font type and size.
The lettering style and size can make or break your yard sign. Keep in mind that yard signs are targeted towards drivers and vehicle passengers. Since they only have a few seconds to glance at your sign before it's completely out of their sight, words typed in serif fonts like Clarendon or Times New Roman are more difficult to read from afar. Not all of them would take the time to slow down or squint at your yard sign up close, so it's best to stick with sans serif typefaces such as Helvetica or Arial.
Before you choose a font size, consider the farthest distance you want your sign to be visible at. Use this chart to figure out the size you need for your sign. Keep in mind the size of your sign too. You might run out of space if your letters end up too big!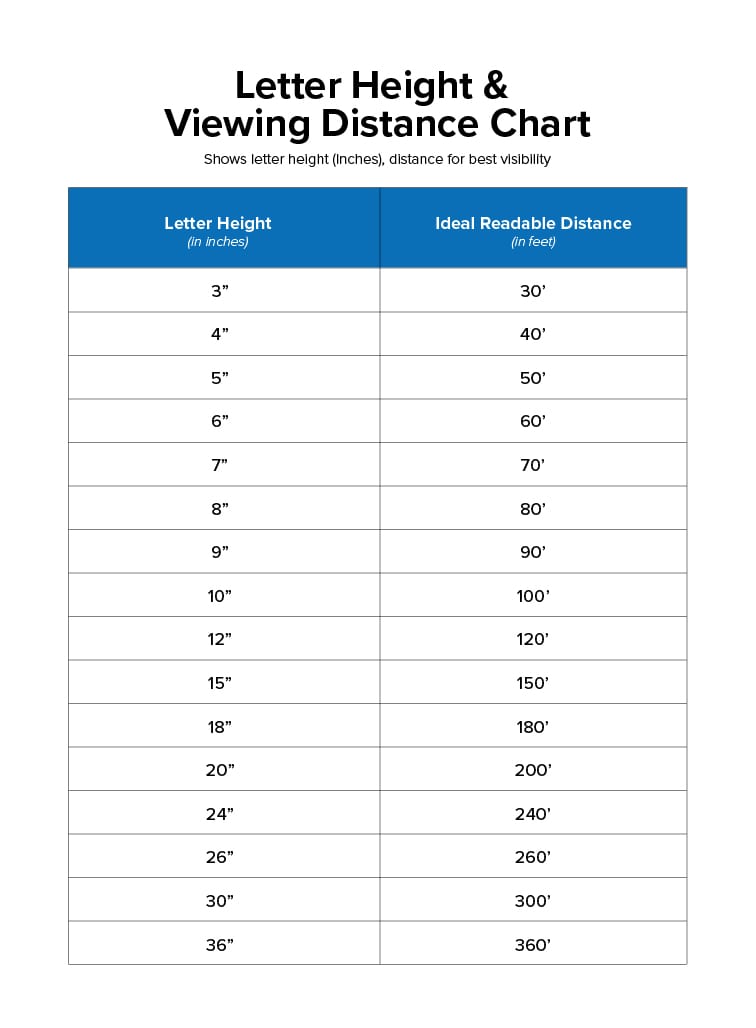 Read: Signage 101 – Letter Height Visibility
Experiment with contrasting colors.
To make your sign pop, steer clear of neutral and pastel colors that would make your sign blend with the surroundings. Some of the most common combinations used for yard signs are:
White and blue
Red and yellow
Blue and white
Black and white
You can also take a more science-based approach by choosing colors based on how you want your sign to affect who sees it.
Use high-quality photos.
Every inch of space counts when it comes to yard signs. Since the priority is to keep your text legible from as far as possible, there's a high chance you won't have enough left for a photo. However, if you absolutely need to add an image, make sure that it has a resolution of at least 200 to 300 pixels per inch (ppi). Anything below that range can be blurry or fuzzy which can ruin the overall quality of your yard sign once it's printed.
If you download an image from the internet for your yard sign, make sure that you're browsing in the public domain to avoid copyright issues.
Beginner-Friendly Free Design Tools With Yard Sign Templates
Don't fret if this is your first time designing a yard sign. Here are five easy-to-use design tools with free yard sign templates to help you get started.
Signs.com
Signs.com is an online visual communications company that offers custom signage for business owners, organizations, and individuals. It has a built-in online design tool where customers can add text, change colors, upload images, and use stock photos from its extensive database to personalize their custom yard sign. Signs.com has design templates for different types of yard signs.
Envato Elements
Envato Elements is a one-stop shop for all creative things. Here, designers and marketers can leverage over 10 million creative assets for their projects. Of course, their customizable graphic templates include yard signs.
Canva
Canva offers free customizable yard sign templates for real estate as well as various holidays and events.
Colorcinch
Colorcinch is an intuitive design platform that lets you craft stunning signages in a breeze. You can turn your photos into digital arts, paintings, cartoons, sketches, and more. Colorcinch has an incredible library of vector graphics, icon sets, and stock photos. To personalize your design, you can add texts, masks, overlays, and drawings.
Designhill
Designhill is an online sign design tool that offers tons of different signage templates you can start using today to make signs for your business. They have more than 70,000 completed signages and 100,000 satisfied customers over the years.
Related Articles
Because of the countless benefits it offers, yard sign printing has effectively cemented its reputation as a timeless marketing staple. If you would like to learn more about yard signs, check out these articles:
How can you add more oomph to your outdoor signage? Here are 10 different ways.
Where can you get high-quality yard signs? We have some suggestions.
Do you have questions about yard signs that were not covered here? We discussed installation instructions, other rules and regulations, storage and protection tips, and more in this guide.
References:
Makse, T., Minkoff, S., & Sokhey, A. (2020, October 5). What we learned from studying yard signs. Mischiefs of Faction.
From https://www.mischiefsoffaction.com/post/yard-signs
Kuhn, B. T., Garvey, P. M., & Pietrucha, M. T. (1998). Sign Legibility: The Impact of Color and Illumination. United States Sign Council Foundation.
From http://usscfoundation.org/wp-content/uploads/2018/03/USSCF-Sign-Legibility-Impact-of-Color-Illumination-2018.pdf
---
Browse by Category
Featured Products