The Role of Yard Signs in Political Campaigning
If Christmas has lights and lanterns, the campaign season has signs and banners. You don't even have to glance at the calendar to know that it's started. You can check if the neighbors have displayed posters and yard signs of their favored mayor, councilor, senator, or president.
Every political candidate's goal is to convince voters they are worthy of their trust. But how do signs and banners fit in the picture, given that social media and other forms of digital marketing are all the rage these days?
The Humble Beginnings of an Age-old Tradition
Political signs have been integral to political marketing for centuries. John Quincy Adams may have pioneered campaign yard signs in the United States in the 1820s. However, using outdoor signage to promote a political figure can be traced to Ancient Rome, specifically Pompeii. Before Mount Vesuvius annihilated the city in 79 AD, its citizens expressed their support for their preferred candidate with graffiti that ranged from harmless endorsements to slanderous statements. Google has a sizable collection of these restored graffiti along with translations.
Archaeologist Eeva-Maria Viitanen examined more than 1,000 of these political messages. She discovered that almost half of the walls belonged to homes of the wealthy, suggesting that political endorsements have long been a practice.
Just How Effective Are They?
Several studies have analyzed different campaign tactics at every government level. However, Green et al.'s "The Effects of Lawn Signs on Vote Outcomes: Results from Four Randomized Field Experiments" paid particular attention to election yard signs.
The signs used in the field experiments sported varying styles and were planted in randomly selected voting precincts:
Sign 1 was placed along busy roads and intersections across 97 precincts. It had the candidate's name in the largest font, the word "Congress," and the candidate's website. The text was in white and against a blue background.
Click to Customize
Sign 2 featured a similar style but was distributed to supporters in 69 precincts so they could display the signs on their lawns.
Click to Customize
Sign 3 attacked one of the opponents, but the yard sign included a notice that it was paid for by volunteers and not connected to any candidate. The signs were displayed in clumps in 131 precincts.
Click to Customize
Sign 4 promoted two candidates and included a logo of their affiliation. Two hundred of these signs were printed and displayed in 88 precincts.
Click to Customize
The findings suggest that election road signs and lawn signs modestly increase the candidates' share of the votes. This finding implies that political yard signs do work, disproving the claims of earlier studies that they are entirely ineffective (Blodgett et al., 2008) (Shaw, 2009). The results put yard and lawn signs at par with other low-tech campaign tactics, such as direct mail, cold calls, and door-to-door canvassing (Gerber, 2004).
In the book The Political Campaign Desk Reference: A Guide for Campaign Managers, Professionals and Candidates Running for Office, renowned election and campaign expert Michael McNamara suggests that, for maximum effect, signs must be installed at the earliest possible time local election laws allow.
As for smear campaigns, a separate study reveals that voters generally have a lower tolerance for uncivil and irrelevant messages from incumbents. However, voters with strong political affiliations are more likely to turn a blind eye when their candidates spew negative content.
Reasons Why You Should (Yard) Sign Up
Yard signs cost less than cold calling, direct mailers, and door-to-door canvassing for every voter return. It should come as no surprise that yard signs sell like hotcakes during the election season. Here are three other reasons they're on top of every campaign manager's list:
They increase name recognition. A 2013 study suggests that constant exposure to a candidate's name increases their popularity among voters. To test their hypothesis, Vanderbilt University's Cindy Kam and Elizabeth Zechmeister put up four yard signs that had only the name of a fictitious candidate. The results showed that individuals who passed by the signs were 10 percent more likely to consider the candidate for the position.
They influence connections. People are easily influenced by loved ones and close acquaintances. If an uninformed voter spots a candidate's yard sign on a trusted neighbor or colleague's lawn, they will likely consider the candidate—even though they know little about them—solely because someone in the voter's social circle supports them.
They encourage participation. A study conducted during the 2005 municipal elections in New York City reveals that districts with "Vote Tomorrow" hand-held signs reported a higher turnout than districts without. A 3.6 percent difference may seem insignificant, but if we're talking about candidates in a tight race, it could turn the tables.
Click to Customize
What Signage Should You Get?
As one of the most trusted outdoor signage printing companies in the US, we always expect an influx of orders at the onset of the campaign season. Below are our bestselling signages during the 2018 midterm elections and the 2020 presidential elections:
The top three products—yard signs, banners, and aluminum signs—were the same for both seasons. They also encompassed more than 60 percent of the total sales of our bestselling products. Fabric, mesh, retractable, and pole banners lead the list of top-selling banner types for both 2018 and 2020.
Where To Begin? Best Practices for Election Outdoor Signs
An election is a popularity contest. The sooner the word gets out that a candidate is running for a position, the better. This is especially true for individuals who are not as popular as their opponents. After all, building name recognition is not a process that can be rushed. Remember that campaign laws differ for every state, so check with authorities when and where it's legally allowed to put up signages.
Content is key to an election sign's success like any other signage. Here are some best practices to consider when designing such outdoor signs:
Observe consistency. The overall look and messaging of the election sign must be similar to the posters, stickers, pins, car magnets, and other campaign materials. This will make it easier for voters to remember the candidate's brand. Stick with one or two colors, and pay attention to readability. Some high-contrast color combinations to consider are white on blue, white on red, green on white, and yellow on blue. Don't hesitate to explore different tones and shades to find the hue that suits you best.
Refrain from using photos. Since road and yard signs target motorists and pedestrians, the design must be legible from a speeding vehicle and the reader's peripheral vision. Size restrictions and sign placement rules also vary per state. It's best to stick with the name, position, and logo instead of the candidate's portrait, which takes up precious sign space.
Keep it short and simple. Refrain from adding unnecessary information to the yard sign, such as educational background or a full breakdown of the candidate's platform. A slogan is not needed but, if done right, it can help win the hearts and minds of voters. Some of the most memorable slogans incorporate the candidate's core values and their goal once elected, while others involve puns and wordplay.
Printing companies are swamped with orders during the campaign season, so it's best to finish the design and place an order two to three months before you need them.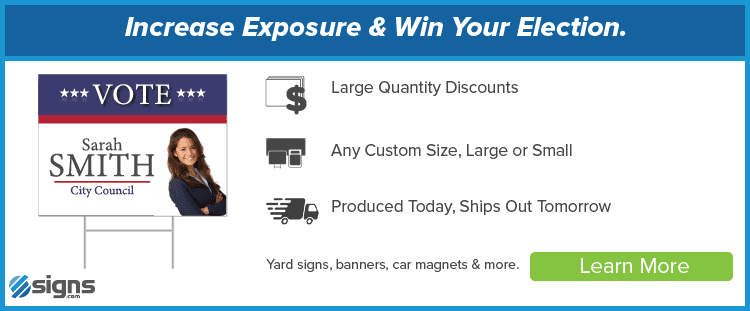 The Winners Have Been Proclaimed – Now What?
Campaign signs and banners suffer the same fate as any other temporary signage—they need to be taken down once the season has lapsed. Although not all local curbside recycling programs accept corrugated plastic and vinyl banners, there are several ways to save signs and banners from a trip to the landfill.
Transform yard signs into chalkboards with chalkboard paint.
Paint over the original sign and reuse it for yard sales or events.
Lay the yard signs on your garden beds to smother grass and weeds.
Repurpose the H-wire frames as stakes for climbing plants like cucumbers and peas.
Upcycle vinyl banners into bags and wallets.
Mile High WorkShop is a Denver-based company that turns banners into chic tote bags, messenger bags, and zipper pouches.
Give away vinyl banners during winter as windscreen protectors.
Are you going on a picnic? Use the vinyl banner as a makeshift picnic blanket!
We also wrote about the best ways to run an effective political campaign: Do Political Signs Work? Running an Effective, Legal Sign Campaign
Do you plan to incorporate digital ads into your campaign strategy? Learn about targeted advertising here: Perceptions of Ad Personalization
References:
Blodgett, Jeff, Bill Lofy, Ben Goldfarb, Erik Peterson, and Sujata Tejwani. 2008. Winning Your Election the Wellstone Way: A Comprehensive Guide for Candidates and Campaign Workers. Minneapolis: University of Minnesota Press.
Gerber, Alan S. 2004. "Does Campaign Spending Work?: Field Experiments Provide Evidence and Suggest New Theory." American Behavioral Scientist 47 (5): 541–574.
Green, D.P., Krasno, J.S., Coppock, A., Farrer, B.D., Lenoir, B., Zingher, J.N., The Effects of Lawn Signs on Vote Outcomes: Results from Four Randomized Field Experiments, Electoral Studies (2016), doi: 10.1016/j.electstud.2015.12.002.
Kam, Cindy D. and Elizabeth J. Zechmeister. 2013. "Name Recognition and Candidate Support." American Journal of Political Science 57(4): 971-986.
McNamara, Michael. 2012. The Political Campaign Desk Reference: A Guide for Campaign Managers, Professionals and Candidates Running for Office. Parker: Outskirts Press.
Shaw, Catherine. 2009. The Campaign Manager: Running and Winning Local Elections. Boulder: Westview Press.