Are the political discussions on social media, the news, and at the office watercooler wearing you down? We may not always be able to avoid them but we're here to give you a breather. We imagined what our favorite TV characters' campaign yard sign would say if they ran for president based on their iconic characters and signature humor.
The question is if today was the election and you had to pick a winner, in whose hands would America put their trust? Choose your fighter from our six candidates below.
1. World's Best

Boss

President: Michael Scott from "The Office"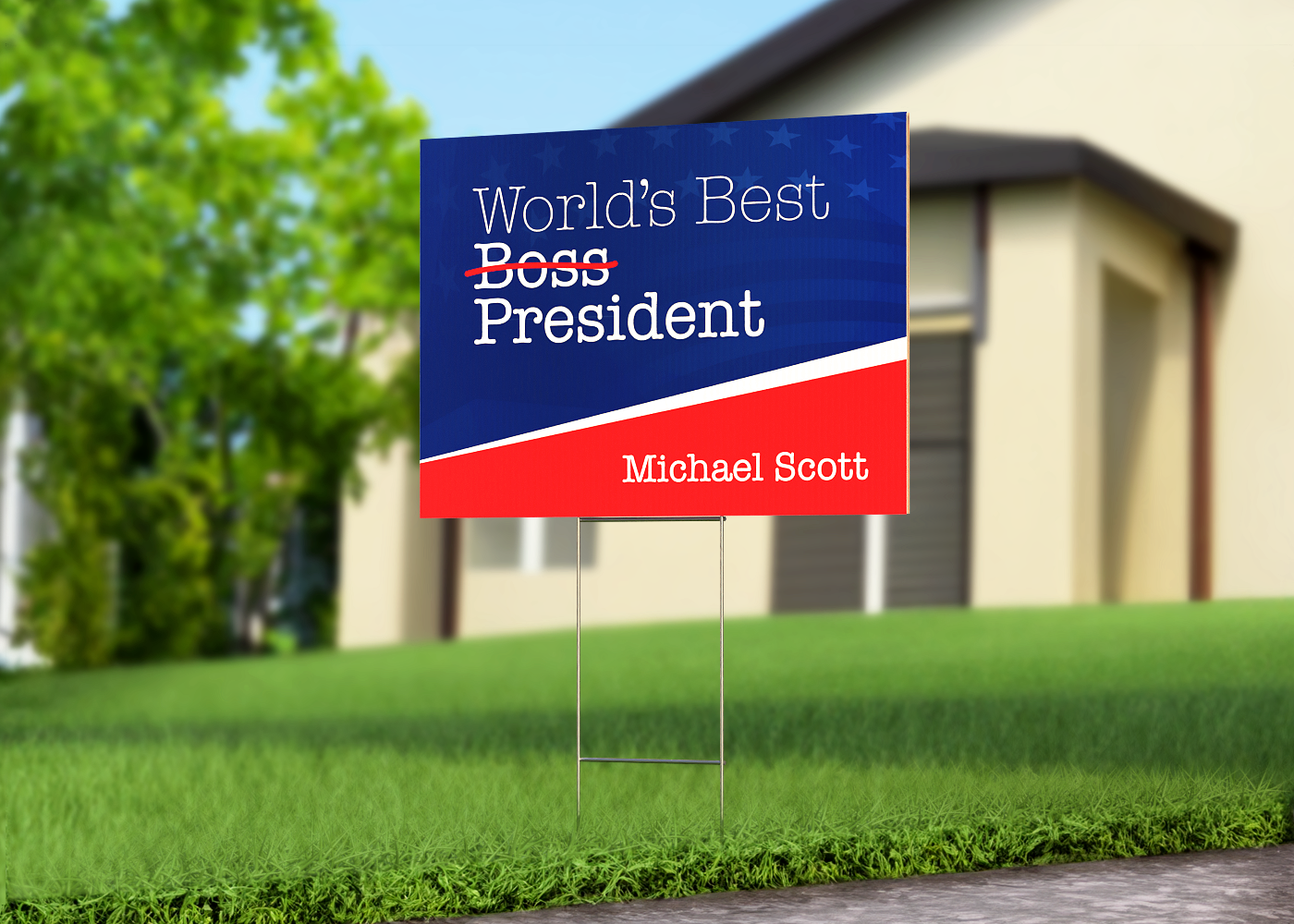 If there's a human, albeit fictitious, form of the ambition, delusion, and well-meaning intentions of many politicians possess rolled into one, it'd be Michael Scott from "The Office." His was the first name that came to mind when we started making this list, given how cringeworthy yet hilarious his presidential campaign would probably be. His awkward and unconventional attempts at leadership gave us the easiest presidential slogan. We can only imagine how his running an actual paper company would play into his campaign.
2. Tiny Genius, Big Change!: Stewie Griffin from "Family Guy"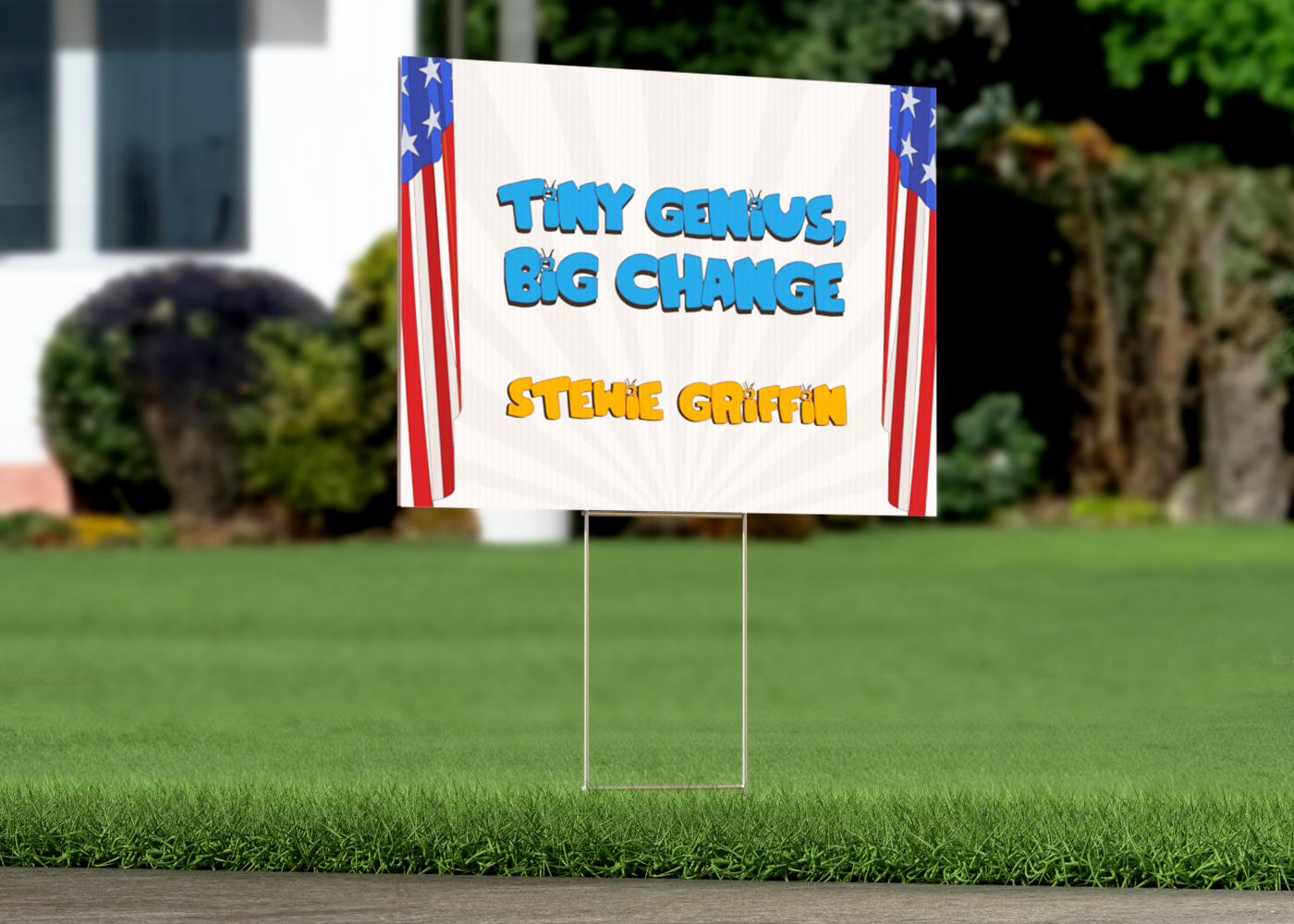 Stewie would probably be the first to run for president in a world where elections imposed no age restrictions and if people didn't care about hair. His diabolical schemes and obnoxiousness put him on the same level as the world's most ambitious leaders. (Half-meant) jokes aside, Stewie's spunk can charm voters instantly, especially if you're anyone who's always surrounded by adults and wants to be treated like one.
3. Bye Bureaucracy, One Tax Break at a Time: Ron Swanson from "Parks & Recreation"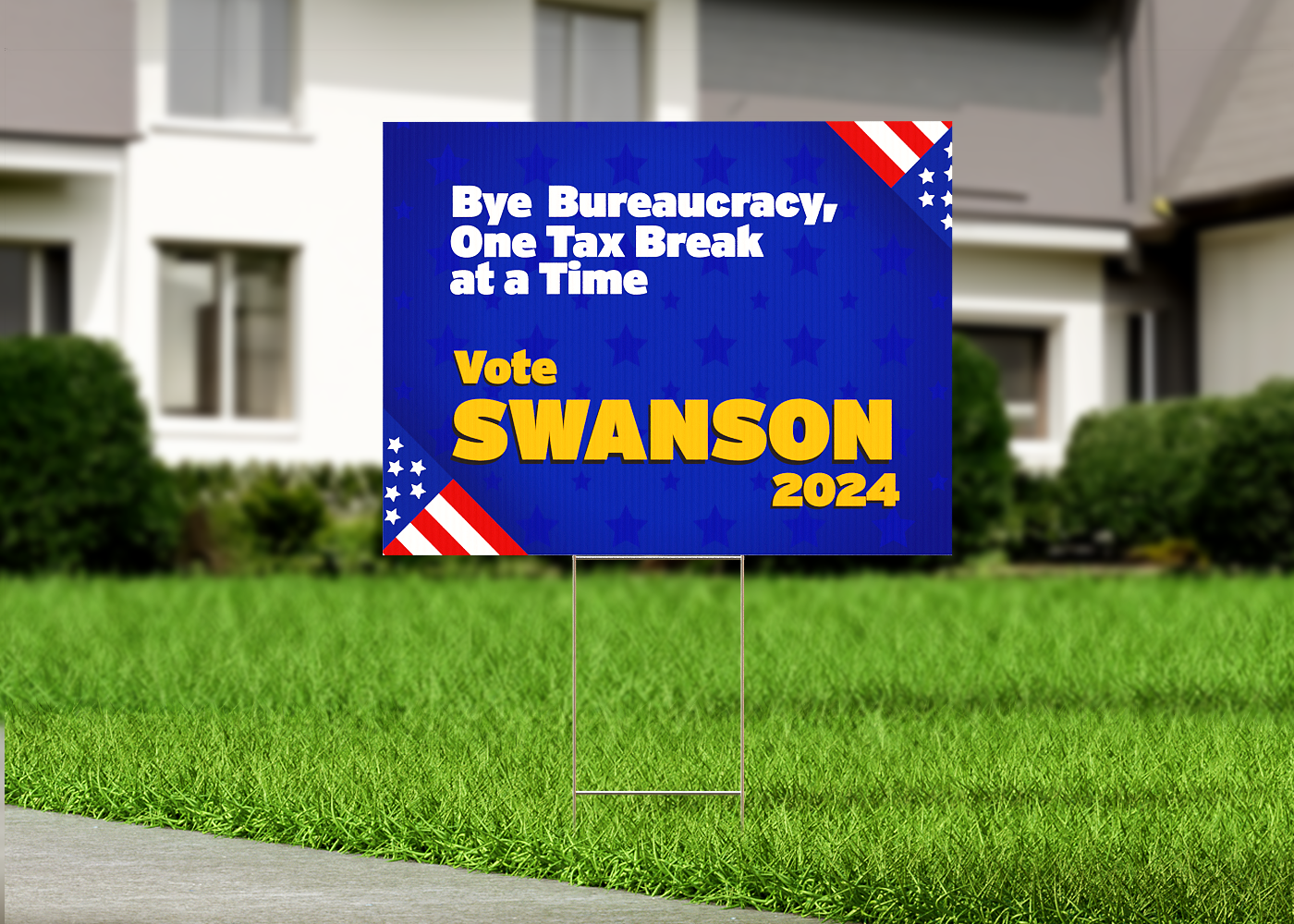 While we can all see Leslie Knope running for president, imagine the shock value of a Ron Swanson candidacy. The Gen Z kids will embrace the irony and tired Millennials will finally have a champion in the government, along with their love for closed doors, life hacks, and truth bombs. His slogan gets straight to the point, much like his opinions on the system he works for. But if we're being honest, we just want to see a presidential campaign version of the Swanson Pyramid of Greatness in his yard.
4. Gina Knows Best. Linetti for President.: Gina Linetti from "Brooklyn Nine-Nine"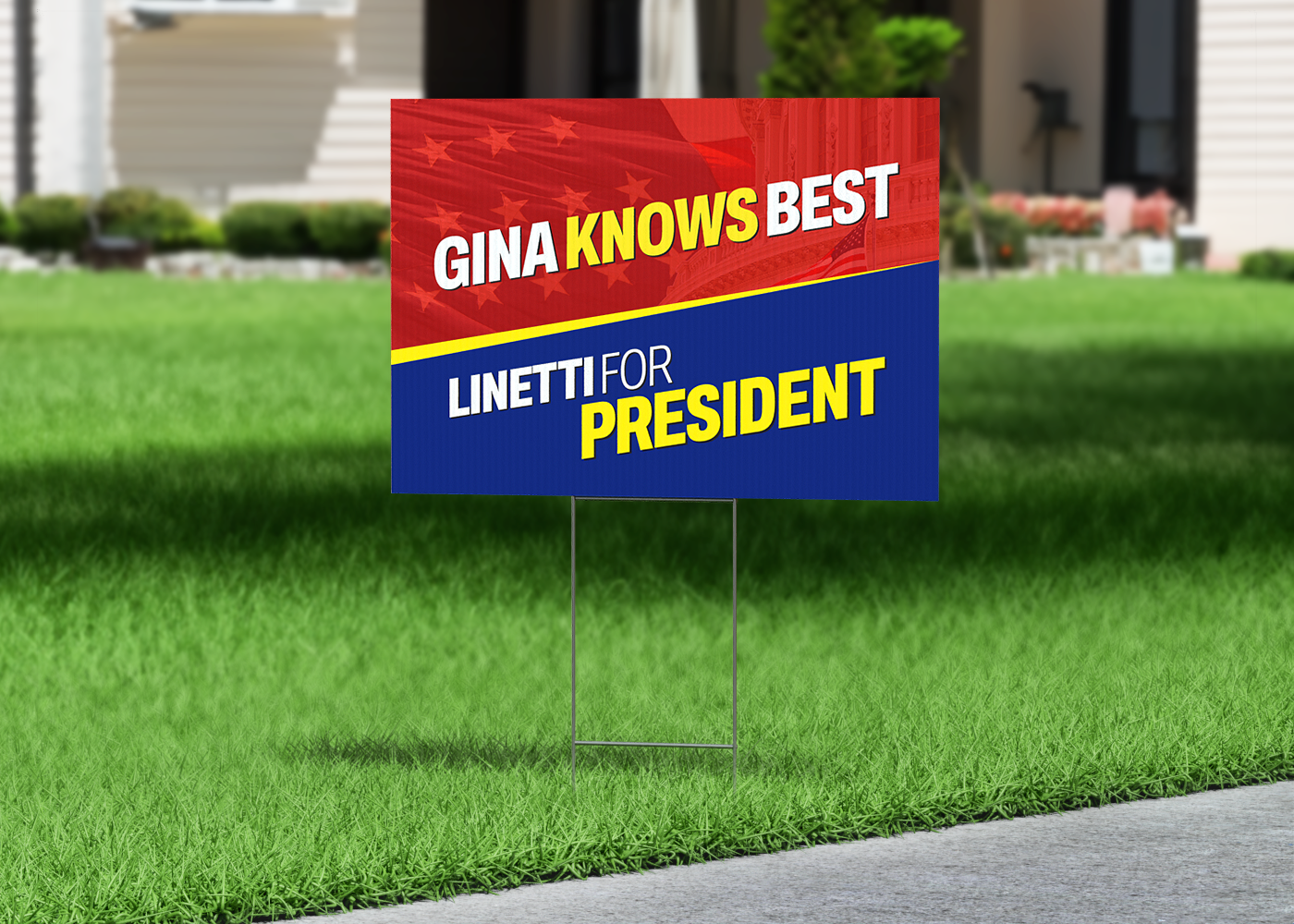 Of all the characters in the fictitious NYPD 99th precinct, only Gina Linetti would have the audacity to run for president and look good while doing it. She'd probably crush her opponents at debates with her wit and inherent vivacity. We had plenty of Gina Linetti quotes to draw from, but this famous line makes for the best presidential slogan.
5. Make USA, USA+!: Jessica Huang from "Fresh Off the Boat"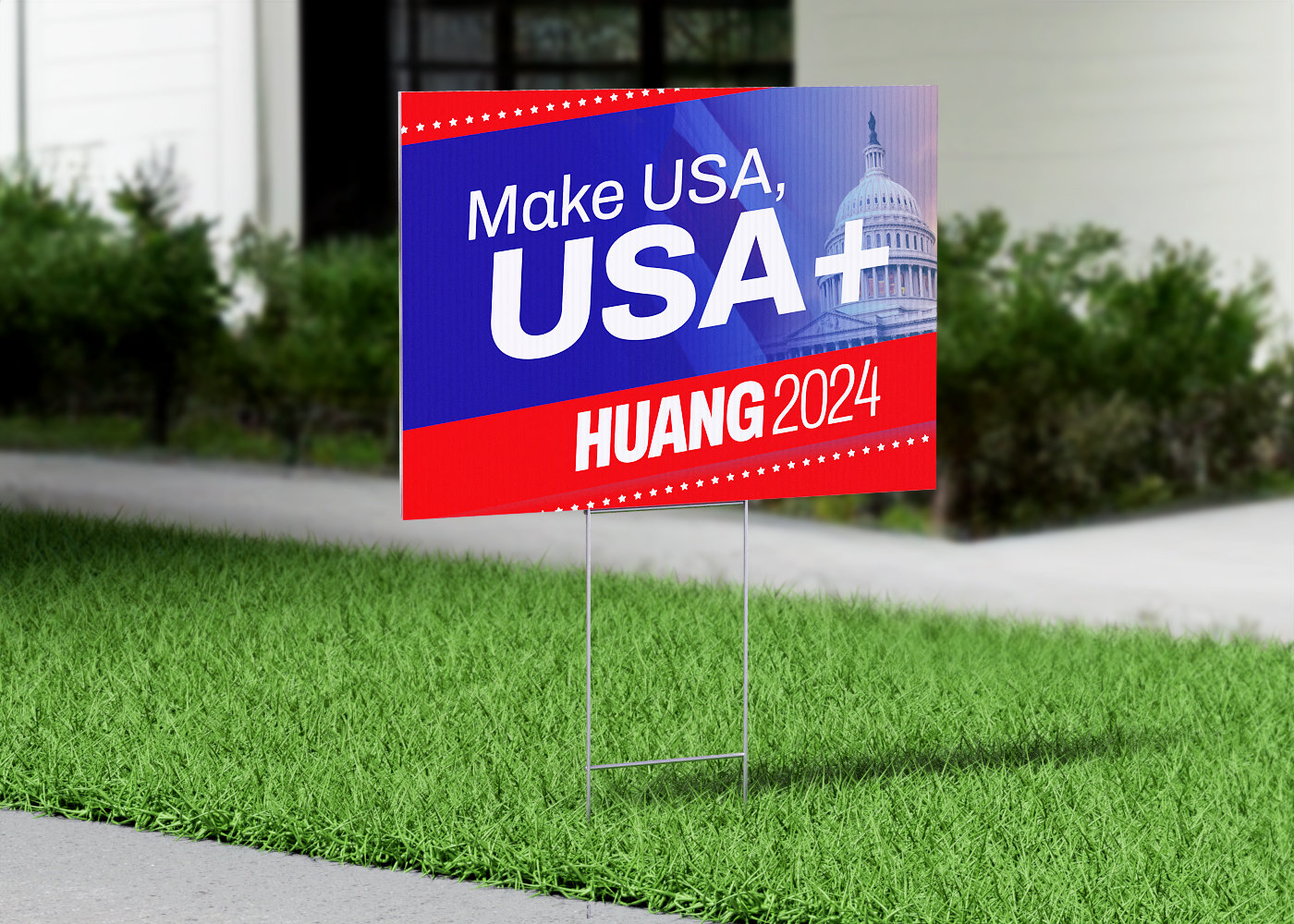 A stereotype maybe, but when it comes to excellence, Asians take the center stage. From math, to music, to money, 95% of the credit goes the Asian tiger mom who raised her children while juggling her other roles as a wife, a daughter-in-law, a friend, and a real estate agent. And who better to whip the country back to shape then Jessica Huang from "Fresh Off the Boat"? Her slogan captures the impossible standards her sons and every US citizen have yet to meet.
6. I Can't Fix America, BUT WE CAN!: Titus Andromedon from "The Unbreakable Kimmy Schmidt"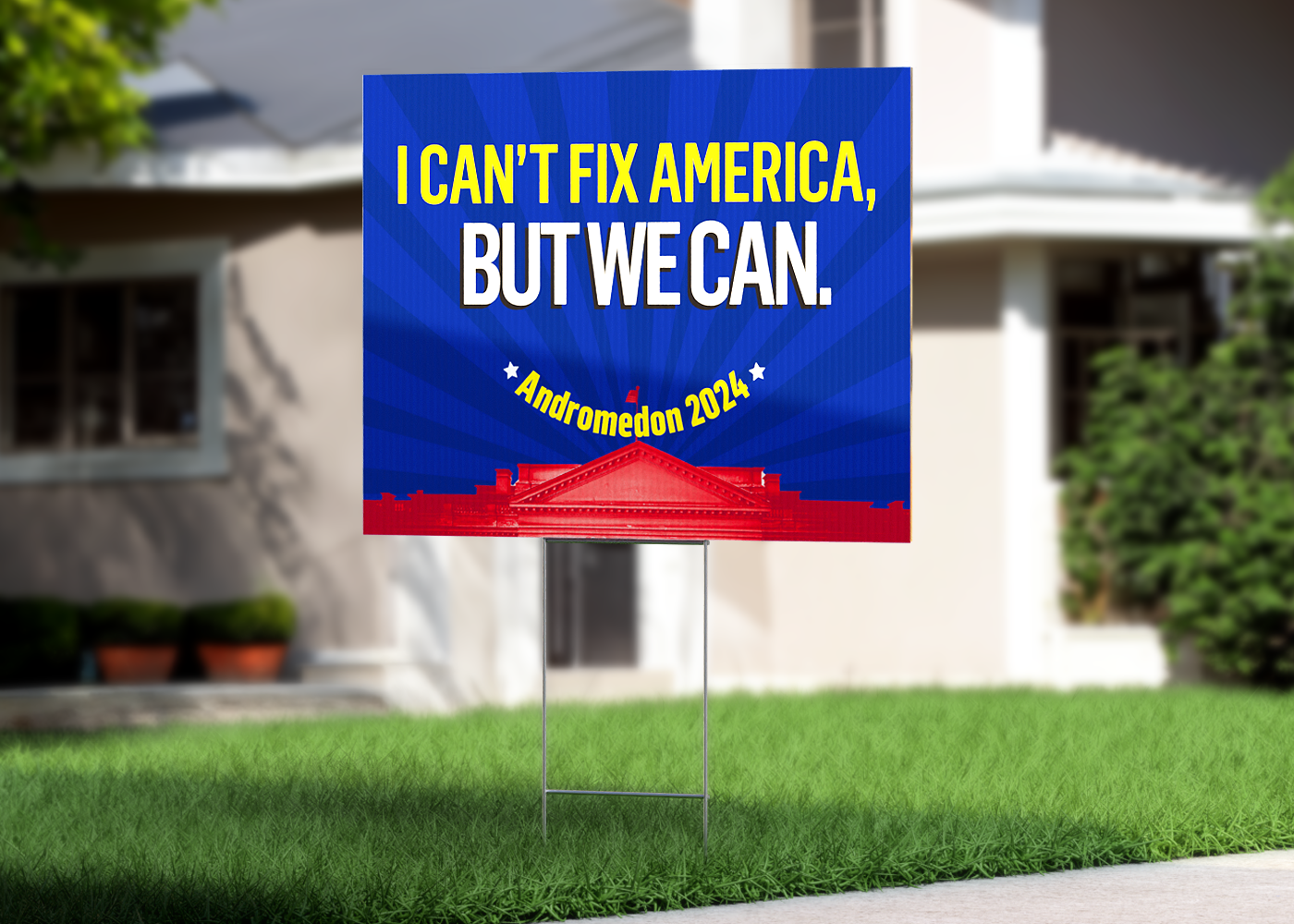 Rounding up our list of presidentiables roster is Titus Andromedon, Kimmy Schmidt's larger-than-life roommate whose dreams are bigger than their basement apartment. It'd be a challenge for him to get voted into the Oval Office, but of all iconic his quotes, "I can't fix America" (with a little tweak by us!) has the most promise of getting Americans to reconsider.
Design an Unforgettable Campaign Slogan
We hope you get inspiration from these fun slogans for your next campaign, or at the very least a few laughs. Whether you're endorsing a political candidate, and advocacy, or your own business, yard signs will instantly bring attention to your witty slogan. Check out the high-quality yard signs you can print with Signs.com today.