If your company is involved in interstate commerce and you utilize company vehicles in the movement of goods, you may need to obtain a USDOT number for those vehicles. Depending upon the state you're located in, you may also be required to possess a USDOT number for intrastate commerce.
Granted by the Federal Motor Carrier Safety Administration (FMCSA), a USDOT number is a unique identifier that's placed on your company vehicles. The number allows for the monitoring and collecting of information for compliance reviews, inspections, crash investigations, and more.
Do you need a USDOT number? And, if so, how do you install one on your company vehicle(s)? Read on for more information.
Do You Need a USDOT Number?
The easiest and most sure way to determine if you require a USDOT number is to take the interactive quiz found on the FMCSA's website. By answering and progressing through the questions, you'll be able to quickly determine if you must have a USDOT number.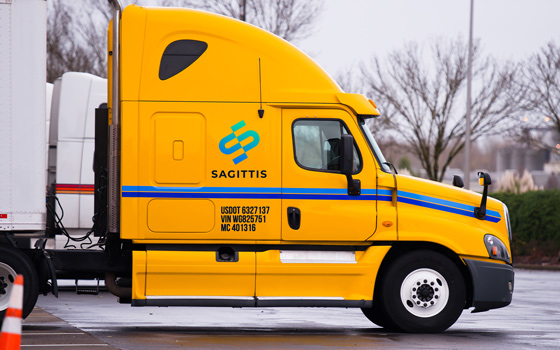 You'll likely require a USDOT number if your company operates in interstate commerce and:
You have vehicles that haul more than 10,000 pounds of cargo;
You transport between nine and 15 passengers (including the driver) for compensation, whether direct or indirect;
You transport 16 or more passengers;
You haul hazardous materials.
A USDOT number may also be required if you deliver within one state, but cross through another state during delivery; and if you ship between two destinations in the same state, but the products originate outside of the state.
Beyond federal regulations, most states require companies operating intrastate commercial motor vehicles to obtain a USDOT Number. Check with your state's intrastate commerce regulations for specific requirements.
Size, Color, Placement, More
So, you've determined that you do indeed need a USDOT number, and you have now secured that number from the FMCSA.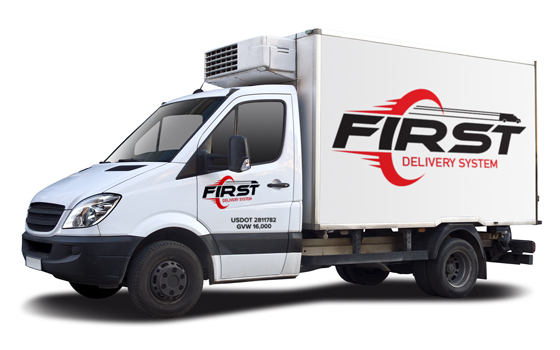 Here, then, is what you need to know regarding how that number must appear on your vehicle, and other specifics when it comes to installing a USDOT number:
Placement: The USDOT number must be applied to the vehicle itself (not the trailer or some removable part of your vehicle), and it must be displayed on both sides of the coach or motor area (usually the driver's cab). Typically, the numbers are applied to the cab doors or adjacent to the doors.
Permanency: According to the FMCSA, the number must be permanently attached – that is, not taped or simply attached by magnets, etc.
Size: The only stipulation the FMCSA makes when it comes to size is that the number must be visible from 50 feet during daylight hours. The minimum height we would suggest is 2 inches. Also: Some individual states do indicate a specific number height of 3-4 inches (check with your state's guidelines for any restrictions).
Color: To ensure visibility, the USDOT number should be printed in colors that contrast with the background – black on white, white on black, light color on a dark background, dark color on a light background, etc.
Font/typeface: The FMCSA states that USDOT numbers should be printed with fonts that are easily read. Avoid ornate or other fancy fonts – clear and legible are what you need here.
Other: Your USDOT number should include "USDOT" prior to your assigned number. In addition, some states require that your state abbreviation follows the USDOT number (check your state regulations).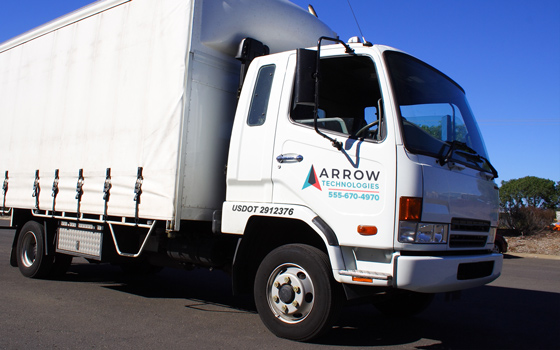 Your USDOT Number Options
Here at Signs.com, we offer two options when it comes to USDOT numbers for your vehicle:
We can produce your USDOT number, along with lettering and/or graphics of your choice, using cut vinyl. Our vehicle lettering comes pre-spaced and pre-masked onto 2-mil, self-adhesive durable vinyl, so you can install it on your vehicle in minutes. The vinyl is durable and long-lasting (up to 8-10 years, depending on climate and usage), and is available in 35 different colors.
Another option is to have your USDOT number printed as a vehicle decal. We print our vehicle decals with UV inks onto either transparent or opaque adhesive vinyl. The vinyl and the inks are resistant to weather, fading, and abrasion.
In both cases, you can design online using our easy-to-use Design Tool (we have design templates available), or you can upload your own custom design. And, of course, if you need any help with files, uploading, or design in general, our free Design Services are there for you.