12 Tips for Yard Sign Marketing for Small Businesses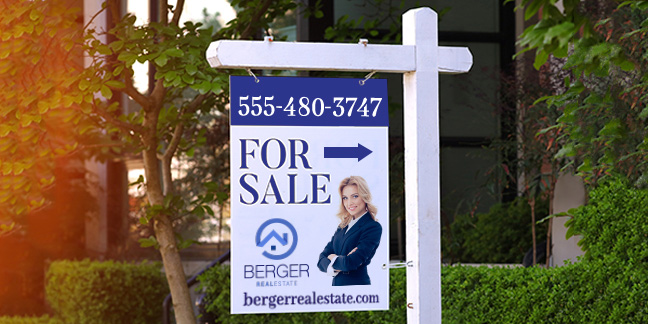 From Ancient Rome to the Around the World
According to the Institute of Free Speech, yard sign marketing has been around as early as Ancient Rome, where they would use signs to promote candidates on the walls of their territory. In the 1820s, President John Quincy Adams brought the same practice of using yard signs for political campaigns to the U.S.
Today, yard signs are not just limited to political campaigns but are used in marketing campaigns for various industries. In this article, we'll talk about the benefits of using yard signs in business promotions, and how your yard signs can stand out from the competition.
How Can Yard Sign Marketing Work for My Business?
With so many marketing tactics these days, the possibilities are endless when it comes to promoting one's business. However, not every method can target a specific audience effectively, especially when you don't have a big budget.

Fortunately, yard signs are a simple, tried-and-tested solution. Here's why:
They Reach Out to Your Actual Audience
Yard signs are perfect if your goal is to target customers within your store's vicinity. There's no need to spend more on other forms of advertising if you only want to promote your products and services to people who don't need to drive far to get to your location.
They're Inexpensive
Billboards, TV and radio ads, website ads, and print ads are very costly. To reach your audience, you have to spend money on print production and mail, time slots — or pay daily, weekly, and monthly for online ads. With yard signs, displaying ads is very inexpensive. All you have to do is order them once, mount them, and you're good to go. No need to think about production costs or other recurring fees to get your ads running.
They Support the 'Rule of Seven' Advertising Principle
The "Rule of Seven" is an old advertising principle that says customers must see your marketing message at least seven times before they decide to take action and buy. Although this isn't an exact science, yard signs are one way to ensure your message gets repeated exposure.
They Imply Customer Satisfaction
Seeing yard signs often outside a store is just as convincing as getting word-of-mouth recommendations from satisfied customers. The more there is exposure for your ad, the more it communicates to people walking by.
They Boost Brand Awareness
Limiting yard signs to your storefront will only create awareness for those who drive or walk by your business. To reach out to a larger audience, try also placing your yard signs in locations surrounding your business. Make sure to include your business name, logo, and also use arrows to direct readers to your store.
12 Tips for Yard Sign Marketing
Yard signs may not be as grand or big as commercials or billboards, but they are proven to still grab the attention of passersby and drivers despite its size and simplicity. We've come up with some tips on how yard signs can improve your customer reach:
1. Keep Your Message Short and Simple
Passersby only have a few seconds to read a sign before they pass. Signs that have one or two lines of text have more chances of being read and remembered.
2. Use High-Contrast Colors and Text
Using a dark background with lighter text, or vice versa is one way to boost visibility for your sign. Contrasting colors can also emphasize and highlight the important part of your message. In an experiment conducted in 2018, we saw that using high-contrast colors and text on signs can boost responses by 23%.
3. Go for a Neat Design
Keep the layout of your design simple and pleasant to the eyes of your audience. Too many design elements can distract readers from the message you're trying to convey.
4. Invest in Double-Sided Printing
Double the exposure of your yard sign by having it printed on the front and back. Doing this will allow your sign to be seen regardless of where traffic is coming from.
5. Include a Call-to-Action
Add a call-to-action statement in your yard sign so readers know what to do next. Include contact details, like a phone number, social media handle, or email address to encourage your audience to connect with your business.
6. Go Big With Letters and Size
Whether it's the size of the fonts or the actual size of the sign, bigger is always better. You want your yard signs to be seen and read at a further distance to attract even more potential customers.
7. Use Arrows to Show Direction
If you want to help guide readers to their destination, make use of arrows in your yard sign. Make it easy for people to find your business so they're not distracted with directions from their GPS.
8. Pick One Service Per Sign
Advertise only one service at a time so as not to confuse readers. If your sign is only about one thing, your audience would find it easier to remember.
9. Choose Fonts That Are Easy to Read
Select fonts that can be easily read in various formats. Sans-serif typefaces tend to be more readable compared to serif fonts. Also avoid scripted fonts, as these are harder to read quickly and at a distance.
10. Don't Forget About White Space
Leaving 30-40% of white space will increase the readability of your sign, guide the eyes of the readers, and make your sign easier to digest quickly.
11. Place Your Sign in Areas With High Traffic
Make sure to mount your sign in a location that can be seen by many – from the street to the sidewalk. You want your sign to get plenty of attention so that your message will stick in the minds of readers.
12. Make Use of Online Resources for Your Design
If you want to create your yard sign design, you can use a free design templates from Signs.com. You can easily edit our premade designs without any professional background in design. Need assistance with your design? We got you. Our team can provide free design services as well.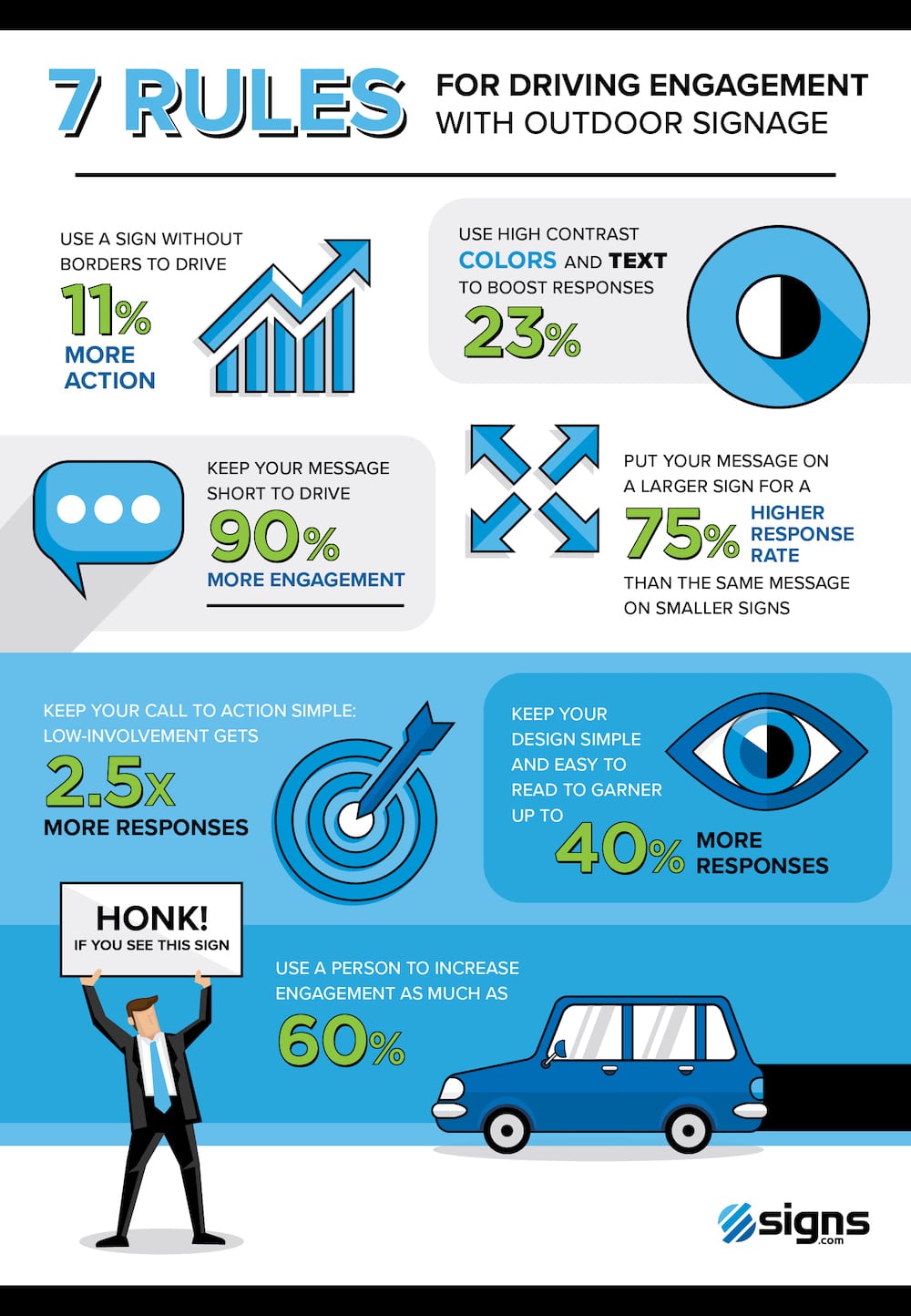 Conclusion
If you're looking for a low-cost yet effective way to promote your business and products and services, yard signs are a perfect choice for your marketing campaign.

Signs.com provides an extensive selection of custom yard signs that you can use to capture the attention of potential customers. We offer any custom shape or size, and we print our signs in full color. Order from us today! We provide next-day shipping.
Related Articles
The Best Practices for Advertising With Yard Signs
Yard Sign Rules Across the USA: Fascinating and Helpful Facts
Yard Signs: Your Secret Weapon to a Successful Marketing Campaign
Yard Signs FAQ Part 1 – Signage 101
Your Ultimate Guide to Yard Sign Printing
Types of Yard Signs and the Most Popular Ones
How to Design and Choose the Perfect Yard Sign Size
Signage 101: Yard Sign Sizes
The Basics of Corrugated Plastic Yard Signs – Signage 101
---
Browse by Category
Featured Products