Today's signage 101 post will cover the standard banner sizes as well as the most common banner sizes. We'll also describe how to determine which banner size is best for your specific needs. You'll learn fun facts about our banners from Signs.com! We also show you a step by step guide to choosing your size. Read on to learn everything you need to know about standard vinyl banner sizes. 
Vinyl banners are perfect for convenient, large format signage. Banners are a go-to signage solution for businesses and consumers because they are durable, easy to install/set up, affordable and highly portable.
What are the standard sizes for vinyl banners?
Although the sign industry doesn't specify a "standard" vinyl banner size, there are a few common sizes that are frequent favorites for the majority of banner shoppers.
6′ x 3′ (72″ x 36″)
4′ x 2′ (48″ x 24″)
8′ x 4′ (96″ x 48″)
The most commonly ordered size for a vinyl banner is 6′ wide x 3′ high. This particular width and height are perfect for tons of uses. This size of banner is big enough to be seen from a distance and stand out and small enough to easily transport. The 6′ x 3′ banner is also a great size to use in conjunction with a standard six-foot table. You can either hang the banner from the front of the table or behind the table, on a wall.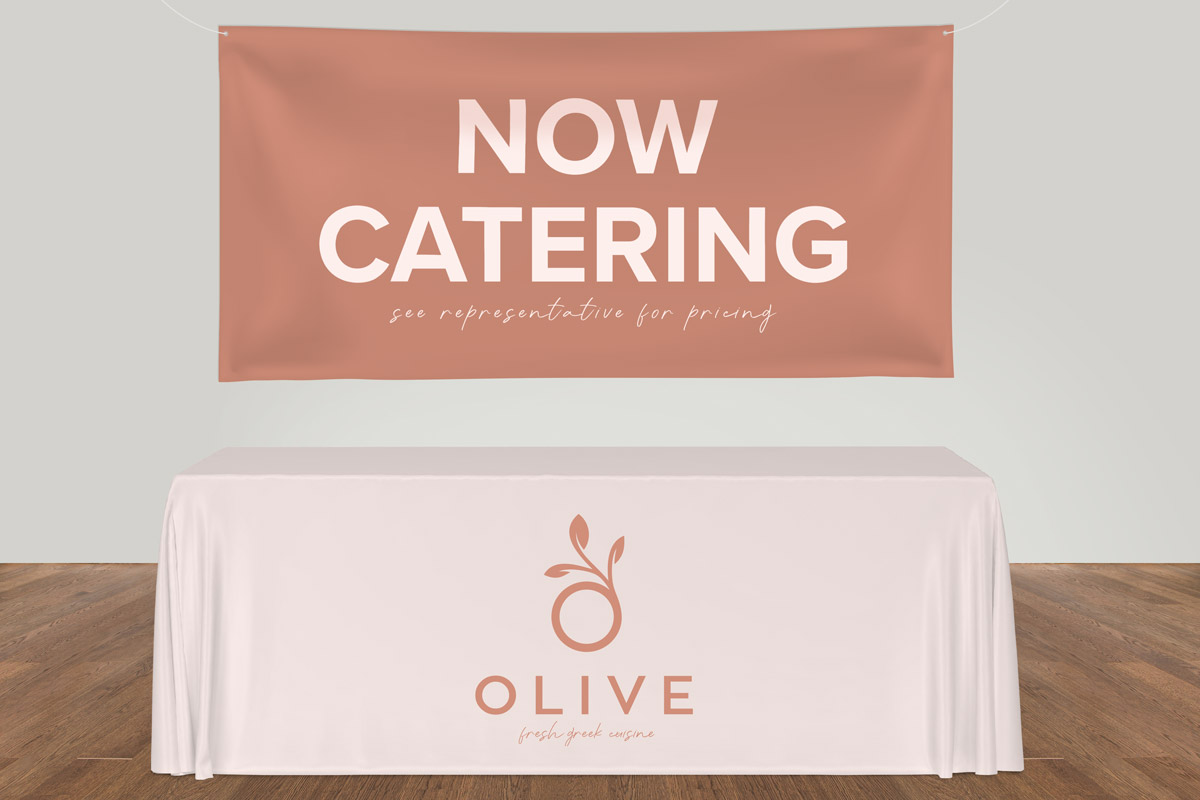 The majority of print shops can print banners up to 5 feet by however long their roll of vinyl material is. The most common material used in the industry is 13oz vinyl. The vast majority of vinyl banners are printed on the roll, then cut to a square or rectangle. In most cases, a sewn or heat welded hem is added to the edges of the cut vinyl. The hem provides strength to the edges for outdoor or indoor use. Most banners come standard with grommets (rings) for hanging the banner up.
At Signs.com, we can print your banner at nearly any imaginable size and have it at your doorstep within just a few days. We offer grommets and a welded hem standard with our 13oz vinyl banners.
How do I know what banner size is right for me?
Often times the most common sizes will be perfect for your needs. You'll notice that the common sizes mentioned earlier are a simple 1:2 size ratio (i.e. 6′ x 3′). Another popular choice for vinyl banners is a 1:3 ratio such as the 6′ x 2′ banner. Here's a simple suggestion to know when to use these size ratios:
Use a 1:2 ratio for logos or designs with more than two lines of text.
Use a 1:3 ratio for "landscape" designs with only a few words or a wide logo.
There are some situations where specific banners sizes make sense. A pop-up tent at a vendor fair for example. Stringing the banner between the poles of a pop-up tent looks good when it spans the whole width of the tent. 10′ wide by 3′ or 4′ high is just the right size to get any popup shop business noticed with a well designed graphic. Small banners can of course work with pop-up tents as well.
Banner size really depends on where you will use it and for what purpose. Banners that are used outdoors for advertising should be large enough that the letters can be seen from a distance. Selecting the size of your banner can also depend on the design you wish to print on the banner. If you have a logo with a 1:1 shape, then a more square banner might make sense, whereas if you're looking to spell out a phrase or call to action on your banner, then a wider rectangle will make more sense.
We've found that a visual reference can help you decide what banner size will be right for your project. Try out this great tool to help you get a good idea of the size of your banner. Simply type in the width and height (in inches) in the entry boxes below:
Banner Sizing
Get a feel for the size of your banner
Banner Size and Graphic Size
Perhaps the biggest reason outdoor vinyl banners are so popular is because of their effectiveness in getting attention. To have your banner get noticed, bigger is better—hanging up a banner is arguably one of the most cost effective ways to do the job.
The size of your banner will dictate the size of your font and graphic. Signs and banners are more noticeable when they are large and easy to spot. You'll want to take into account the viewing distance from where your banner will hang. For example, a banner hanging on a fence near a pedestrian path should be easy to see and read from about 10-20 yards. A banner hanging on a building or set up on a roadside should be easy to spot and read from 50-100 yards.
If you have questions about font size or how to get your graphics just right from different viewing distances, check out our blog post on letter height visibility.
We can print your custom banner in nearly any square or rectangular shape starting as small as 12″ x 12″. While we can technically print your banner that small we recommend not going smaller than 24″ x 12″.
What is the largest vinyl banner size?
For general use, the largest banner that you can print from Signs.com is 120″ x 1980″ or 10 feet by 165 feet. That is a giant banner! If you are looking for a giant banner that is larger than 10 feet in both directions we can still print and create it for you. Just give us a call and we'll set up a premium order for you!
If you'd like to experience just how easy and fun it is to create your own banner at any size, check out the step by step guide below, and order one for yourself. You'll be pleased with the results!
What about smaller banner sizes? Most vinyl banner producers start their smallest sizes at 2 feet wide by 2 feet high. At Signs.com, you can get a banner printed as small as 12 inches wide by 12 inches high. Banners that are smaller than 1' by 1' are simply not effective for outdoor signage and the print quality starts to become very difficult at very small sizes for large format printers. If you do need signage or print materials that are smaller than 1′ x 1′, check out some of our small format products such as postcards or flyers!
Step by step guide to sizing your banner on Signs.com
Now that you know all about vinyl banner sizes, let's help you design your own custom vinyl banner! Using our advanced design tool you can easily craft a custom banner at any size. There are a few ways to set the size of your banner.
Use the quickstart menu at the top of the vinyl banners page on Signs.com to select the size you want in inches. Select the quantity, and hit "Get Started!".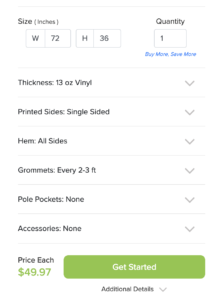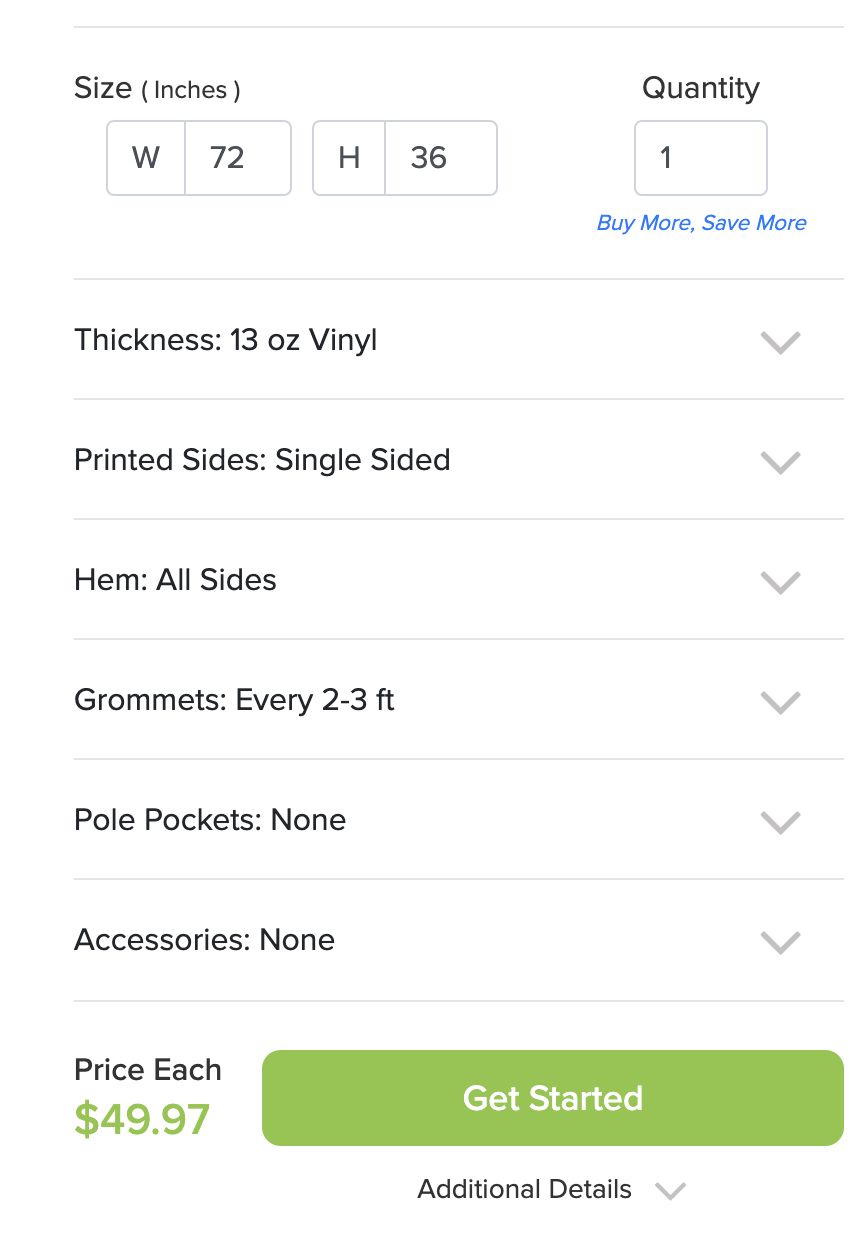 Next, simply choose between three easy ways to design your banner using the best design tool in the signage industry. You can start from scratch, start with one of our templates, or upload your own design.
Once you are in the Signs.com design tool, you can resize your banner if needed by changing the sign size width and height at the top of the page.
If you would like to change the width or height of your banner independent of the other, click on the "Lock Dimensions" checkbox under the fields. The little blue "lock" symbol should turn black and you'll see it unlock:
When you change the size of your banner in the design tool, you may need to adjust the design to fit the new size proportionately—if that's the case some simple work with your mouse should enable you to select the elements of your design that need to be resized to fit the new banner size.
It's as easy as that! For more tips and information about banners see our vinyl banner FAQ.