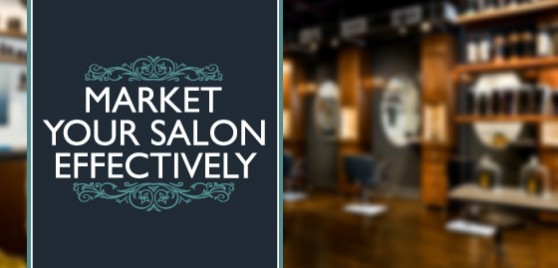 Starting and maintaining a business is hard work. As the business owner you have to invest your time and money into the business, and then face the daily challenges that come along with owning one.
One of those challenges is marketing your business. There's no question that salons are needed, but that means there are a lot of them out there. In order for your salon to beat out the local competition, you have to set up and execute a strategic marketing plan. Your marketing plan needs to include online and offline efforts.
To help get you started, follow these basic steps to start effectively marketing your salon.
Make It Easy For People to Find You
The first thing on your list has to be making sure potential customers can find your salon. Here are a few ways to make that happen.
1. Design a website. Whether on their laptops or some type of mobile device, people are pretty much glued to the web these days. It's highly likely potential customers will search for a salon online, so you need one that's visually appealing, easy to navigate and has relevant information. List your services, prices, location, contact information and maybe images of work you've done on your site. It could also be good to have a fun, helpful blog on your site that talks about current salon topics and answers any questions your customers might have. A website is only effective when it's user-friendly and has good content, so make sure you follow those guidelines.
It's also of note that the old axiom "if it's worth doing, it's worth doing well" applies to your potential website. In other words, if your website is going to look awful and not function properly it's better not to have one at all. It will just end up hurting more than helping in your effort to attract new customers.
2. Set up social media business pages. Social media is fun and informative, but it's also a fantastic business tool. Social media allows you to reach and interact with a wide variety of potential clients, as well as keep in contact with current clients. Facebook, Twitter and Google+ are your basic ones to have, but as a salon, Instagram and Pinterest could also be beneficial to you. Through these social accounts, you can link customers to your website or any blog content, post pictures of your recent hair styles or nail designs, share current salon news, ask questions, etc. Social media is a cost effective way to showcase your work and connect with current and new customers.
3. List your website on directories. Online directories can greatly benefit your business. You want anyone searching for your salon to find you as quickly as they can. You can also direct customers back to your website from these directories. Some example of relevant directories include Google+ Local, Yelp and Yahoo Local, but there are plenty more to use. These directories, assuming they are reputable, can also provide a secondary SEO benefit by helping your website appear higher in online search results.
4. Put up signage. Whether you're a new salon or have been in business for awhile, signage is a great marketing tool. Have a sign that advertises your salon name and contact information or one that announces special deals and promotions. A salon banner is the perfect type of sign to use because it's bigger, more attention grabbing and looks great placed out in front of your business.
Converting Eyeballs to Clients
Once you have your salon out there for people to find, you have to turn those potential customers into paying clients. Here are some ways to do that.
1. Use calls to action. Calls to action can be placed on your website, social media sites and directories. A call to action can simply say "Contact us now!" Keep your message short and to the point, and make sure your call-to-action buttons and banners stand out wherever they're placed and are easy to click on from any device.
2. Advertise special promotions and deals. People love getting things for free or at a discounted price, so if your business can afford it, offer daily deals or special promotions. Give first-time customers 25 percent off their first haircut or offer free samples of hair products on their first visit. Having these deals or promotions is one thing, but advertising them is another. If you don't promote deals and promotions on your website, social media accounts and anywhere else potential customers might see them, then there's no point in having them. As a new salon offering such deals and promotions are critical to building a client base that evangelizes your services to others in the area.
3. Have a catchy slogan. Think about certain franchises or companies. What's one thing you find yourself remembering and repeating about each of them? Their slogans. A catchy slogan that defines the qualities and mission statement of your business can help set it apart from your competitors and get you more customers. Place your slogan on your business cards, website, social media sites and advertisements to help your business be "top of mind" for potential clients when they've reached the point where they are ready to make a purchase.
4. Advertise. Advertising costs money, but more often than not it's not worth the money due to it being spent ineffectively. Notwithstanding there are many options including: online channels, radio, TV or newspaper advertisements. Where you're located, the type of customers you're trying to attract and how much money you want to spend will generally determine what mediums you'll advertise through.
Always Strive to Create Return Customers
Marketing your salon is necessary to get new customers, but it's also necessary to have repeat customers. New customers are great, but repeat business is what's going to bring in the profit you need to keep your salon running successfully. After all many studies have shown that it is much cheaper to retain customers than it is to acquire them. So keep these tactics in mind in your effort to retain customers.
1. Take care of each customer. Doing what a customer asks of you on their first visit is going to motivate them to come back. Whatever service they come in for, do all you can to meet their expectations, or to exceed them. If you're friendly, do a good job and make customers feel comfortable in your salon, then they'll want to come back and most likely refer you to their family and friends.
2. Implement a rewards program. A great way to get first-time customers to come back and to bring someone with them on their next visit is with a rewards program. Give the returning customer and the new one a service discount or a gift bag. Another way to get return customers and get them to refer your salon to others through word of mouth is offering them a service for free after so many referrals.
3. Utilize email and SMS marketing. Everyone has email and nearly everyone checks his or her email at least once a day, so email is a great way to keep in touch with your customers. Let them know when a special promotion is coming up or if you're having a sale on salon products. Email subject lines are important, so keep yours short and only use eye-catching words.
Another way is SMS marketing (short message service), which is a way to market through text messaging. This marketing technique is sometimes forgotten about, but it can be quite effective when done correctly. Text coupons to your customers so the next time they come in they're right there in their pocket or purse. Be sure to get customers' emails and phone numbers before they leave and to let them know why you want theirs.
Salon marketing is needed to get your business name out there and obtain clients. With all the competition out there, it's important to give customers a reason to try your salon and then to keep coming back. By using these online and offline marketing techniques, you will do just that.