Signs.com is pleased to announce the winner of our fifth annual "Design Your Success" scholarship and the $2,000 prize to Kadie Galewaler of Cairo, New York.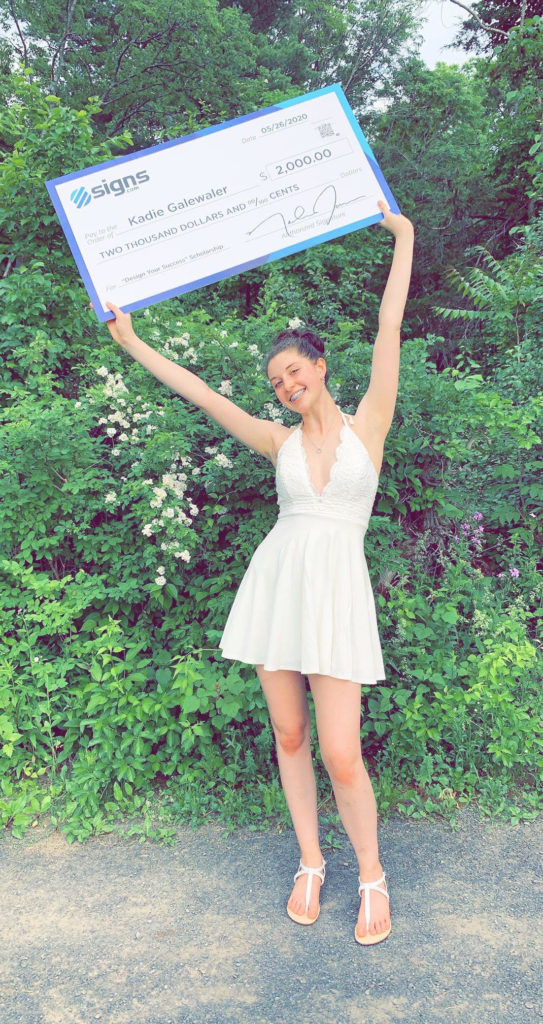 A 2021 graduating senior at Cairo-Durham High School in Greene County, New York, Kadie intends to attend Suny Oneonta this fall and pursue her degree in the medical field. As she stated so well in her winning essay, Kadie envisions becoming a practitioner who not only sees the physical needs of her patients but also shows sincere personal care out of human kindness.
We created the "Design Your Success" scholarship to give back a little of the success we have experienced at Signs.com. High school seniors around the nation were eligible to submit a creative essay of 1,200 to 1,500 words, describing how they intend to design their own success throughout their lives. With only a simple and open-ended prompt, we received many essays — Kadie's response rose to the top!
Kadie thoughtfully described her future plans by reflecting on her experience and accomplishments so far and projecting a road map to success from what she has learned. She described how a knee injury that required surgery and rehabilitation helped leverage her resolve to reciprocate the care she was shown by the physician who "treated her as a person and a friend". Kadie has already shown great spirit and a strong work ethic by volunteering much of her free time as a surgical services volunteer at a local hospital.
"We're very happy to be able to share some of our success here at Signs.com by supporting and contributing to the growth of students across the country through our Design Your Success scholarship," says Nelson James, co-founder of Signs.com. "It is so wonderful to read about the challenges these students have overcome and the goals they are working so hard to achieve. Kadie conveyed her plans and goals with a high level of maturity and understanding. We are excited to help her along her journey."