Halloween Signs and Banners
Get your game on this October with frighteningly wonderful Halloween signs. Whether you're hosting a Halloween party, decorating a haunted house or promoting a pumpkin patch business, you're sure to find a sign that fits your needs at Signs.com. You can use our products for promotions, invite trick or treaters, or greet people a Happy Halloween. Come to us for wall stickers, wall quotes, banners, foam boards, yard signs, and more!
Create Your Halloween Signs and Banners
Make your home or business extra spooky and Halloween-ready through boo-tiful and eye-catching Halloween signs. We offer a wide array of signs that will make any establishment look festive.

Want to create your own design? Choose from our selection of free design templates below. We also provide free design services if you need assistance with your design – no tricks, all treats!
Wall Stickers
Put a spell on anyone who lays eyes on your walls with our Halloween wall stickers. Our vinyl wall stickers come in any shape, size, or color. With their peel-and-stick option, these stickers can be easily repositioned, removed, and reused.

These are also printed using long-lasting, fade-resistant ink, and can be applied on any smooth indoor surface. Whether you opt to be fun, playful, or scary this Halloween, our wall stickers will add a decorative appeal to your home or business.
Wall Quotes
Display "Happy Halloween" or Trick or Treat signs in any room by adding vinyl lettering and graphics to your walls. With more than 30 colors available, our wall quotes can bring more life to your home or business this Halloween. If you want to add a scare factor and improve the look of your Halloween decors, you can even use a creepy message in bloody lettering.

Whatever size you choose, our Halloween wall quotes are guaranteed to stand out. In one smooth application, these graphics can transfer to any wall all at once – no need to apply letters individually!
Banners
Advertise your Halloween specials, or announce any Halloween event or party with custom Halloween banners. We provide various banners for indoor and outdoor use. Choose a material that suits your needs best. We have vinyl banners, fabric banners, and mesh banners available.
Foam Board Signs
Direct people to designated areas with Halloween foam boards. Our foam boards are lightweight, portable, durable, and printed using vibrant UV ink. You can also use these to welcome trick or treaters, as well as inform them to take just one treat. In a rush? No need to worry. We offer one-day printing on our Halloween foam boards.
Yard Signs
If you want to drive more foot traffic to your Halloween sale or show passersby where your pumpkin patch is, consider using yard signs for your business promotions. Our Halloween yard signs are printed in full color, and can be mounted using wire stakes, or metal frames. These signs are designed for outdoor use, and are made of weather and moisture-resistant material.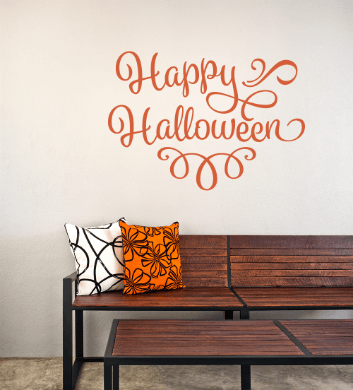 What Are Halloween Signs?
Halloween signs are various signs and graphics that homeowners and business owners use to celebrate Halloween. These can be in the form a wall quotes, yard signs, banners, or foam boards. Halloween signs are often used to add a decorative appeal to homes and businesses, welcome trick or treaters, as well as promote specials, new products, deals, and events. They work great indoors and outdoors, usually have illustrations of jack-o'-lanterns, witches, ghosts, bats, spiders and more, to evoke a spooky vibe.
Benefits of Halloween Signs
They boost spooktacular branding.
Halloween is one of the most celebrated holidays in the US. When brands incorporate it into their marketing campaigns, it provides them with many opportunities to get their name out to potential customers. They can host events, create specials, and more.

They set the tone for Halloween celebrations.
Halloween signs are great for setting the tone for Halloween celebrations. You can use them as additional decor in your home or store, and get creative in displaying them. Use a catchphrase, play with puns, or go for a scary, creepy, or playful theme with your designs to stand out and encourage people to join in the fun.

They drive foot traffic to any business.
With your kooky displays and witty greetings, Halloween signs can attract more potential customers. Once your sign grabs their attention, they'll highly likely that people will come into your store and see what you have to offer.

They are an effective way to advertise products and services.
If you want to take advantage of the holiday shopping rush, use Halloween signs to advertise your products and services. With Halloween signs, you can inform passersby about new products, sales, special deals and discounts, and more.
How to Use Halloween Signs Templates
Want to create your design but have no professional design experience? Try our free design templates. To get started, click on any template you like and it will redirect you to our intuitive online design tool.

If you want to manually search for a Halloween template, you can type it on the search bar, or directly go to our templates page. Once you get there, click on "Holidays" under the template categories, and select "Halloween" to filter out results.

When you've picked a design you prefer, you can edit the template according to your preferences. You can customize the design by changing the font, adjusting the colors, or by adding text and a logo. If you have a design ready with you, you can also upload it. Remember to click "View Proof" to get a preview of your design, and click "Save" to save it as a draft, or choose "Save & Continue" to proceed to checkout.
Related Articles
Promoting Your Haunted House
Got a haunted house that you want to spook the neighborhood with? Find out how you can best promote your haunted house and invite more visitors in this article.

How to Market Your Pumpkin Patch and Be Profitable
Pumpkins are a staple every October, especially when Halloween is approaching. In this article, we'll show you how to overcome the challenges of having a pumpkin patch business and how you can make it successful.
Frequently Asked Questions
Halloween Signs
What are popular Halloween signs and banners?
Our popular Halloween signs and banners are yard signs, vinyl banners, wall stickers, and foam boards.
What are the shipping options for Halloween signs and banners?
We offer next-day shipping for all our Halloween signs and banners.
Do you have free Halloween signs templates or design?
Yes, we do. We offer free design templates that you can easily customize even without any professional background in graphic design. Our team of graphic designers also provides free design services for your convenience.
Do you offer custom sizes or shapes for my Halloween signs?
Yes, we do. We offer custom sizes and shapes on foam boards, yard signs, and wall stickers.