Take it From the Experts: 6 Tips on How to Design Your Banner
A good banner design captures a potential customer's attention, while they're likelier to ignore a bad one. Yes, design can make or break your next banner display ad but creating an effective banner can be intimidating, especially for rookie designers or buyers shopping banners for the first time. If you're not sure where to start, here are some tips from two design experts at Digital Room and from the co-founder of leading signs e-commerce site Signs.com.

1. Start With a Clear Objective.
Digital Room's Art Director of Digital Media, KD Macalinao, has learned from her 12 years in graphic design that every great work begins with a clear goal. "Laying the groundwork is the first step to an effective design," KD says. She recommends asking yourself four questions about the banner to clarify your objective:

What's the purpose of this banner?
Who is the banner for?
Where will the banner be placed?
How will the banner be viewed?
Once you've answered all these questions, you can better articulate the banner's purpose and design it around your target audience.
2. Less is More.
"Keep the text short, don't use too many colors and too many fonts, and don't add unnecessary embellishments." KD recommends these basic principles if you want to create a banner, a well-designed and uncluttered banner. Do not overdo the design so that the banner's overall look doesn't distract from its main message. Avoid filling up the entire banner with text, objects, and images. To ensure you avoid doing too much, KD emphasizes the importance of giving your banner breathing space. When there's enough space between the elements, the information on your banner is easier to read and any image or message you want to highlight immediately stands out.
This vinyl banner gives enough room among all the elements, from the event title, icons, to what attendees can expect from the city BBQ.
3. Do not Use Illustrative Fonts.
Your banner should be easy to read from any distance. Digital Room's Senior Creative Director
Greg Simmons
— who leads the company's visual design, UX brand, and content teams — advises designers to stay away from any font that looks like it was drawn or painted by an illustrator. Some examples to avoid are "fonts that have leaves coming out of it" or "brush stroke font types." These fonts will turn your reader off from looking at the rest of the banner.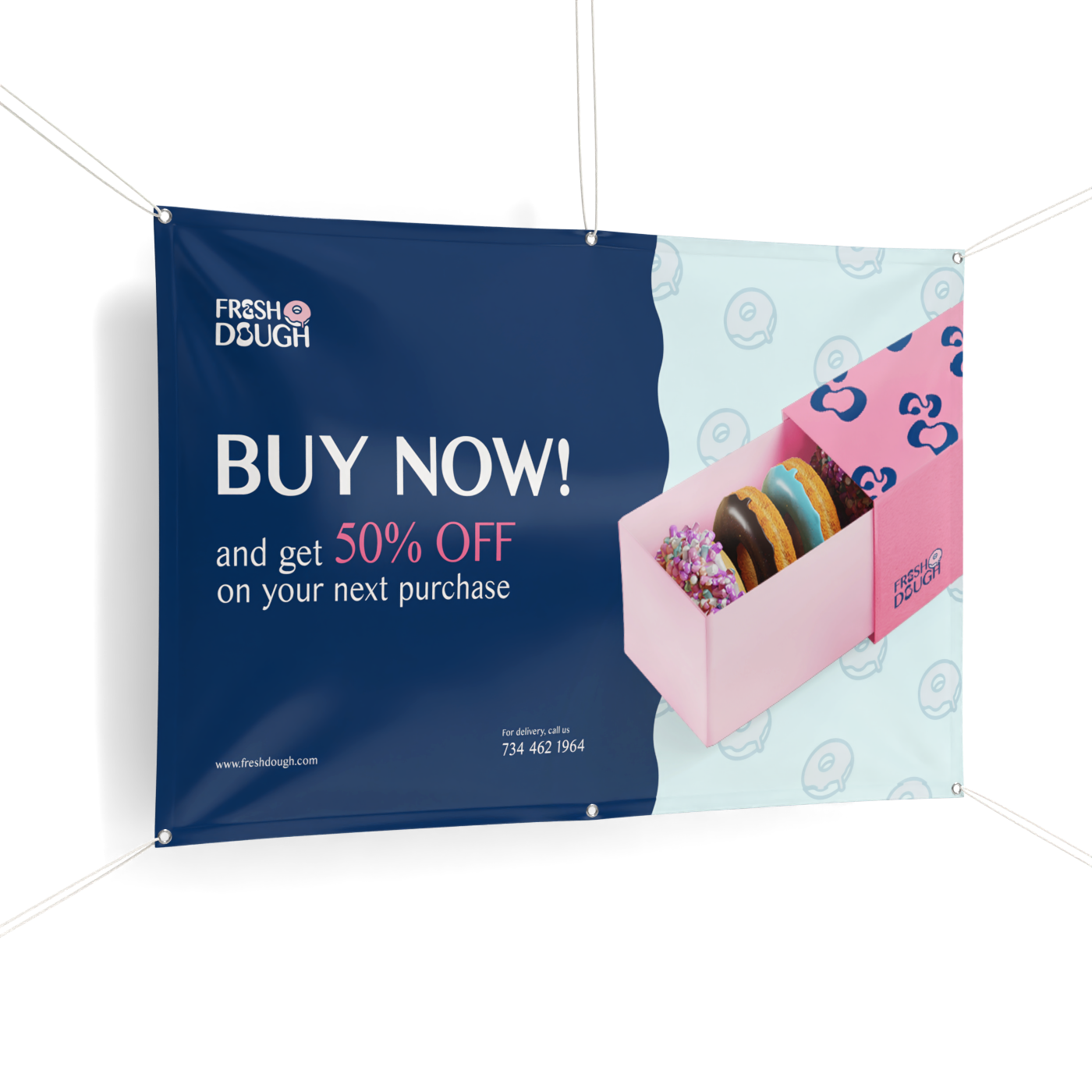 All the fonts used are readable from a distance or up close.
4. Choose Banner Colors that are Different from its Surroundings.
Visit your banner's display location and take note of the dominant or similar colors that will surround the sign. "Part of your banner's color decision is that it should be different from what's around it," Greg explains. Potential customers are likelier to see your display from a distance if its colors distinguish your banner from the surrounding signs and objects
You'll also want to account for other factors when finalizing your banner's colors. Greg suggests asking a few questions to figure out your options: From what point of view will people see the sign? Will they be walking up to the banner, or will they be seeing it from afar? Getting a good idea of your banner's would-be location will help you choose the right proportions for your display ad.
5. Include a Clear and Concise Call-to-Action.
Signs.com co-founder
Nelson James
considers call-to-action as a banner's essential feature. "The banner should have a clear and concise call-to-action that tells viewers what you want them to do," he says. It could be anything from visiting your website, attending an event, or scanning a QR code. Make sure this action is prominently displayed and easy to understand.
The larger text, "See it to believe it" reads as a call to action for the homes shown on the banner.
6. Use Branding Elements Consistent with your other Promotions
The branding elements on your banner should be consistent with what's seen on other promotions. Nelson encourages keeping the logo, colors, and fonts the same across the different marketing channels. "This will help with brand recognition and make your banner more memorable," he says.
These retractable banners use similar logos, fonts, and visual elements to show they come from the same company.
Create Your Own Custom Banners Today
Excellent and effective banner design is possible with these expert tips, such as being clear with your goal, choosing distinct colors, and making the main message easy to read. Now that you know where to begin, check out the different banners you can design with Signs.com. The site lets you create the design online or upload a file for banner printing.
A Little Bit About Our Banner Design Experts:
KD Macalinao. KD Macalinao has 12 years of design experience in print and digital marketing. She currently works as Art Director of Digital Media at Digital Room, Inc.

Greg Simmons. Before he joined Digital Room, Inc., Greg led Design and Creative teams at top international agencies like R/GA, Rosetta, and SapientRazorfish. He helped develop award-winning digital and printed solutions for AT&T, IBM, KitchenAid, Zales, Hickory Farms, The Smithsonian, and Time Warner among others.

Nelson James. With over 15 years of experience in e-commerce and signages, Nelson currently provides leadership and expertise for all products under the banners and signs category for Signs.com where he is also a co-founder.
---
Browse by Category
Featured Products