How to Use Car Decals As Ads?
If you're thinking of boosting brand recognition through vehicle advertising, printing custom car decals might be your best option. In a study conducted by RYP & Becker Group, 97% of respondents remembered the ads they saw on vehicles, while 98% reacted positively towards advertisers after being exposed to them. In addition, 96% said that vehicle advertising has more impact compared to billboards.
While these statistics are convincing, it's still best to know what car decals are and how they can benefit your business before investing in them.
What are decals? Are they the same as stickers?
Most people tend to confuse decals with stickers because of their similarities and the way they are both applied. Basically, all decals are considered decorative stickers but not all stickers can be decals.

Decals consist of three layers (transport paper on the back, the design layer, and the mounting film on the front) and are transferred from one surface to another. Stickers, on the other hand, are composed of two layers (the backing paper and the design), and are applied by simply peeling off the backing and putting it on any surface.

Another difference is that decals are also more designed for large formats and extended outdoor use, while stickers can be printed on paper or outdoor film.
What are car decals?
Car decals, also known as car graphics or stickers, are images and lettering printed on self-adhesive vinyl material and applied to the windows or body of a vehicle. They come in many types: clear, opaque, perforated, and high adhesive.

Car decals are designed for outdoor use, which makes them durable and long-lasting. They can last for up to eight years if made from high-quality materials. In spite of its incredible features, some people are concerned that using car decals can ruin a car's paint job. However, that is only possible if the paint job on the car is of low quality.
How Car Decals Are Used?
Car decals can be used in a variety of ways:
For advertising purposes – car decals are mostly used to help promote a brand in a creative manner. You can promote a logo, business name, contact information, products, or services. To grab the attention of passersby, you can add a catchy phrase that will make readers take a specific action.
Express support – car decals are not just for advertising a business. Some people use car decals to show off their support for a team, band, school, or artist.
Keep others informed – you can use car decals to inform other motorists on the road if you have a baby in the car, a pet, or if you're a doctor or nurse on call.
Decorate your vehicle – if you want to add more character into your vehicle and express your personality, car decals are a great option to bring out your creativity. You can share your favorite quotes, values, or witty messages by printing car decals and applying them on your vehicle.
Why Use Car Decals for Advertising?
Using car decals for promotions is an underrated strategy when it comes marketing a business. To better explain why car decals are helpful in promoting a brand, here are some of the benefits of using car decals:
Advertising On-the-Go
When you use car decals, your ad is not just limited to one space at a specific time slot. You can go anywhere and have your ad displayed at any time of the day.
Attract Multiple Audiences
With being on the road and your car decals displayed at all times, your ad won't be restricted to a certain demographic. In fact, anyone who can view your ad becomes your audience regardless of their age, gender, profession, or ethnicity.
Alternative to Social Media Campaigns
Car decals can work as a great alternative to social media campaigns if you don't have the time or budget to hire a social media manager. You can use car decals to encourage readers to check out your products, avail special offers, or inform them about discounts. If your car decal is also witty and creative, it can even become viral and give your brand more engagement.
Encourage Referrals
If your car decals have compelling messages or call-to-action statements that are interesting, it's highly likely that people who saw your ad will talk about your brand and refer others to your business.
Affordable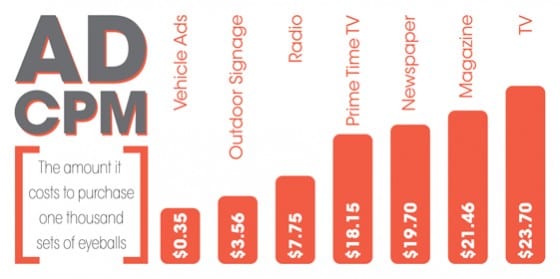 Car decals are very inexpensive. There's no need to spend too much on reprinting because they can be used for extended periods of time, and they're reusable. You can also save on printing costs if you choose to print as many as you want, as some printers give big discounts when you order in bulk from them.
Durable
Car decals are long-lasting and specially made for outdoor use. They're printed on waterproof material using UV-resistant ink, so the design can last for many years. It even saves any vehicle from getting scratches or color fades.
Easy Customization
Car decals are very customizable. They can be a text, graphics, or a combination of both. If you want to grab the attention of more people, you can use reflective tape and paint to make your decal more attractive.
Always Evolving
Because of the many ways that you can get creative with car decals, it's rare for them to be outdated. If you want to add a competitive edge to your marketing campaign, you can choose to invest in car decals and widen your customer reach.
Factors to Consider When Using Car Decals As Ads
Mobile advertising is proven to be very beneficial to a business. It provides many opportunities to gain more customers and for them to get to know your brand better. Even seeing a single decal on the road can make a person stop and check out what product or service you have to offer.

If you're ready to launch your mobile advertising campaign through car decals, here's a list of factors you should consider:

Design – choose a design that effectively communicates your message, but also represents your brand well. If possible, invest in professional graphic designers because they have the expertise on how to present information and make it visually appealing and impactful. If you want to be more hands-on, you can opt to use Signs.com's free design templates. These templates are fully customizable and easy to use even for those who have no design experience.
Placement – where will you apply your decal? Is it on the body, window, bumper, or above the license plates? Whichever area you choose to put your decal, make sure that it's in a place that has great visibility to passing motorists.

Application – a car decal would not be as effective if applied the wrong way. Keep the vehicle's surface free from grime and dust before installing your car decal. A clean and smooth surface will not only guarantee superior adhesion, but it will also help prevent bubbles and bumps from appearing.

Maintenance – when cleaning cars with decals, gently scrub the areas where they're placed so as not to cause any damage to the design. Too much scrubbing can not only add scratches to the decal itself, but possibly to the car as well.
Design Tips for Car Decal Advertisements
Don't let your people just drive past your vehicle without them even taking a look at your ad. Here are a few tips that can help easily grab the attention of passersby and motorists when they see your car decals:
Use colors that are bright and attractive
Choose your colors wisely, remember to be consistent, and pick a color palette that customers can easily associate with your brand. You can also make use of bright colors or background contrast, so that your ad remains visible from any angle.
Use a catchy slogan
Including a slogan in your car decal will help jumpstart your marketing campaign. Make sure that it's simple, stays consistent with your brand, and catchy, so that it can stick to the minds of readers. Keep in mind that your slogan will represent your business and will be remembered for a long time.
Incorporate humor
You can get creative and use your sense of humor to immediately grab the attention of motorists. A funny slogan, statement, image, or joke will make your car decals stand out and show that you're approachable. Remember to be careful and sensitive about the words or images that you choose as others might find them offensive. Since anyone can see your decals, try to use humor but in a family-friendly way.
Add a call-to-action
Whether your business strategy is to boost brand awareness, gain new customers, or have more sales, including a statement in your ad can encourage your audience to take a specific action. They can also spread the word and have more people check out what your business offers.
Include contact information
A car decal ad won't be effective if there's no way for your audience to reach out to your business. Make sure to add your contact information, business name, social media handles, or a QR code so that people who can see your ad can contact you or visit your social media page.
Conclusion
Car decals give business owners and entrepreneurs a powerful advertising tool at a minimal cost. To maximize your advertising returns, it's important that the execution of your campaign is flawless. When using car decals to promote your business, remember to stay consistent with your brand and carefully plan out your design.
Related Articles
The Benefits of Car Advertising
Are you thinking of taking your advertising promotions to the next level? You might want to consider placing ads on your car. Learn more about the benefits of car advertising and how it can help your business in this article.

Custom Car Decals: Tips from Design Experts at Signs.com
Difference Between Decals and Stickers – Signage 101
How to Remove a Decal
How-To: Installing a Perforated Car Window Decal
Resources
Learn more about yard signs in these pages:
Are Car Wraps a Good Investment for Your Business? – https://quickbooks.intuit.com/r/marketing/are-vehicle-wraps-a-good-investment-for-your-small-business/
25 Astonishing Fleet Graphics Statistics – https://tkographix.com/fleet-graphics-statistics/?utm_source=rss&utm_medium=rss&utm_campaign=fleet-graphics-statistics
Will Decals Mess Up My Paint? How Long Do Vinyl Graphics Last? How to Remove a Decal? – https://fullintensitygrafx.com/the-best-vinyl-graphics/2020/01/21/will-decals-mess-up-my-paint/
Will Decals Ruin Car Paint? – https://flowracers.com/blog/will-decals-ruin-car-paint/
What Is A Car Decal? – https://www.stickybusiness.com/blog/what-is-a-car-decal
How to Design Eye-Catching Car Stickers – https://thebumpersticker.com/uncategorized/how-to-design-eye-catching-car-stickers/#:~:text=Make%20sure%20that%20your%20sticker,stickers%20are%20great%20marketing%20tools.
Tips When Designing Car Stickers – https://www.stickershop.co.uk/blogs/news/tips-when-designing-car-stickers
Billboard on Wheels: How to Use Car Decals to Promote Your Business – https://www.bannerbuzz.com/blog/billboard-on-wheels-how-to-use-car-decals-to-promote-your-business/
11 Benefits of Car Wrap Advertising – https://www.2ctmedia.com/vehicle-wrap-benefits/

---
Browse by Category
Featured Products