How to Illuminate Your Business with Backlit Signs: A Beginner's Guide
Backlit signs are a common sight in nightlife strips and shopping districts where establishments fight tooth and nail to grab the attention of anyone who walks or drives by. They can be an absolute sight at night, and they can make you see the streets in a literally different light.

If you're wondering whether backlit signs are right for your business, you've come to the right page. By the time you reach the end of this article, we're 99.9% sure you'll want to check one out.

First things first—what are backlit signs made of?
Parts of a Backlit Sign
A backlit sign is made up of two parts: the backlit material and the lightbox that illuminates it from behind.

The backlit material can come in different forms such as backlit paper, photographic transparency films, fabric backlit, and adhesive vinyl.

If your sign will only be up temporarily, go with backlit paper.

Also known as "Duratrans", photographic transparency films are light-sensitive and are only recommended for indoor use.

Fabric backlit is a low-maintenance material that you can easily use, reuse, and bring wherever you are setting up shop.

If you need a more permanent signage, go with adhesive vinyl.

The LED lamp is the go-to choice for lightboxes because of its cost-effectiveness, but you can also opt for these alternatives:

Edge-lit LED lessens the chances of getting hot spots since the bulbs are evenly distributed around the lightbox's frame

Fluorescent promises an even glow across the graphic and is the best choice for large outdoor signages

Now that we've covered the basics, let's move on to the burning question— why should you even consider putting up a backlit sign?
The Benefits of a Backlit Sign
Backlit sign owners get to enjoy the following perks with their choice of signage:

Backlit signs are visible all-day round. The great thing about backlit signs is they're just as eye-catching during the daytime as they are at night.


Backlit signs are more affordable compared to other types of illuminated signage such as billboards and marquee signs that could cost you hundreds to thousands of dollars.


Backlit signs require little to no maintenance. If you see specks of dust and dirt, all you need to do is wipe it with a damp cloth.


The sky's the limit when designing backlit signs. Think outside the (light)box!


LED is more eco-friendly compared to traditional light sources. Not only does it consume less energy, you can also easily replace graphics without buying a whole new setup.


Backlit signs are highly versatile. You can print anything you can think of— your logo, business name, contact information, way finders—and you can display them anywhere too, whether indoors or outdoors.
At this point, you are most likely convinced that a backlit sign is a smart investment. Before you start shopping around for one, here are some things to keep in mind.
3 Tips to Make the Most Out of Your Backlit Sign
Placement. Before installing your backlit sign, ensure that your chosen location is within the best viewing angle of your audience no matter the distance. Make sure that there are no obstructions such as posts, trees, and other buildings.

Lightbox design. Are you going for a soft, diffused glow or the kind of bright that screams "notice me"? The position of the lamps and the depth of your lightbox can affect the amount of light that will shine through the graphic.

LED colors. Another great thing about LED lamps is that the colors are interchangeable. If you want to make your customers feel warm and fuzzy on a cold rainy day, you can easily switch to warm white or an incandescent yellow for a homier ambiance.
Common Backlit Signage Applications
Backlit signages are more widespread than you think. Learn how to spot them indoors and outdoors by being familiar with these common examples:

That glowing ad you see on waiting sheds and bus stops? That's a backlit signage!
Eating outside is always a good idea, especially when you can check out the menu before entering the restaurant!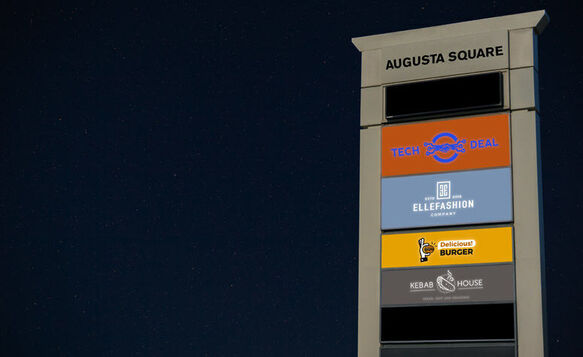 Searching for a specific store? Look up (literally)! They just might have a backlit signage outside the commercial center.
Anything worth checking out in theatres? Head over to the backlit posters!
Putting up your message in a backlit sign – whether it's to advertise your business, point people to the right direction, or announce an event – will definitely get it noticed. If you have been putting off giving your store or establishment a long-overdue facelift, this is your sign (pun intended) to get right to it today!
---
Browse by Category
Featured Products