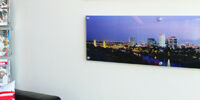 Acrylic
his glass substitute is both durable and aesthetically pleasing and is often used for entrances, church offices, and other rooms such as classrooms, doors, chapels and more.
Aluminum
Reinforced with a plastic core our aluminum signs are perfect for church property signs, parking, worship hours and regulation based signage for the exterior of your church.
Vinyl Banners
These versatile signs are perfect for temporary fundraisers, events, special services and even as a permanent exterior sign if the budget doesn't allow for an expensive church sign in front of the building.
Rigid Plastic
These signs offer a more cost affordable option to the acrylic for door and office signs as well as signage for restrooms, auxiliary rooms and more.
Foam Board
These rigid foam signs are perfect for displaying in entrances and at events for directional signage as well as announcements and other church news. They also work great for display purposes for church sermons, lectures and study sessions such as Sunday School.
Window Decals
Semi-permanent in nature these decals can display worship and office hours, welcome visitors and can be used inside and outside depending on your needs.
Item Successfully Added To Cart