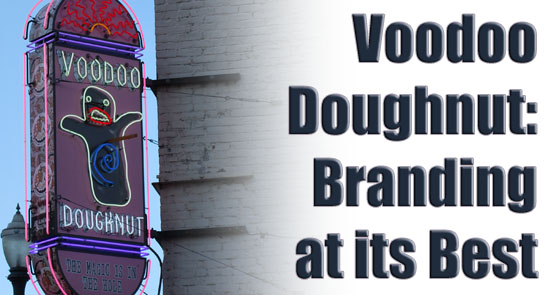 What do pink bakery boxes, bacon and voodoo have in common? One tiny (but wildly successful) little doughnut shop in Portland, Oregon. I first heard of Voodoo Doughnut while doing Internet research for a recent trip to Portland. Every "Top 10 Things to do in Portland" article I read listed the shop, which seemed pretty strange. I hadn't realized that Portland was famous for doughnuts. Micro-brewed beer, bicycles and rain, yes. Doughnuts . . well, ok.
Pink Boxes Everywhere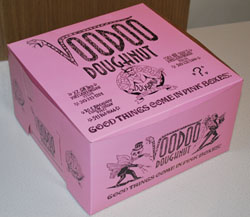 Once I arrived in Portland and started walking around the downtown area, I noticed tons of people with pink bakery boxes that seemed to be decorated with heavy black ink drawings of snakes and skeletons. When I say, "tons of people" I really mean it. Every fourth person on the street was schlepping one of these pink boxes. Big burly guys with Grizzly Adams facial hair and leather work boots were carrying them. Tattoo-covered, multi-pierced youth were sitting in the park, passing the pink boxes back and forth. Bike-riding office workers wearing Ralph Lauren shirts had them strapped to luggage racks and propped in bike baskets. What was the deal with those boxes? Bereft of a pink bakery box, I felt like I'd returned to junior high school when everyone had cool hair scrunchies and I was still wearing barrettes. I wanted to be one of the cool kids.
Voodoo Dolls, Bacon and Captain Crunch Cereal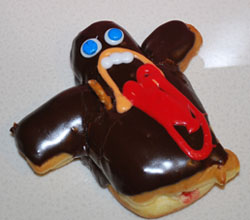 So I found Voodoo Doughnut on SW 3rd. There was a line out the door and down the street half a block. Voodoo Doughnut is known for its flagship doughnut, the Voodoo Doll, which is in the shape of a little man. He's frosted with chocolate, filled with raspberry jelly and has a little icing face. A small pretzel stake is stuck into his chest. You can put a hex on your boss, ex-boyfriend or annoying neighbor with the doughnut (all in jest, of course).
Other doughnuts are notable for their unique ingredients. The Bacon Maple Bar is a regular maple bar with two full slices of bacon on top. Captain My Captain is a raised yeast doughnut, frosted with vanilla frosting and covered in Captain Crunch cereal. The Loop is much the same, except it's covered with Fruit Loops. And there's a huge doughnut called the Texas Challenge. It's just a glazed doughnut, but it's as big as your head. If you can eat it in 80 seconds or less, they give you your money back.
Despite the unique flavorings and fun themes, Voodoo's doughnuts themselves are really not that life-changing. But once I bought mine and started walking down the street with my pink bakery box, I was accosted by several tourists asking where had I gotten the doughnuts and were they good? Other people nodded and smiled as I passed by.
When I walked into the lobby of the hotel, the clerk at the desk grinned and said, "Ohhhh… you got some voodoo! Yum!" I was officially one of the "cool kids." I was in the know. Hip. Just like a real Portlander. And all I had to do was carry around a Voodoo Doughnuts box. I was tempted to keep the box and carry it around throughout the rest of my trip, even after I'd eaten the doughnuts (writers don't get the chance to feel "cool" that often, after all).
Branding at its Best
Part of Voodoo Doughnut's popularity is definitely due to its weirdness (another thing Portland prides itself on). But the doughnut shop has really capitalized on its branding by putting every order into a distinctive, decorated pink bakery box. It's branding at its best.
Every customer that walks out the door continues to advertise for Voodoo Doughnut until he reaches his destination. And just like junior high school, people want to know where they can get a cool pink bakery box, too.
Other Boxes That Effectively Brand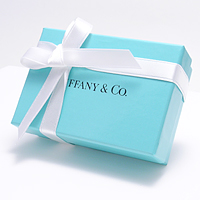 Hand any woman a small, turquoise box and she immediately knows that there's some pretty great jewelry inside. The Tiffany Blue Box has been around since the beginning of the store. The box, tied up with its pretty white ribbon, symbolizes exclusivity and status. Sure, you can buy a diamond anywhere. But can you get it in a blue box? Nope. In 1906, a New York Sun reporter wrote, "Tiffany has one thing in stock that you cannot buy of him for as much money as you may offer, he will only give it to you. And that is one of his boxes." Tiffany & Co. continues to capitalize on its distinctive packaging, featuring the blue box on the homepage of its website and in numerous advertisements.
How can you make a regular cardboard box seem friendly? Order a book (or anything, really) from Amazon, and you'll soon have a shipping box on your front porch. But Amazon doesn't just throw their books into any old box… every package has the Amazon logo (complete with the smiley face). The minute you (and all your neighbors) see that box on the porch, you know your goodies from Amazon have arrived.
Apple's packaging also lends to the branding of its products. Apple pays great attention to the detail of its boxes. The iPod Nano comes in a twee little clear plastic box. The Nano sits on a little cardboard shelf inside, which, when lifted, reveals the headphones nestled underneath. Too cute for words. The MacBook box has its own handle, so that proud new Mac owners can carry it out without hiding it in a bag. All of the boxes have a smooth finish that begs to be touched… kind of like Apple's products.
DIY Branding
Think about your products and how you're packaging them. Can you create a distinctive design or specialized box? While Apple is using product packing designers to come up with its unique boxes, Voodoo Doughnuts is just using a basic, pink bakery box that has been printed with a cool design and store information on the top. Amazon uses plain old cardboard boxes . . . the company has just jazzed them up with its logo and smiley face. Use your imagination and find a way to make your packaging work as a branding tool. And if that doesn't increase business, you can always head to Portland, grab a Voodoo Doughnut Doll and place a hex on your competitors.