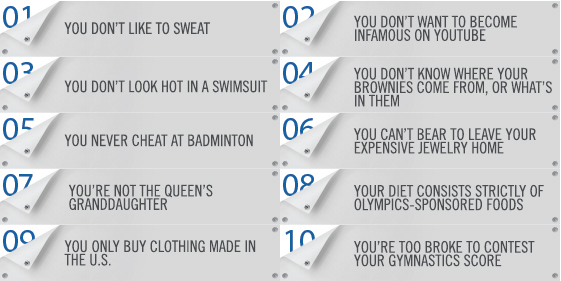 The 2012 London Olympic Summer Games are coming to a close this weekend. They have been packed with highlights, a couple low lights, and some great memories. At Signs.com,  we were inspired but quickly realized we would never make it to the Olympics. And neither will you if you exhibit one of these signs!

It might not be fashionable, but even Serena Williams sweats on the court. Olympics events require physical exertion (no, getting up from the couch and schlepping to the refrigerator to get another beer doesn't count).

At least seven of the nineteen summer Olympic sports categories require swimwear. And frankly, those track and field uniforms are pretty skimpy too. Get some abs and a tan before you head off to compete in beach volleyball.

Eight badminton players from China, South Korea and Indonesia were ousted from the Olympics for purposefully trying to throw games in order to improve their seeds. It's one thing to really stink at badminton; it's quite another to pretend to stink in front of hundreds of fans who have paid top dollar to see you play.

OK, Zara Phillips didn't really win the silver medal in equestrian just because she's Queen Elizabeth II's granddaughter. But being raised in a royal family meant she had plenty of cash for the best horses and latest in equestrian fashion. Having Grandma, Uncle Prince Charles and Aunt Camilla, and cousins Will and Harry cheering her on from the stands probably didn't hurt, either.

The Ralph Lauren-designed Team USA's uniforms were manufactured in China. So if you're one of those, "I only buy local, U.S. made goods in order to promote American jobs" kinda people, you can just go elsewhere to compete.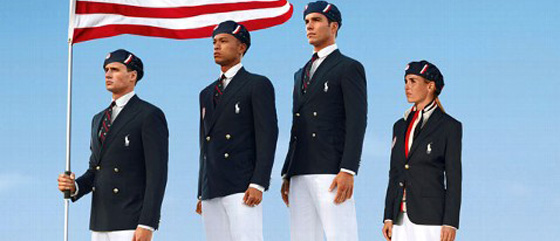 Poor German diver Stephan Feck had an epic dive fail when he over-rotated and landed flat on his back. Needless to say, he came in dead last (29th out of 29 divers). No medal for him. Instead, he won Internet fame with well over 250,000 views on YouTube alone. (see the dive here: http://www.nbcolympics.com/video/playlist/2012/wacky-and-unusual-moments-from-london.html)

Nick Delpodolo was expelled from the Olympics for inappropriate snacking. Apparently he ate some brownies that were spiked with marijuana. Oops. If you're in the habit of consuming baked goods without thoroughly vetting their origins, you might think twice about becoming an Olympic athlete.

Yohan Blake wore a $500,000 custom designed watch during his 100 meter semi-finals and finals races. Next thing you know, women gymnasts will be wearing Manolo Blahniks.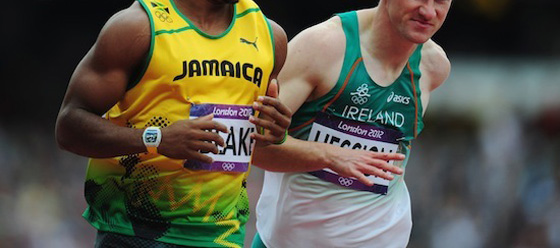 With all that McDonald's, Heineken and Coca-cola, your fat butt is never getting off the couch.

If you don't agree with the judges' scores, you'll have to fork over $300 to get them to change their minds. It's perfectly legal: a coach can submit an "inquiry" if he disagrees with the score for a particular routine. If the inquiry is upheld, you get your money back. If it's not, the International Gymnastics Federation gets an expensive dinner (just kidding. They don't really use the money for dinner. We don't think…).