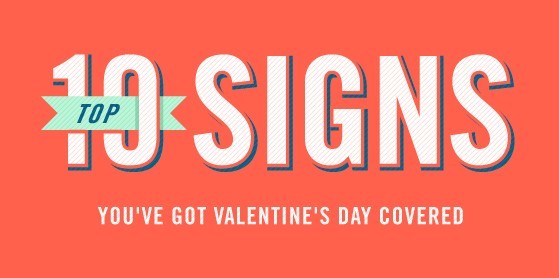 Psst… hey you! Valentine's Day is next Thursday; less than a week away. Some of you may need a gentle reminder… some may need a huge kick in the butt… but some are already prepared for the Holiday of Love and Expectations. How about you? Here are the top 10 signs you've got Valentine's Day covered. If none of them apply to you, we suggest you get it together now. Because, right or wrong, every woman who is in a relationship has some expectations for this day. And trust us, you don't want to come up short.


Yes! You're the best romantic partner EVER. Bonus points for tickets to any European country.


This is a given if sign #1 applies to you. But even if you can't afford a luxurious getaway, a romantic evening in a ritzy local hotel is the next best thing.


It's never, ever romantic to take a newborn baby, a toddler and a preschooler on a "date." This? Is not a date. It's hell on earth (the kind of hell in which you'll be paying $24 for an appetizer and all the other diners will be glaring at you). Get a sitter. Now. The good ones book early.


Maybe you've heard that jewelry is a cliché Valentine's gift. Whatever. We suspect your bachelor buddy told you that. There's a reason he's still single.


Super romantic. It might not get any better than that. Unless you're a terrible poet. If that's the case, or you're not a sonnet kinda guy, try writing her a song. Or pay someone else to write a sonnet or song or romantic bit of prose…we won't tell.


It's true… these things are every bit as cliché as the jewelry. But pair them with any of the other signs here and your loved one will tell all her friends how amazing you are (their husbands will want to strangle you for making them look bad, but that's OK. It's not your fault they're chumps).


You buy the gift, tuck it away and forget about it. Until 9:30 p.m. on Valentine's Day, when your loved one starts acting all pouty and you can't figure out why and then you realize that you TOTALLY FORGOT THE STUPID HOLIDAY! And all that stuff you bought? It doesn't count. Because YOU FORGOT. That's why Apple put that alert thing on your iPhone…for times like these.


Maybe she said, "Oh, no sweetie… I don't need anything at all for Valentine's Day. I can just sort of surmise that you love me since you're still around, watching TV in the recliner in my den… and that's enough. Really." She? Was LYING. Ignore all that self-sacrificing crap and get her something really romantic.


Sure, Hallmark comes up with some pretty great prose. But just signing your name at the bottom of the card is lame. WRITE something. Tell her how awesome she is, how you're so glad you met her, how she's super beautiful (inside AND out), etc. Or else just save the $3.99 you'll spend on the card.


No, dummy. Not for her. For you. Because you got the incredibly clever idea to clean the whole house as a surprise. Then you'll either make dinner, or if your culinary skills are lacking, take her out for a nice meal. This might possibly be the best Valentine's gift ever. If you can't afford Europe, that is.