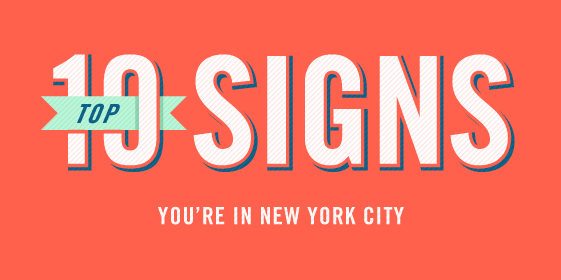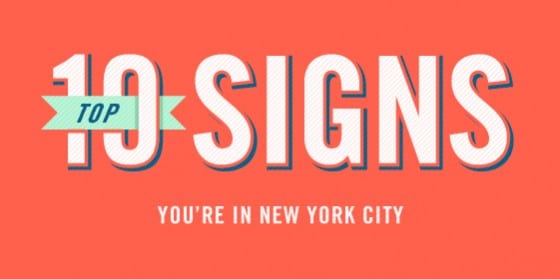 There is just something about New York City that's addicting. Maybe it's the food; maybe it's the shopping; maybe it's the signage. In any case, there are tons of things that make NYC unique and special. Here are the Top 10 Signs You're in New York City.


300 bucks might get you an executive suite back home, but in NYC that kind of cash gets you a room the size of a walk-in closet. Don't forget to add the 14.75% tax!


Doesn't matter what kind of cuisine you're hankering for… when you're in NYC you can have it all. And usually from a cart.


The Naked Cowboy isn't really naked. But almost (Cowboy sports some sexy tightie-whities). He's a NYC Times Square icon… with abs.


Lots of celebrities call NYC home. And for the most part, New Yorkers let them roam the streets like any other (semi)normal New York resident. So if you want to be a savvy city person, don't clamor for an autograph; admire from afar.


A leisurely stroll down Fulton street? Not unless you want to get trampled to death. Power walking is the way New Yorkers get from one place to another–don't get in their way!


Central Park sprawls over 843 acres. New Yorkers know their way around; tourists… not so much. Get a map or ask one of New York's finest for directions.


Hum-drum signage at subway stations? I don't think so. Instead, NYC boasts beautiful mosaic-tile signs, most of which date back to 1904. The great signage almost distracts you from the huge rats scurrying around near the tracks.


Sirens blaring, horns honking, loud music… New York is the city that never sleeps. So why should you?


Stop by the American Museum of Natural History to visit dozens of dinosaurs, spend some time with a giraffe at the Central Park Zoo and peruse paintings by Monet at the Metropolitan Museum of Art… all within blocks of each other.


Or any of the 800 languages spoken in New York.