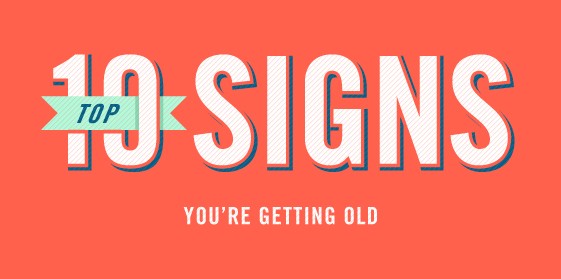 Sooner or later, it happens to all of us. Though it might seem like high school was just a few years ago, time just keeps creeping by. One day you wake up, look in the mirror and think, "Am I OLD?" Though none of us at Signs.com are, in any way, approaching old age (at least we're certainly not admitting it), we'll help you answer that question. Here are the top 10 signs you're getting old.


Because you still love those bands you listened to in high school.


Ask anyone who isn't old to check their mail, and they'll open up their Gmail account.


Sure, the dosage is written on the side of the bottle. But no matter how many times you move the bottle closer and then farther from your face, you still can't make out that 7 pt. font.


Or your wallet. Or your shoes. Or your glasses (hint: the glasses are probably on top of your head).


And you had to actually go into the gas station to pay for it. You're even older if you remember paying the gas station attendant, who washed your windshield for you while he put the fuel in your car.


Your head is pounding. Your muscles and joints are aching. Your eyes are bleary and bloodshot. What did you drink last night? A warm glass of milk at bedtime.


A sure sign that you learned to type on a typewriter. Your kids have never seen a typewriter… unless they've been in an antique shop recently.


And if you get in a crash? You'll break both forearms and sustain chemical burns from the airbag. Your driver's ed teacher knew what he was talking about… back in the '80s, before most cars had airbags!


Which is "Grandma."

You're still pretty thin on top…but are you supposed to have that much hair growing out of your ears?