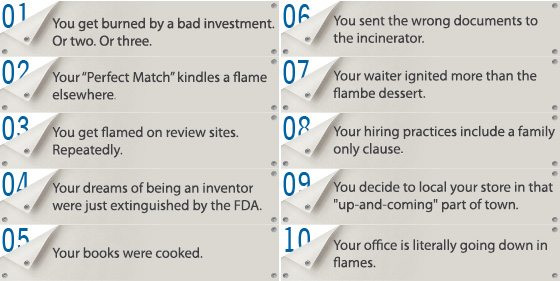 Owning your own business can be a wonderful and fulfilling endeavor. But, sometimes it's risky and sometimes, businesses fail. So how do you know when your business is really going down in flames? Take heed of these Top 10 Signs . . .

That $20,000 that you invested on inventory that turned out to be made of toxic, lead-filled plastic was a bad idea. Spending thousands more to paint the exterior of the shop neon orange in order to attract attention was a bad idea. And falling for the "real estate investment" scam? You can only get burned so many times . . .

You were once the love of her life. Now, Kevin is the love of her life. And she wants a divorce. In a community property state? Should've set up that LLC when you had the chance, huh?

One or two negative reviews isn't going to kill you. But thirty? In a two-week period? Thanks to your crappy customer service and shoddy product, you're going down.

The "At Home Tattoo Removal Kit" was your best idea ever. But the guys from the FDA just left, and they weren't happy. Who knew you needed to get approval for inventions that included laser technology?

If your accountant just took a long-term trip to a foreign country where there's no extradition, you might want to check the bank balances.

The IRS isn't kidding when they say you'd better have at least seven years of receipts to back up all those write-offs. Now you owe $350,000 in back taxes. Plus penalties.

It's not his fault that the woman at table number four shellacked her beehive hairdo with tons of hairspray, then leaned over the table at just the wrong moment. But now her beehive is nothing but wispy cinders and your restaurant has just been served with a lawsuit.

Cousin Joe-Bob and Uncle Willy may be loving family members, but that doesn't always mean they should be the ones on your sales floor talking to customers. Remember, each employee is an extension of your brand and you need to make sure that they reflect it in the way you want them too. P.S. Tell Joe-Bob not to drink on the job!

Location, location, location. Running a business is hard, but what makes it harder is being the only tenant in a condemned strip mall. Sure, the neighborhood is going through a urban renewal process, but think about the short term. Can you afford to support you business until it becomes the next Brooklyn?

As you helplessly watch from the sidewalk, there's a booming explosion and the roof caves in, sending an even bigger black cloud of smoke skyward. Your business is actually on fire. Yup . . . your business is going down in flames. Did you prepare?