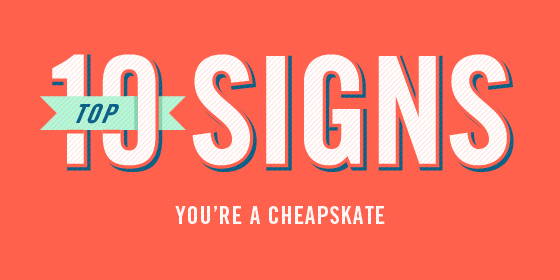 In a tough economy, it can be tempting to save money by making decisions based on cost over quality. Frugality is in fashion – being a cheapskate is not. How to tell the difference? Here are the Top 10 Signs that you're a cheapskate.

It's date night, so you pull out the best china, throw a tablecloth over your laminate-top table and light some candles. When your honey gets home from work, you ask him what he wants off the dollar menu. Who says Big Macs and romance don't go together?

If it's a 1966 Mustang or Camaro, it's vintage. That 1971 Ford Pinto you're driving? Not vintage. Just old.

You didn't want to hire an HVAC guy to fix the furnace, so you just fixed it yourself with a little duct tape. Now the the kids are wearing parkas, scarves and mittens to stay warm. It's really hard to do math homework while wearing mittens.

Holiday shopping is a breeze at the dollar store. Your wife will love that 3 liter bottle of off-brand soda and the past-expiration dated vienna sausages! Wrap them up in baby shower wrapping paper and you've got the perfect Christmas gift.

Those T-shirts that you bought on sale 5 for $10 were a bargain. In addition to adding to your wardrobe, they entertain as well. They started out as a size large . . . two weeks later, they're an extra small! It's like a fun magic trick every time you peer into the dryer.

Remember that scene in The Matrix where the kid bends the spoons with his mind? Well, you can't quite do that, but you've found that you can bend your spoons in half with just the tiniest bit of fingertip pressure. Pretty cool, unless you want to use them to actually eat.

Your talented stylist was just too expensive, so you went to the Discount Hair Academy and let a scissors-wielding nineteen-year-old beauty school student "trim" your hair. Don't worry; it'll grow back. Eventually.

Sure, there's a quality, licensed daycare center right down the street, but the rates are outrageous! Instead, you save money by sending Susie to the lady down the street where she can watch soap operas all day with the other 15 kids. Hey, she's probably learning some valuable life skills from those shows.

If all of your furniture came flat in a box and was assembled at home with Allen wrenches you're probably a cheapskate. That "Real Oak Laminate" isn't fooling anyone.

Who says you can't have a great family vacation on a budget? It seems a little weird that the place requires a deposit on the linens. And when front desk clerk asks if you're planning on staying all night, you start to wonder. Hopefully you got a room with a deadbolt that isn't broken.