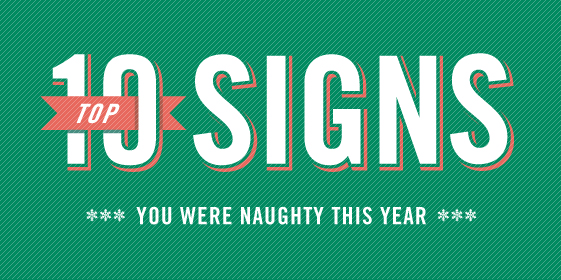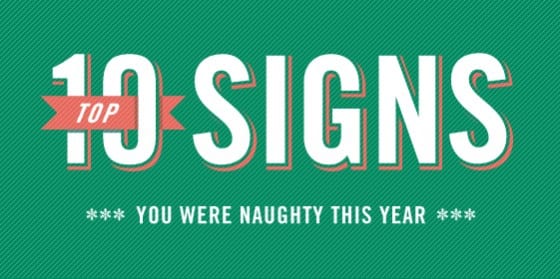 You know that song about Santa making a list and checking it twice? Well, here at Signs.com we don't really need lists and such. We know who's been naughty and it might just be you! How can you tell if Santa's putting coal in your stocking? Read over the Top 10 Signs You Were Naughty This Year. If more than one item applies to you, you're in big trouble.


Your kids thought it was a great idea to make you add a quarter to the jar every time you said a bad word. Now they're buying an XBox with the proceeds.


You paid the card off in February like you said you would. And maxed it again in March. Did you really need six pairs of Monolo Blahnik pumps and three Coach bags?


Yeah, we know… you're innocent. That video footage from the convenience store proves otherwise.


We won't mention here what you did at the party last January. You don't remember anyway. But everyone else does. Enough said.


That cheat sheet sure came in handy. Of course, now you have to pass Chemistry II. Which might prove to be tricky, since you can't identify a single element on the periodic table.


Smoking behind the bleachers. Making noise in the library. Sticking chewing gum on the lockers. And you aren't even in high school any more.


You hit a light pole while texting. Then you backed into the mailbox. Then you threw open your car door… right into the side panel of a Corvette. Now you've been pulled over for doing 20 over the speed limit. Naughty drivers pay more.

A white lie is a good idea sometimes. But telling your spouse that his 1980's era, bright pink raw silk shirt looks good on him was just cruel. Now he's walking around looking like a dork and everyone around him is being blinded by neon.


It was just a few thousand dollars… wait, is that the IRS at the front door? Why, yes. Yes it is.


And I was saving it for after I finished writing this article. I was imagining the spicy goodness of that gingerbread and the sweet, sweet melting of cream cheese frosting on my tongue. You're definitely going on the naughty list.