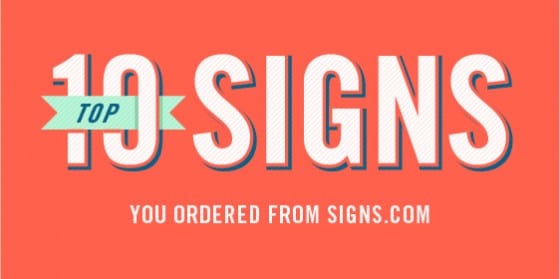 Think all online sign companies are the same? Well before this week, maybe the answer to that question was yes. But now that Signs.com has launched our all new website. There is no comparison! Here are the Top 10 Signs you ordered your signs from Signs.com.


We see that your banner is welded (not glued) on all four sides. No raw edges, no glue that comes undone, leaving your banner flapping in the breeze. Must be a quality banner from Signs.com.


Because you ordered your sign from Signs.com. So the ink won't fade. That spicy red and passionate purple will be just as vibrant a year from now as it is today… not faded to pink and lavender.


Thanks to the comprehensive installation directions you found on the Signs.com website, your window decals are fabulously flawless. Bubbles are for champagne, not signs… pour some to celebrate your beautiful new windows!


Nope. You just used the design tool on our website. So you were able to take a professionally-designed template and customize it to include your logo, colors and information. It only looks expensive!


Why? Because you had so much extra time to focus on all the tiny details that make your business run smoothly, thanks to our stellar customer service team. When you needed our help, we picked up the phone on the first ring and answered all your questions.


No Comic Sans for you! We can tell that you read our blog post, "Sign Design: Choose the right font" and applied your new found knowledge to your sign design. Well done!


Yup, that's our fault. Our new design tool is so much fun to play with that you stayed up all night, reveling in the many customization possibilities. Well, now you've got some really cool, customized signs. You can always take a nap later this afternoon.


At Signs.com, grommets are standard on all our custom vinyl banners and they're installed every 24 inches (or at the optimal rate for your banner size). So you don't have any saggy, droopy banner action going on.


They're not too small… they're not too large… they're juuust right. At Signs.com, your sign can be just about any size you want. We don't make you stick to standard sizes, so your sign fits perfectly. It's big enough to be seen and small enough not to be annoying. Goldilocks loves us, too.


You placed your new Signs.com wall decals on the wall in the family room and put all the furniture in place. Then your wife wanted the 400 pound entertainment center moved to the opposite wall. No problem. Signs.com's wall decals are removable and repositionable, so your cool new wall art can be moved as often as your wife wants. Now you just need a chiropractor.