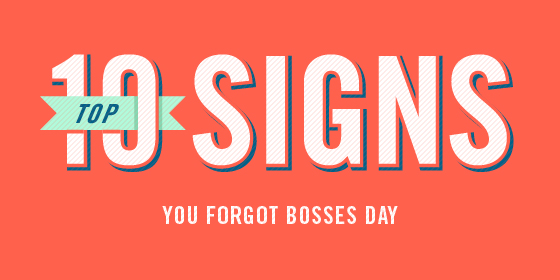 Did you know that Boss's day was last Tuesday? Yeah . . . we didn't think so. This holiday was created so that you could buy your boss a present. Take him to lunch. Thank him again for providing you with the joy of gainful employment. But you obviously blew off the holiday entirely. How do we know? Because we are pretty sure that at least one of these top 10 signs that you forgot boss's day applies to you.


Kind of embarrassing when you're taking a client out to dinner and the card is declined. Now you have to pay out of your own account. So much for your favorite four-star fusion cuisine restaurant; from now on it's the Two For $20 Menu at Applebee's.


You finished up that MBA just in time to apply for the new executive position. But they've just announced that Fred from the mailroom has been promoted, now that he's finished his GED. Guess that $40,000 you spent on tuition wasn't as good an investment as 18 holes of golf with the boss on Tuesday would've been.


Not as good as it sounds. He wants you to, "take some time out to re-evaulate your priorities and your commitment to the company."


The boss's wife comes into the office to visit. She seems surprised to see you and says, "Oh, you're still here!"


The office with the window sure was nice; much better than the tiny cubicle they've moved you to. At least you're right next to the bathroom.


Yay! Now you don't have to find a gift for Fred from the mailroom. It's so hard to shop for twenty-year-old rednecks. Wait a minute… is there a reason you're being left out of the Christmas party?


You've been a such a great executive assistant that your boss wants you to take the new girl and show her the ropes. Teach her everything there is to know about doing your job, ok?


Your boss just sent you an email with the new company protocol for your position. Apparently you have two months to acquire a Bachelor's degree in economics, learn Photoshop and become proficient in Chinese. Better get crackin'.


The junior sales staff is taking over your biggest clients; you're supposed to go out and drum up brand new business. Good luck!


You're afraid to read it. And for good reason. It ain't an invitation to the company BBQ.