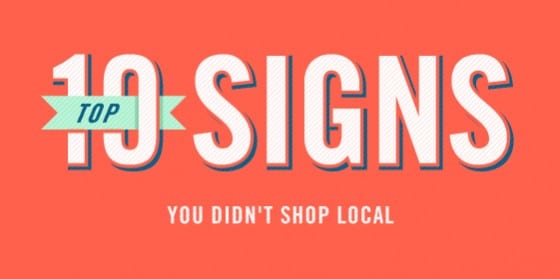 Buying local on Black Friday weekend is a good idea for so many reasons: you're helping local businesses, more of your money is staying in the community and you can find unique, distinctive gifts that will wow your family and friends. But sometimes, the call of those Big Box stores is just too tempting, and you succumb to Black Friday madness. Here are the top 10 signs that you didn't shop local.

Because you're standing in line outside the Big Box Store. It's cold. And dark. But you really, really want to buy this year's must-have, mass-produced toy. And give that national retail chain more of your hard-earned money.

It's hard to avoid being trampled when Big Box Store employees open the doors and everyone runs to grab that must-have, mass-produced toy. Now you have a broken arm, facial lacerations and multiple contusions. Merry Christmas.

You had your hands on that must-have, mass-produced toy when a rude lady yanked it away. But punching her in the face was a bad idea. Three felony charges later, you're sitting in a cell with Bubba (who's giving you the stink-eye) and hoping you can make bail.

You'd really like to know the specifics about this expensive electronic widget before you shell out 750 bucks. But the two teenagers wearing polyester vests and plastic name tags just gave you blank stares when you asked for help and there's not a manager to be found.

After standing in line in the cold and dark for four hours, then fighting your way through the crowds, you're finally ready to hand over your money. But now you're in line at the cash register and have been for 45 minutes. Just 10 more shoppers and it's your turn!

You thought it would be fun and festive to wear your size 44W snowflake footie pajamas to the Walmart on Black Friday. And the Snoopy slippers added a bit of panache, right? Wrong.

Those must-have, mass-produced toys you bought at Big Box Store? Broken within five minutes. Nothing says, "I love you, Sweetie" like a cheap, flimsy plastic toy.

That $10 Big Box Store sweater that was such a bargain on Black Friday? Looks like your sister, your Aunt Carol and your mom were standing in line at 3:00 A.M., too. Sorry, dad.

Because you have three bags full of items to return on the day after Christmas. And there are already 200 people in front of you in the Returns line.

When you shop locally, more of your dollars stay in your community. Local businesses contribute more money to local charities and organizations. When you shop at Big Box Store, you contribute to the trust funds of the founder's children and grandchildren. Now they can buy another yacht.