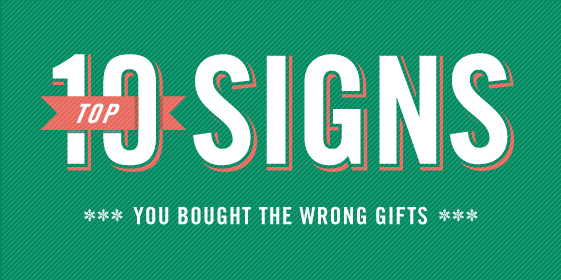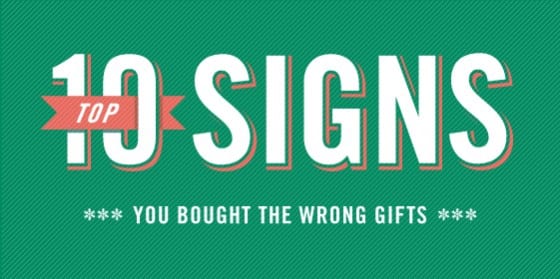 We know your intentions were good. But sometimes it's hard to find just the right gift for everyone. During those lazy hours after Christmas brunch and the unwrapping festivities, you might find yourself wondering how you did in the gift giving department. Well, here's the Top 10 Signs You Bought the Wrong Gifts. We hope none of them apply to you.


He was trying to figure out how much he can get for that combination blender/cheese grater on the Ebay auction. We're guessing… probably not much.


When she opened the sweater you'd wrapped she looked a bit disappointed, but said she, "loved it." Then she posted a new status: "Worst Christmas Ever!" Should have bought that iPhone 5 after all.


It's the day after Christmas, and all the gifts you gave are still sitting in their boxes on the floor. Like sad, orphaned little presents that no one loves.


You checked all the other items in her closet before buying her the purple and fuchsia robe you found on the clearance table at the discount store. But she insists that it's just too small. And she wonders if you still have the receipt so she can "exchange" it.


Big, brightly-wrapped packages usually get all the attention on Christmas morning. But this year, your gifts were quickly discarded in favor of the envelopes of cash from Grandma. Your son said, "Cool! Now we can get what we actually want!" Ouch.


And insisted that they wear them on Christmas morning. They thought it was a fun tradition when they were toddlers; not so much now that they're teenagers.


You give him a boxed set that contains a dress shirt and matching tie every year. And every year he kisses you and says, "Thanks, honey." But have you ever seen him actually wear them? We didn't think so.


Caramels for Grandma, who wears dentures? A sausage and cheese basket for Cousin Ned, who just had a triple bypass? A tennis racket for Bob, your eighty-year-old uncle who walks with a cane? Not clever. Just callous.


Your wife looked a little dubious when she unwrapped that super fancy, shiny new espresso machine. Her hesitation was probably due to the fact that she hates coffee. But you love it! And you've always wanted a $1200 espresso machine. We know. So does she.


Nothing says, "I waited until the last minute and couldn't think of anything to buy for you" like an impersonal gift card. You really look like a jerk just handing out gift cards for free pizzas to everyone. At least they'll eat well for the next few weekends.