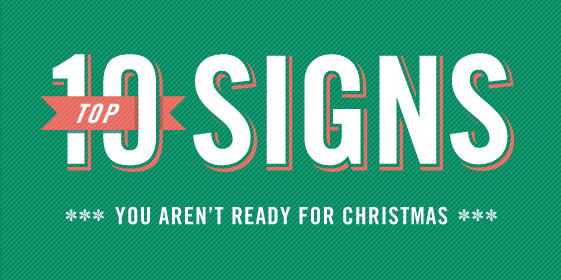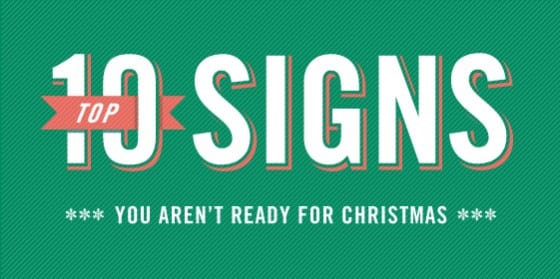 Hey, you! Christmas is tomorrow. Which means that you have a matter of hours before Santa arrives, gifts in tow. Are you ready? We know that some of you sure aren't. It's time for some tough love, which starts by us pointing out the Top 10 Signs You Aren't Ready for Christmas.


Time to take down the corn stalk, bale of straw and witch-on-a-stick. Don't you have a holiday wreath somewhere?


Yeah, we've seen guys like you, wandering through the mall with dazed looks on your faces. You're down to the wire, buddy. We suggest heading straight for the jewelry store.


Your kids wanted the latest must-have-it toy and you didn't stand in line for 8 hours to get it on Black Friday. Now all you have is a couple pairs of snowflake pajamas and some chocolate oranges.


No, baby carrots and a few containers of Greek yogurt don't count. You have friends and family showing up in just a few hours! Stock up on cheese balls, hors d'oeuvres and a ham. Oh, and bake some Christmas cookies already!


Aren't you supposed to be at Grandma's house… in Michigan? Sure, you can just show up at the airport and hope that you can still get a ticket. Better bring a couple thousand bucks with you for airfare.


It's your turn to host Christmas dinner. It might be time to vacuum that rug (yes we know you vacuumed in July. Do it again). And maybe get all that junk off the dining room table. At least you ordered a Christmas goose from the butcher. Which reminds us…


Time to figure that one out. Google, "idiot's guide to cooking Christmas goose." That might help. Or not.


You can't show up at the home of your husband's boss wearing those sweat pants and a t-shirt. There's still time to go out and find a classy, stunning dress. But it's way too late to lose that 20 pounds.


You promised the kids a foray out into the wilderness to choose and cut down a Christmas tree. But if you're reading this and it's already dark outside, it's probably a good idea to just head for the tree lot and hope there's something left.


What? You didn't buy batteries? Well I guess now you're heading to the convenience store to pay $20 for a package of four.