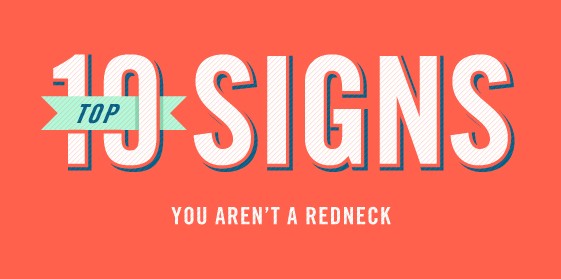 We recently wrote about the merits of the TV reality show Duck Dynasty (you can read the insightful, scintillating article here). Which got us thinking: we know that if we're sporting ZZ-Top beards and splashing through a swamp, we're probably rednecks. But not everyone wants to be a redneck! To our great relief, we were able to come up with the top 10 signs you aren't a redneck.


If you paid more than $8 a pound for it, and it doesn't say, "Cheese Product" on the label, you're not a redneck.


If you're heading to the lumber store with that Toyota Prius, you'd better just be looking for new cabinet pulls—a 6 foot long 2×4 sure isn't going to fit.


Rednecks think squirrels are dinner.


In your financial portfolio, that is. Rednecks version of "stock?" A few thousand head of cattle.


Redneck Romeos find their girlfriends by calling the phone numbers on the bathroom wall in the truck stop.


A true redneck sets his TIVO to catch every rerun. And he's been a guest of the show… at least twice.


Rednecks marry young too, but they wait until they're at least fourteen.


A thoughtful redneck husband shows his wife he loves her by writing "Daryl N Elma Mae 4 Ever" on his chest… as a permanent tattoo.


A redneck has his mom, his bail bondsman and his taxidermist on speed dial.


Rednecks think they've done too much reading when they've looked at all three pages of the menu at Denny's.