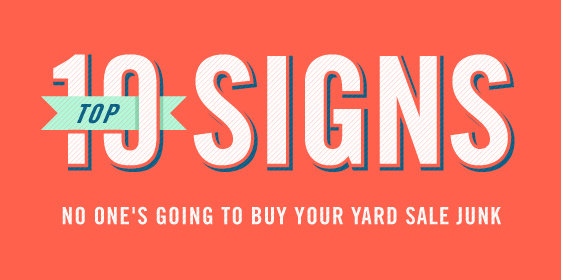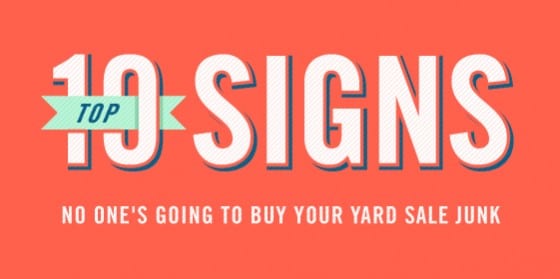 Hosting a yard sale is a great way to clean out your closets, simplify your life and make a little money in the process. One man's trash is another man's treasure, they say. It can be hard to differentiate between the two , but sometimes, trash is just trash. How do you know that no one's going to buy your yard sale junk? Here are the signs:


Used tennis racket, $25. Ann Taylor suit jacket with wide, padded shoulders, $40. NordicTrack circa 1992, $200. The feeling that your stuff is still worth what you paid? Priceless. As in, "This woman's hysterical mis-conception of her junk's value is… priceless."


Yard sale customers do not want to drive their rickety little Toyota Corollas as if they were in a Jeep commercial. When they have to drive 8 miles off the main road, around a mountain, across a creek, up a steep slope and through a sheep meadow, they balk. You'd better at least have more than a few tupperware containers from the 1980s when they get there.


 Your stuff is so junky that you haven't used it since 1987. Unless you wipe away that dust to find a lost Picasso, no one's gonna buy it.


If you're a hippie peace freak selling crystals, chakra beads and old "Peace" t-shirts, and your neighbors are all conservative Republicans, you're not selling any of your junk.  Conversely, that signed copy of Sarah Palin's, "Going Rogue" isn't going to fly off the table in Berkeley.


So basically, all the junk you no longer want is worn out and nasty.


No, "young people just starting out" don't want your console TV and 8-track player. Look around… the 4-year-olds at your yard sale are wandering around carrying iPads.


Sure, some people open their yard sales at 7:00 am. Your opening time of 2:00 pm seems much more reasonable, right?


Risk getting your throat ripped out for a heavily discounted, used tennis racket? I don't think so. Neither do your yard sale customers.


That's perfectly fine. But telling people, "Oh this was Grandma's lucky chemotherapy shirt!"or, "We were going to bury Grandma with this afghan, but there just wasn't room in the casket" will turn buyers off.


That carseat from 1978 is no longer approved by the National Highway Traffic Safety Administration. If you actually like your kids, probably not a good idea. And the old toaster with the frayed cord? $3 is a lot to pay for the pleasure of electrocution.