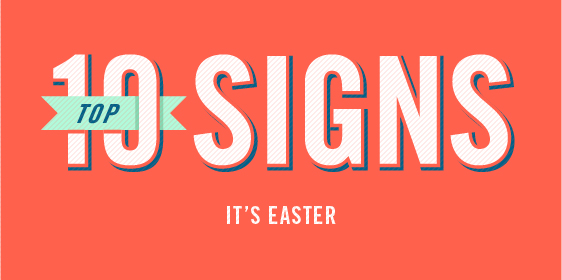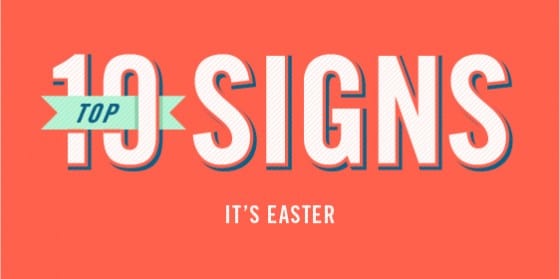 Easter is this Sunday, so if you haven't purchased some chocolate bunnies, a ham and a new dress, it's time to go shopping. Here are the Top 10 Signs It's Easter.


Easter Sunday is the one day per year that folks show up in droves at church. Is it because of the great sermon, or because you want to show off your new Easter dress?


While hiding the eggs for the kids, you stumble upon a pale pink time bomb…. one of last year's eggs. Hopefully the kids do a better job of hunting this year.


All over their new Easter dresses and Easter suits. That's what you get for letting them eat chocolate bunnies, Reese's eggs and Peeps for breakfast.


Awww…those little baby bunnies, lambs, calves and chicks are so cute! So fluffy and snuggly. OK, kids, wash your hands and come in and eat dinner…. lamb with mint jelly!


If you live in Utah, the one sure way to tell it's Easter is that the weather is insanely unpredictable. You might walk into church wearing a little sundress and sandals and come out an hour later to find five inches of snow on the ground.


And they're everywhere: in the kitchen, family room and your kids' rooms. Also hiding in the pantry, on top of the table and under your bed. No, it's not a crazy rave party. These peeps are the little marshmallow and crystallized sugar peeps.


We're not sure how it stays open between Christmas and Easter. But for one week every spring, Honeybaked does tons of business. It's the only time of year you'll probably ever be lame enough to actually stand in line for… ham.


Guess you know what you'll be taking to work for lunch. Did the kids really need to color five dozen eggs?


The "Easter Bunny" at the mall is terrifying. The bunny's wild, psychotic plastic eyes are reminiscent of Jack Nicholson's in "The Shining." (Heeeeer's Johnny!) And the prominent buck teeth?  No wonder the poor kid is screaming her head off.


Well, sure, it's just a chocolate rabbit. But haven't you heard that serial killers start as children, by hurting animals? It's never too early to start therapy.