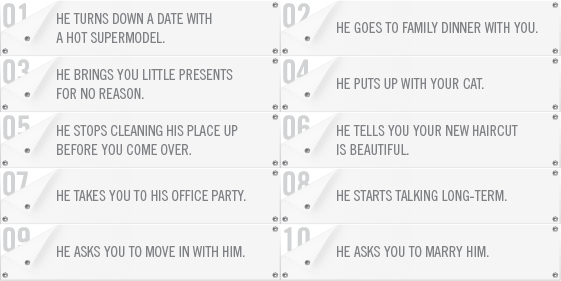 It's not secret that guys are great at hiding their emotions. So even when things seem to be going well, you might wonder if the guy you're dating is just having a good time, or if he's actually falling for you. Here are the Top 10 Signs to clue you in.

When his buddy calls and wants to set him up with a gorgeous blonde for a double date, your guy declines. He's either in love with you or he prefers brunettes.

If your guy is willing to be grilled by your dad over appetizers, vetted by your sister and brother-in-law over the main course and submits to a background check with your cousin the cop during dessert, one of two things is going on: a) he's lost his job and has no food in his fridge at home, or b) he's in love with you.

Sure, Valentine's Day is an easy one—every Hallmark commercial all month reminds him that he's a jerk if he doesn't pony up with the flowers and card. It's the little things that count. If he brings you a candy bar from the grocery store just because he was thinking of you, he might be in love. Or the candy bars were 2 for $1.

Some men like cats. Maybe some men even love cats. But lots of men hate them. If your man is willing to cuddle Fluffy while he's at your place, he probably really loves you. If you really want to test his love, ask him to pet sit for an entire week.

You used to think he was a huge neat freak. But that was back when he was trying to ensure that he got a second (and third) date. Turns out that he's a slob and he's not afraid to show you his true self. Definitely true love.

You told the girl at the salon to take off a couple inches; she took off eight. Now you look like Pat Benetar in the '80s. Your man takes one look at you and tells you (with a straight face) that you look gorgeous. He's definitely in love.

Make no mistake; this is a test. He wants to make sure that you respect his career and that you can put up with his snarky boss and overbearing co-workers after they've consumed a case of cheap wine. Why would he torture you in this way? Because he's in love with you, that's why. Who said love was all fun and games?

If you were in London together checking out the Olympics and he said, "I can't wait to see the next summer Olympics in 2016 with you!" he's probably in love with you. Wait… have you been buying the tickets for all this stuff? If so, all bets are off.

When a man is willing to make a commitment like this, he's in love. But if he says, "I can't wait til you move in so I don't have to cook and clean anymore!" you should run. Really, really fast.

Did you just inherit a ton of money? Was he evicted from his apartment and needs somewhere to live? Is his visa about to expire? If the answer to all these questions is no, and he's just popped the big question… he's in love with you.