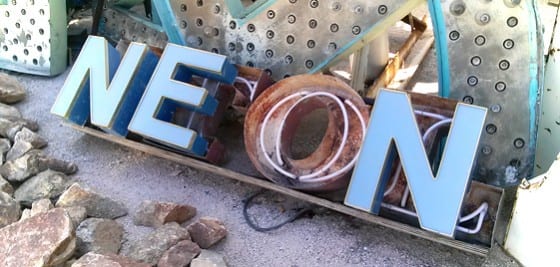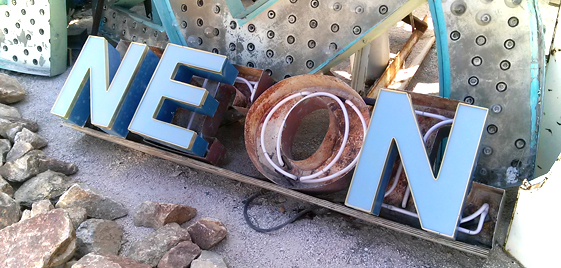 Born From Necessity
As I sat across from Danielle Kelly, the executive director of The Neon Museum, I almost forgot that we were discussing old, beat up, and sometimes forgotten signs. In fact, I felt that we could have been talking about a recently discovered Picasso or Van Gogh original. That's how passionate Danielle is about her beloved museum and the works of art that she and her team painstakingly curates.
Founded in 1996, The Neon Museum is dedicated to collecting, preserving, and restoring iconic Las Vegas signage to display and educate future generations on the area's unique art form. But, according to Danielle, the path to what visitors see today when they come to the Neon Museum is a far cry from where they started.
Originally, the organization was more dedicated to restoring old signs and re-installing them back into the community. Since 1996, 15 signs have been restored and installed on the streets of Las Vegas as a part of the Downtown Gallery project and the Las Vegas Signs Project. But, as time went on, that focus became secondary to preservation.
Although neon signs are as synonymous with Las Vegas as its buffets and showgirls, their time is drawing near. New technology, demolitions, bankruptcies and neglect have meant that the need to save these signs has become an immediate need. As such, the museum quickly changed gears and although they are still very much about the restoration of the signs (they have multiple new signs completed and/or nearing completion at the time of this interview), they knew that they had to get into the collecting business if they were to preserve the history of Vegas.
A New Home
For years, the neon boneyard was owned by Yesco, one of the nation's main sign manufacturing and installation companies, famous for creating a lot of the recognizable Las Vegas signs we know and love. Unfortunately, Yesco had a problem. The boneyard was so popular that visitors were coming to see the signs even though they were housed on private property. The need for a permanent home was imminent.
Luckily in 2006, a rare opportunity presented itself. Danielle called it a "synchronicity of circumstances". The La Concha Motel was closed down and all that remained was its incredible Googie style lobby. The owners decided to donate the lobby to The Neon Museum to act as their new visitors' center. The lobby would come free of charge, if the museum would come get it. So, they did (with the help of some financial assistance from the private and public sectors through donations and state and federal grants).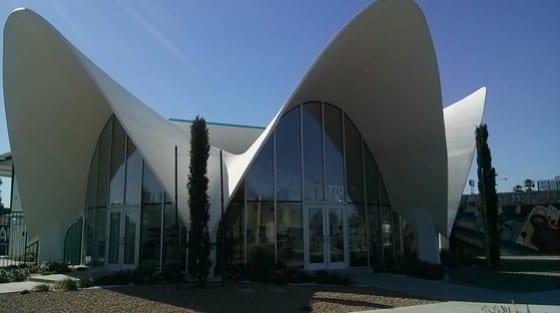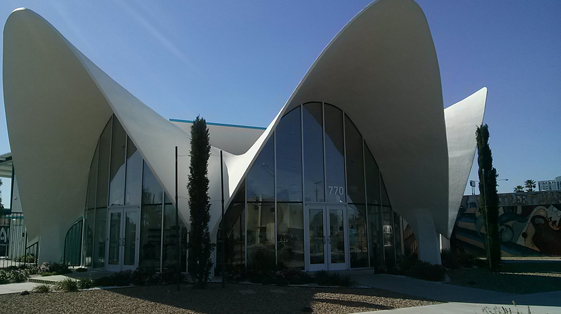 This was their chance to not only create a place where people could come enjoy the over 150 signs that they had collected, but also to save a significant architectural treasure of Las Vegas. Along with the lobby, the museum also retained two of the original signs from the La Concha; the mosaic lobby sign and a section of the roadside neon sign (which is the latest restored sign finished by the museum).
In October of 2012, the fully restored lobby, along with a 2 acre plot of land to house the old boneyard, was opened to the public. The old signs finally had a permanent home.
The Future is Bright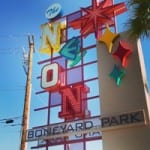 Probably the hardest question to ask a non-profit, especially right after such a momentous occasion as their launch last October, is "where do you go from here?" According to Danielle, they intend to keep collecting what signs they can. Whether they are acquired through donation or through private collectors or paid for whenever possible, the museum's ongoing efforts will always be preservation. This, of course, means more space, which Danielle adamantly says is always going to be a need. Of course, they would love to make extra space by reintroducing restored signs back to the community, to be on display for years to come.
But, as Danielle points out, it's not just about the signs. Each ones comes to the Neon Museum with a story. Who designed it? Who created it? Was it from a colossal hotel or a family owned business? These are the stories Danielle and her team are so desperate to tell. Stories of how each one shaped the history of Las Vegas. You can hear it in Danielle's voice and you can hear it in voice of the tour guides. They love these signs and they love Las Vegas.
Las Vegas is so much more than the resort experience. So the next time you are in town for a convention, bachelor party or family getaway, take some time to head over to The Neon Museum. You won't be disappointed.
The Neon Museum
770 Las Vegas Blvd.
Las Vegas, NV 89101
www.neonmuseum.org