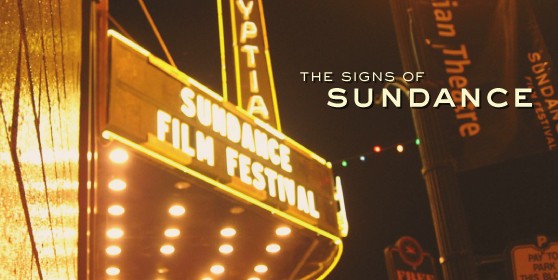 Every January, Utah is besieged by celebrities, film makers and journalists during the Sundance Film Festival. Founded by Robert Redford, the festival began as a small gathering at the Sundance resort in 1985. Nearly 30 years later, the event is now held in four Utah cities and draws nearly 50,000 attendees. 
While it would have been fabulous to take a week off and head up to Park City or Sundance for afternoons of indie film screenings and evenings of celebrity parties, sadly such film frolicking wasn't in the works for the crew at Signs.com. But we did manage a quick getaway to Park City. After all, a big film festival such as Sundance surely has dozens of signs, we reasoned. So we made a big sacrifice and left work behind for an afternoon to drive up to the beautiful mountains above Salt Lake (and out of the inversion) and check out all the signage at the festival.
The drive to Park City only takes about 25 minutes from our office. Once we got there we found blue skies. We found that it was 20 degrees warmer (a balmy 42 degrees!). What we didn't find? Parking. Probably because we were too busy craning our necks to see if the people in the convertible Audi next to us were famous.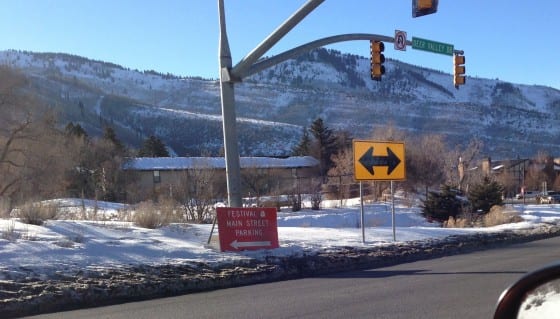 Yeah, that's my side mirror in the lower right corner of the photo. Clearly I'm driving in the wrong direction if what I want is parking. Oh… and the guy in the Audi? Not Brad Pitt.
We located the parking lot and paid $10, which was probably wise, since these are some of the first signs we saw once we started walking toward Main Street: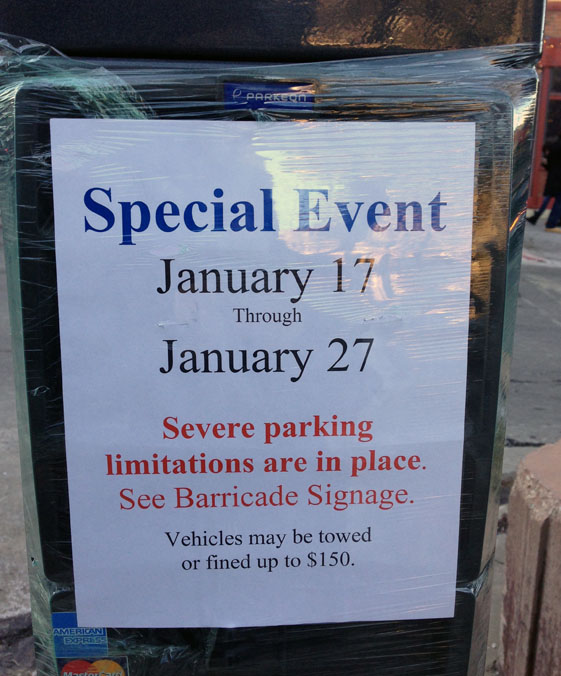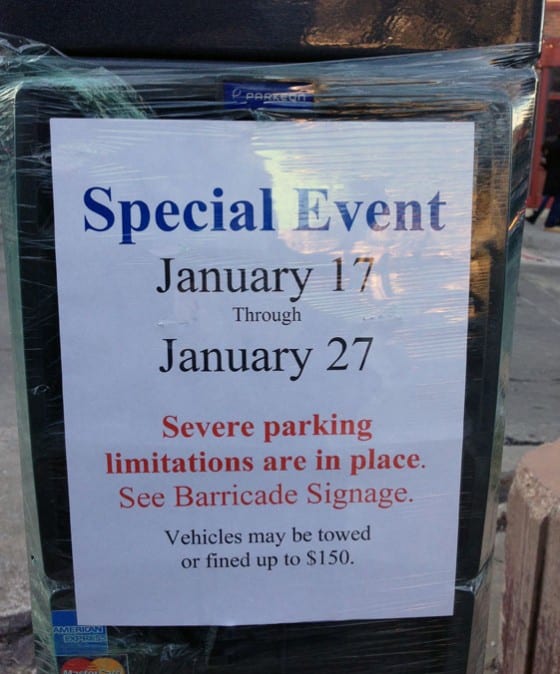 Not just any limitations. "Severe" ones. And if there's any confusion, just look at the barricade signage. Like this fine example: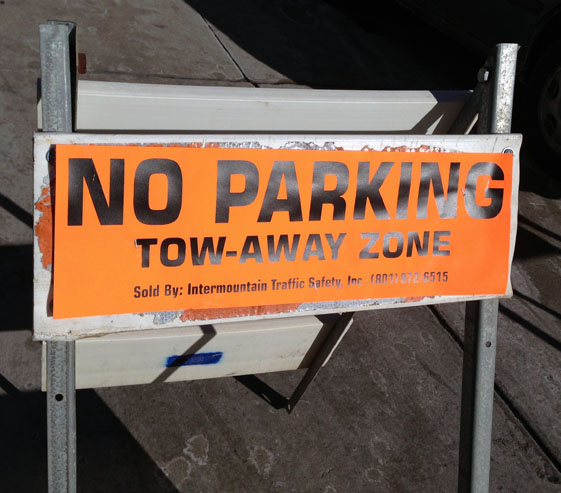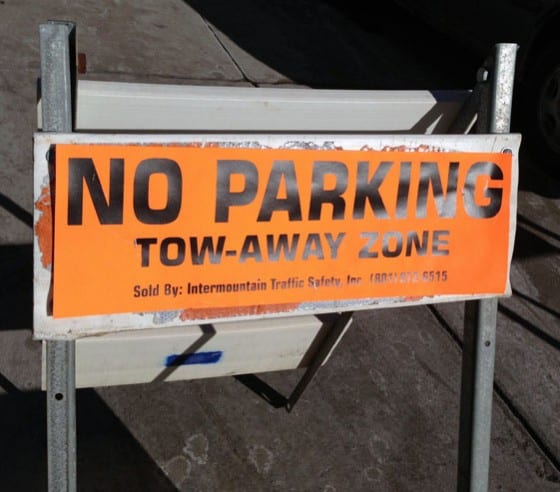 Scary black letters on orange card stock. We felt a bit smug that we'd parked in a Sundance Film Festival-sanctioned parking spot unlike those law-breakers that must be lurking about everywhere, waiting to illegally park in tow-away zones. We saw dozens (maybe hundreds) of these barricades all along the streets.
This sign just made us feel left out: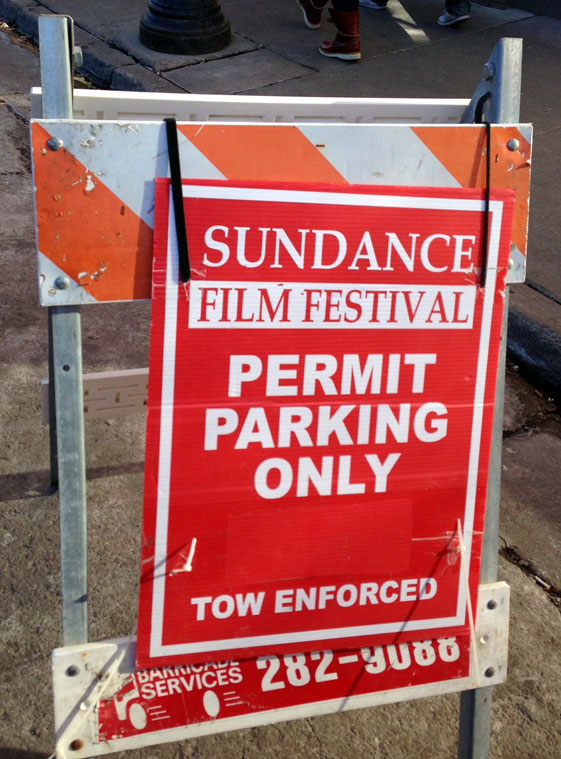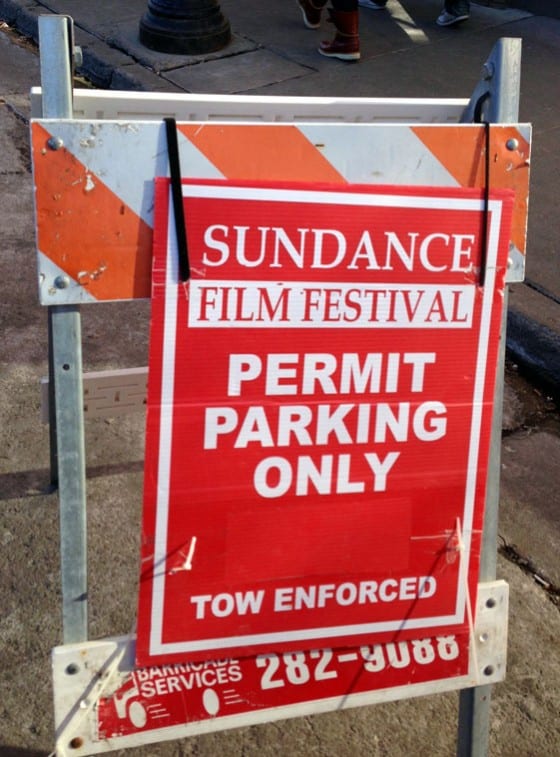 Apparently you can get a permit to park right in front of the theaters and hipster clubs. But you probably have to be driving the limo that drops off Bruce Willis.
Finally, these last two signs remind us that the nice folks in Park City aren't messing around when it comes to parking: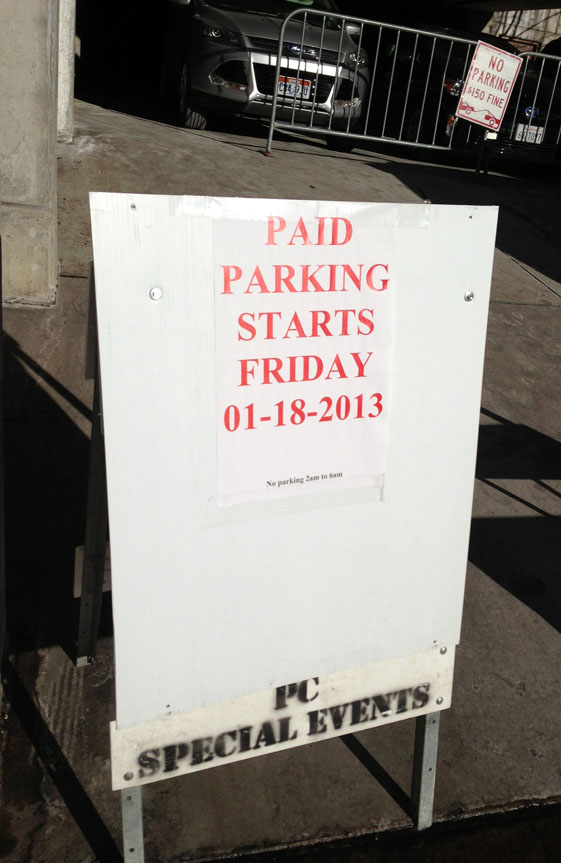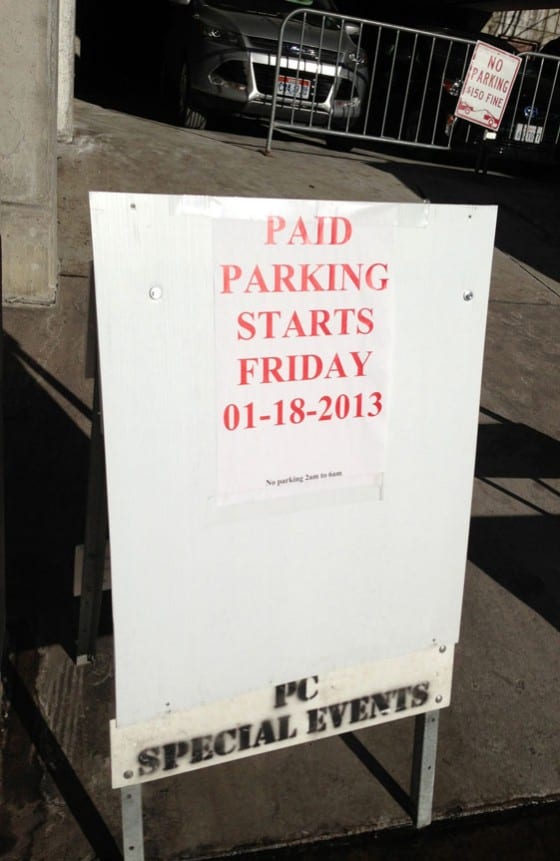 By "PAID" they mean you have to pay. Not that it's already been paid for you. At least that's what we assumed. We know you can't read that tiny writing at the bottom, because it was only in 12 pt. font. It says, "No parking between 2 am and 6 am." So if you were planning on partying with Dakota Fanning until the wee hours, you'd better go out and move your car first. Hopefully you read that tiny little note before you drink a fifth of vodka. Because if you're not paying attention, you'll get towed (as noted by the sign in the background with the cute little tow truck). AND you'll pay a $150 fine.
We got to the corner of Main Street and saw this sign: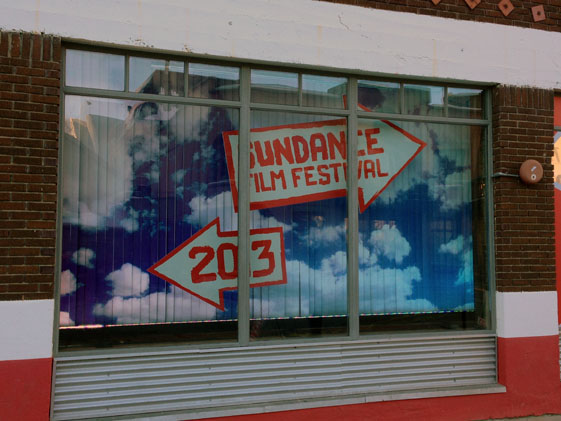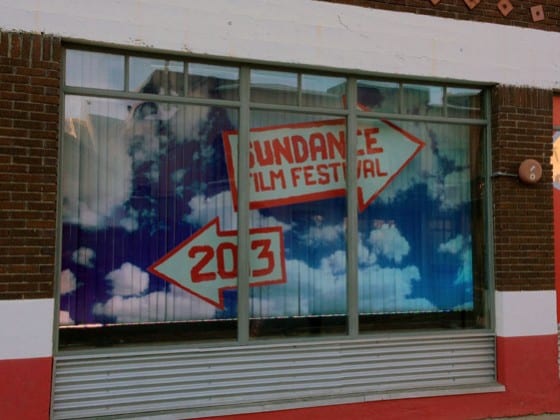 It looks a little confusing with its alternating arrows. What you can't see is that there's a film screening venue to the left, and Main Street to the right (which is where you'll find a bunch more events).
The official Sundance signage is all done in red-and-white, with an arrow theme. The arrows are still kind of confusing, especially when they point up to the sky like this: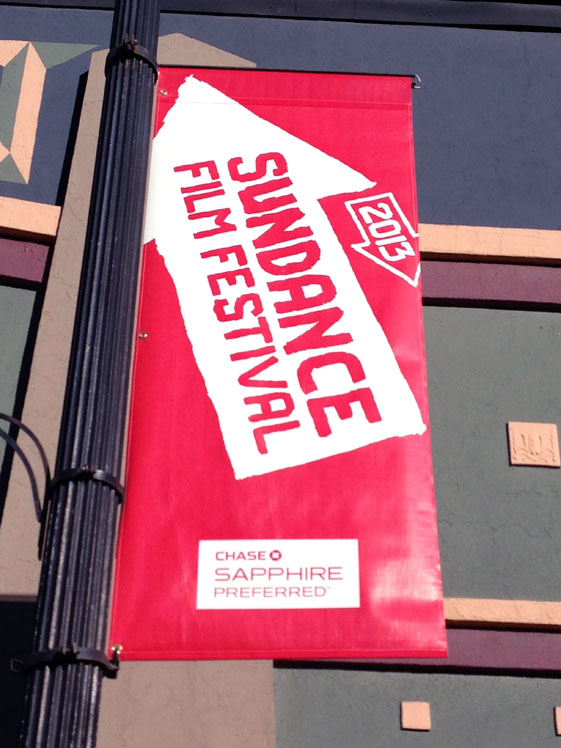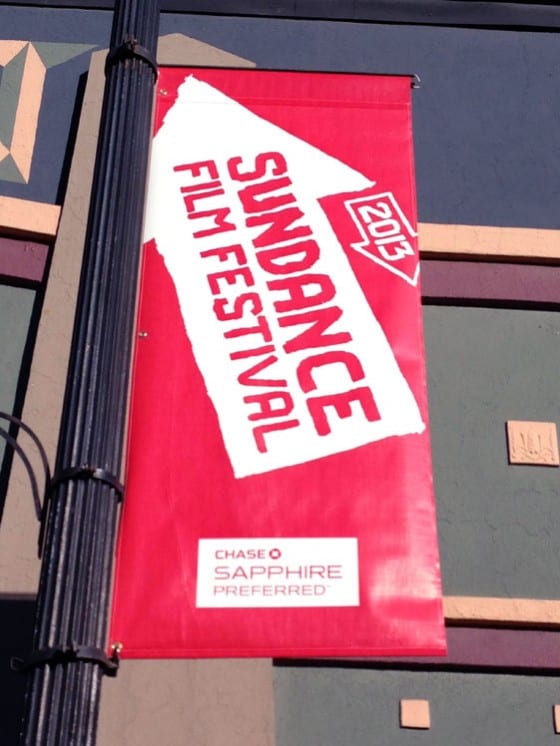 We like this sign in front of the Sundance Store, though: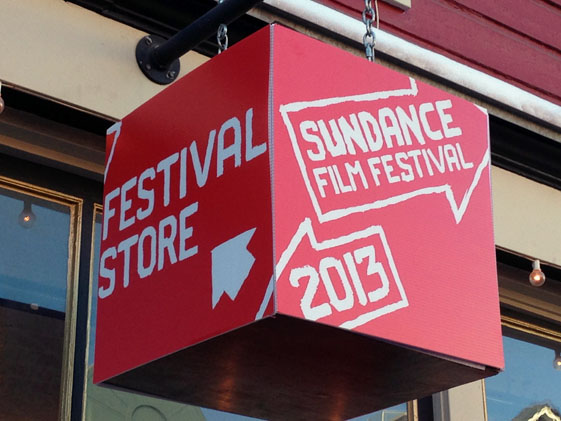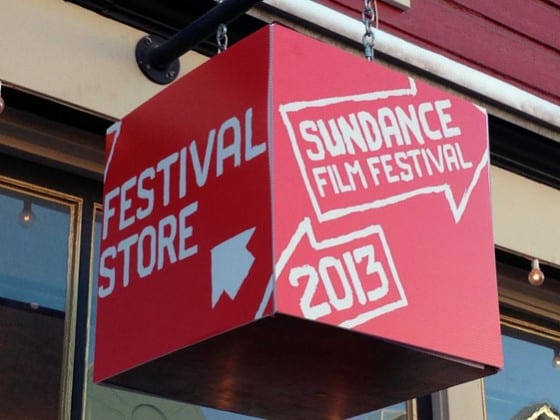 The "Festival Store" arrow actually points to the store entrance. The "Sundance Film Festival" arrow points down the street to more festival fun. But the "2013" arrow? We dunno. In addition to the official Sundance Store, lots of local shops had special sales for film goers.
Fleece jackets were a bargain: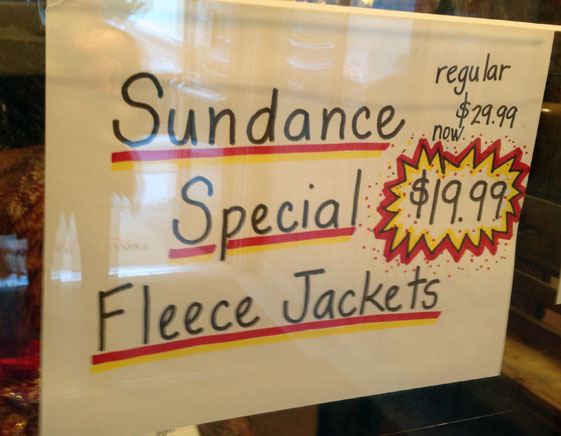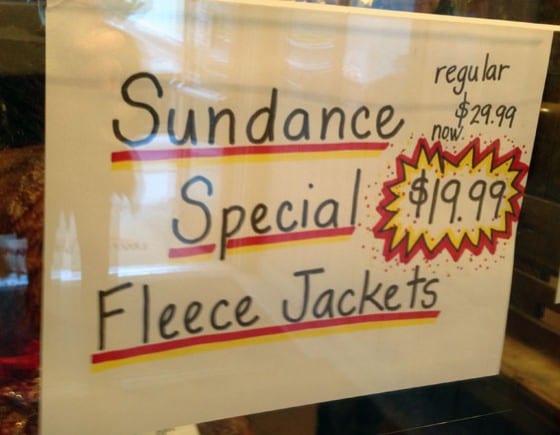 And this store had a special sale (and a red arrow):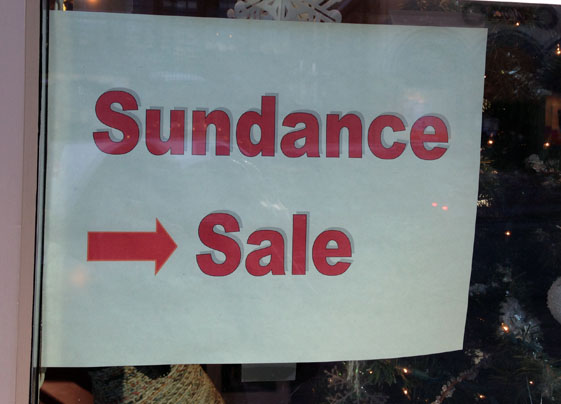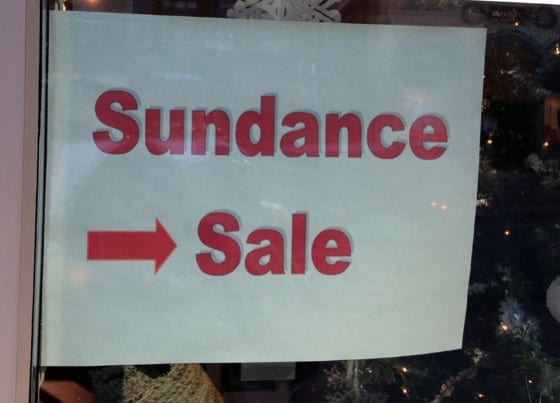 We would have loved to check out the "Frittata of the Day," but there was a long line outside this restaurant: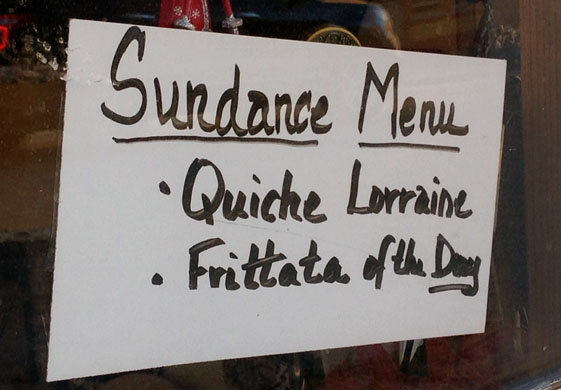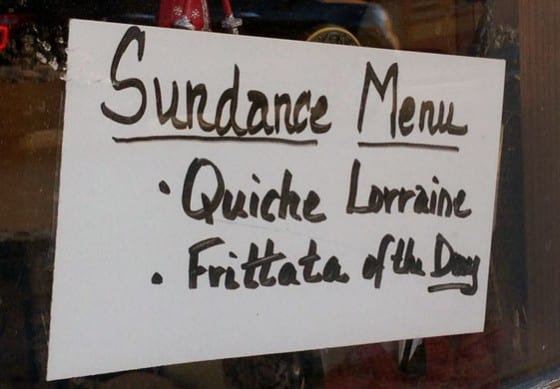 The crowds were kept neatly in queue by these cool signs: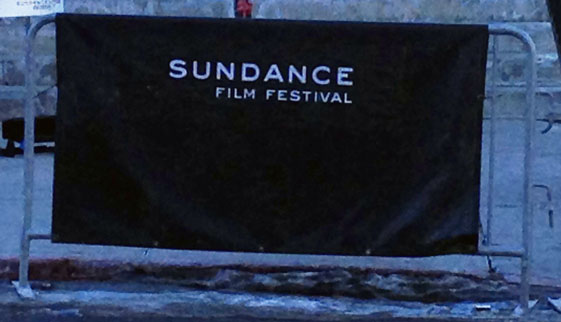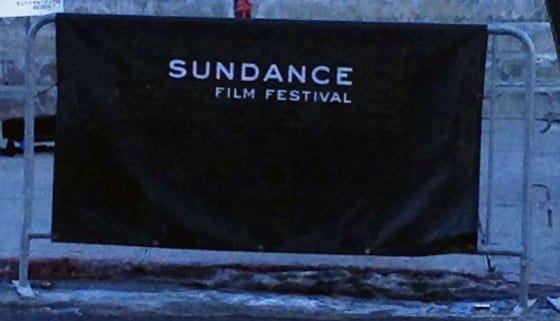 Unfortunately, we didn't need a psychic to predict that the management at Signs.com would raise an eyebrow if we included a reimbursement receipt for the Astrology Boutique: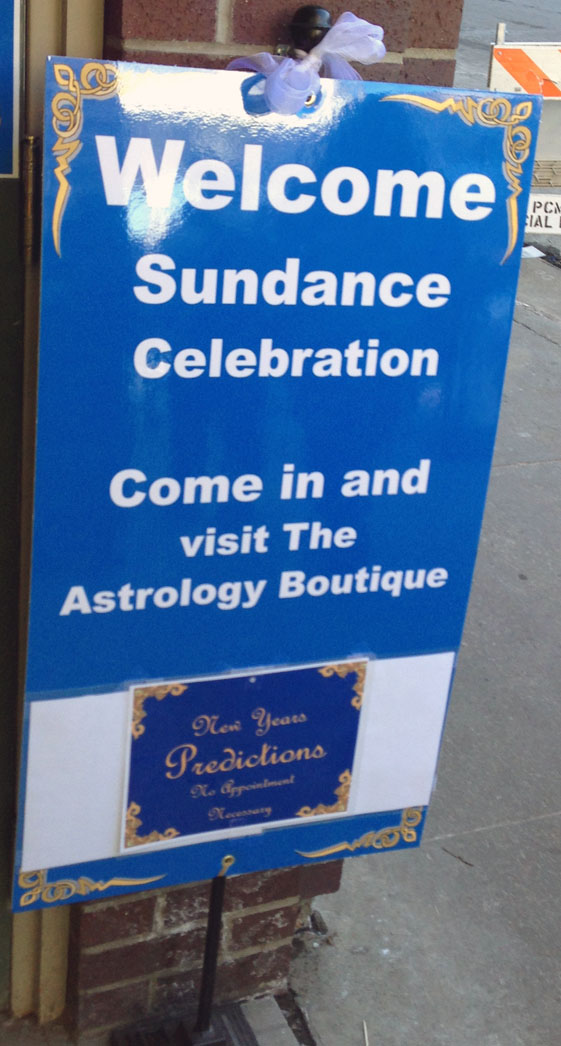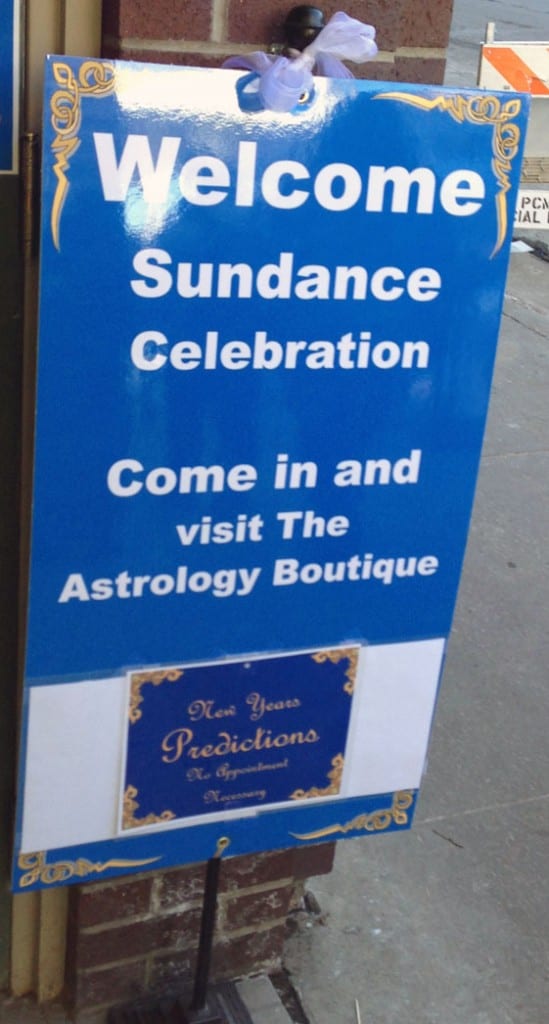 The day was so sunny and warm that this public-service signage seemed pretty ironic: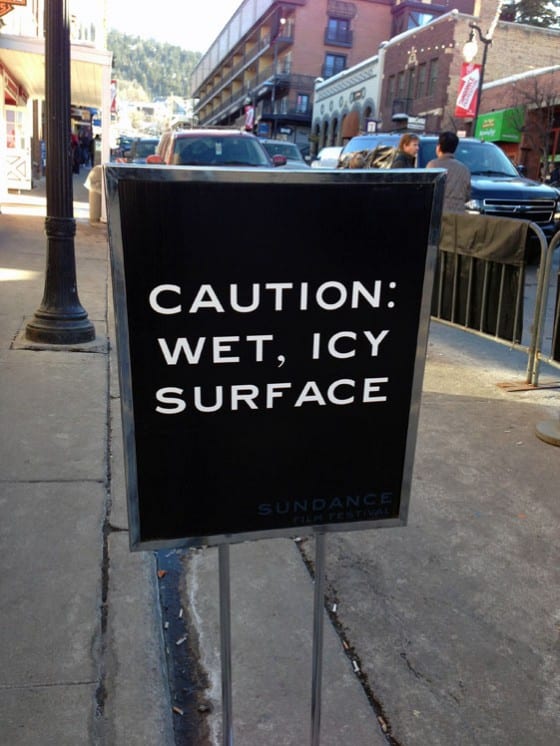 One of the festival's sponsors, Acura, had figured out how to make all those arrows work. The way to the studio is really the direction the arrow points. Imagine that!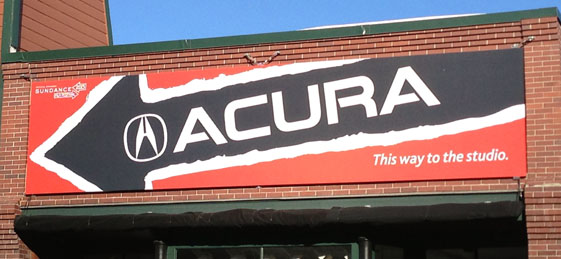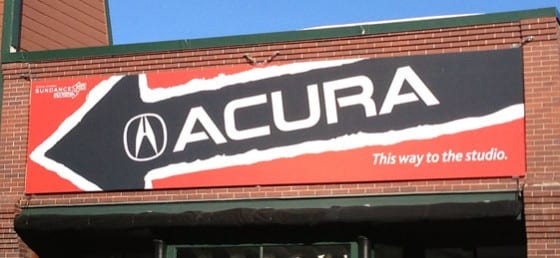 And this arrow points directly to the door: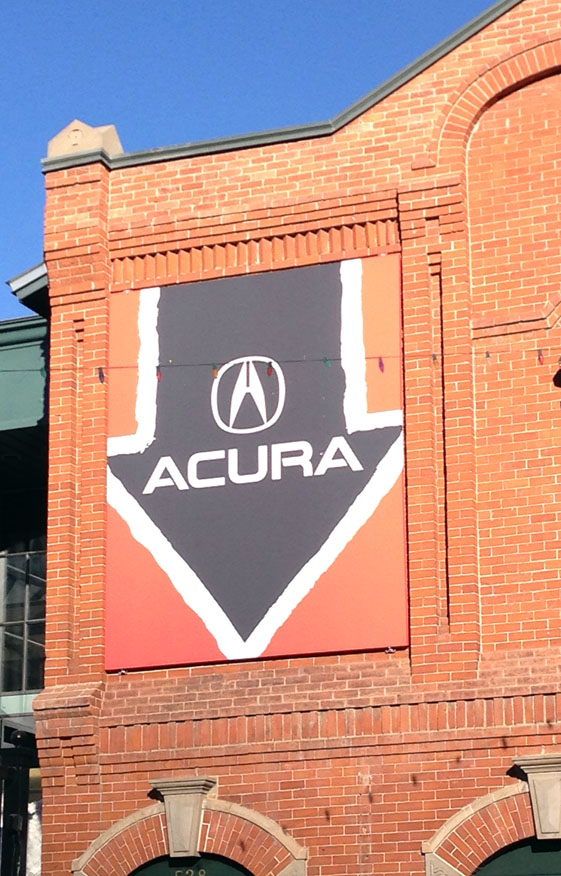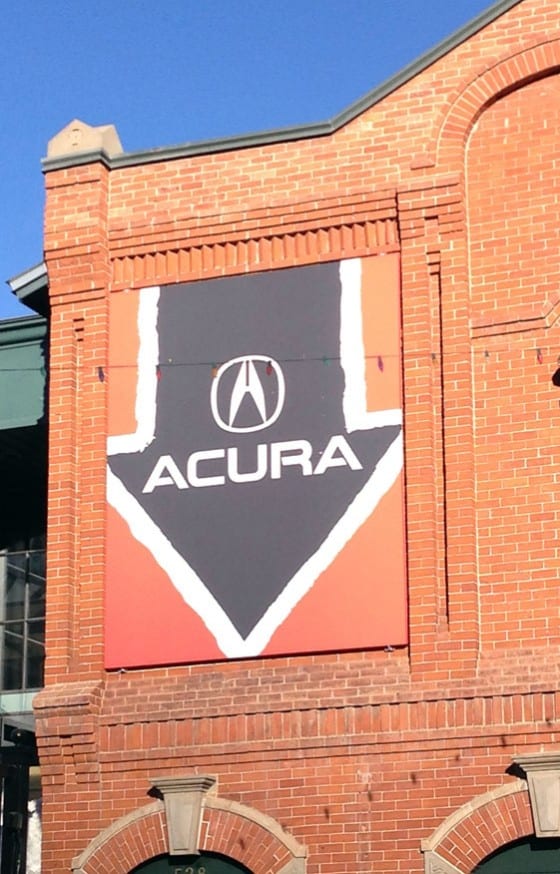 This sponsor had signs on the windows of the bars and pubs. A great example of putting relevant signage on your window, we think. We're not sure that all of the festival goers really need help finding the vodka, however.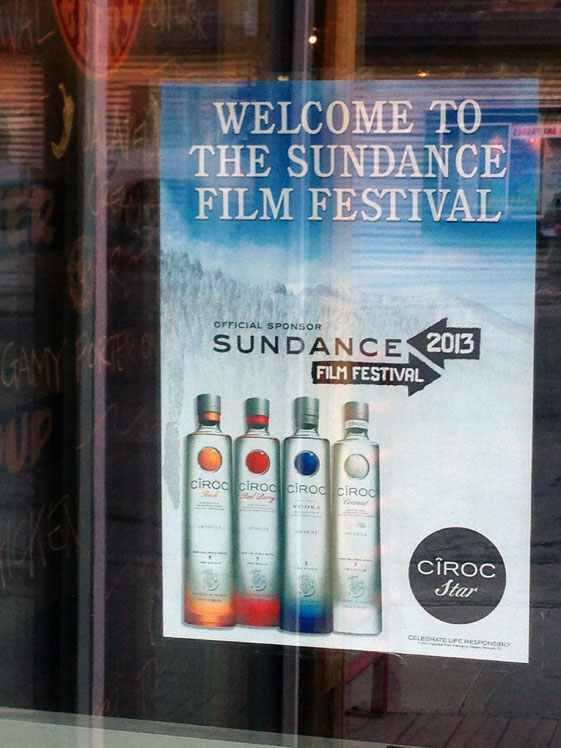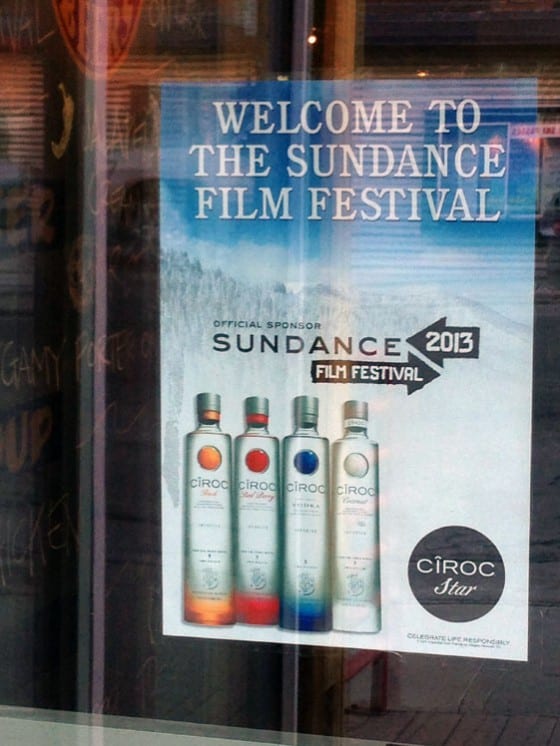 HP was another sponsor that used signage to promote itself and its free festival tour: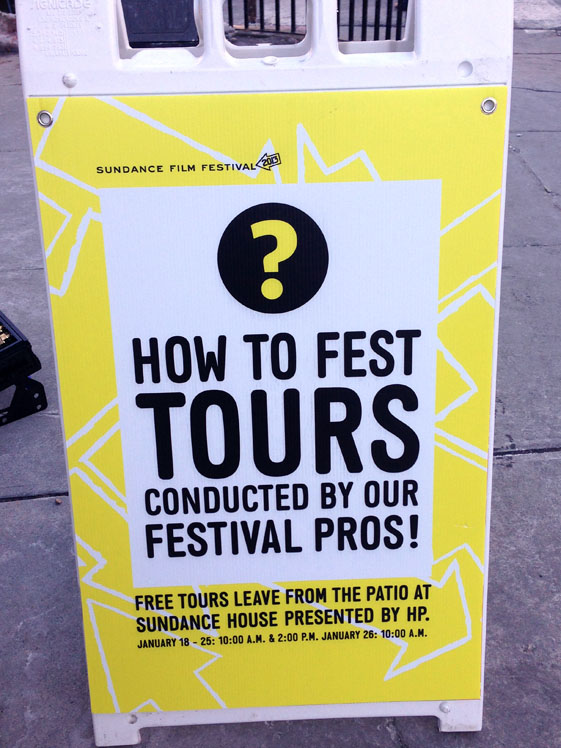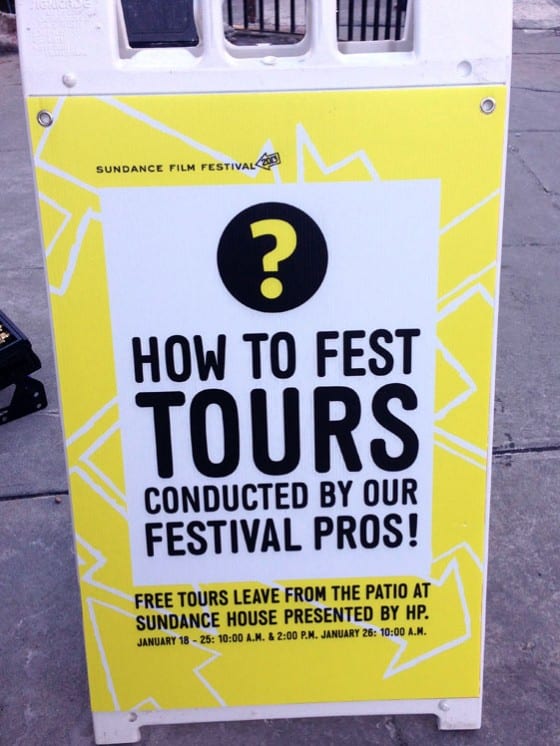 We finally came to the Egyptian, a historic theater right in the middle of Main Street, and a plum spot for the best indie film screenings. Also, the best signage on the street. The restored neon signs are amazing at night. Classic.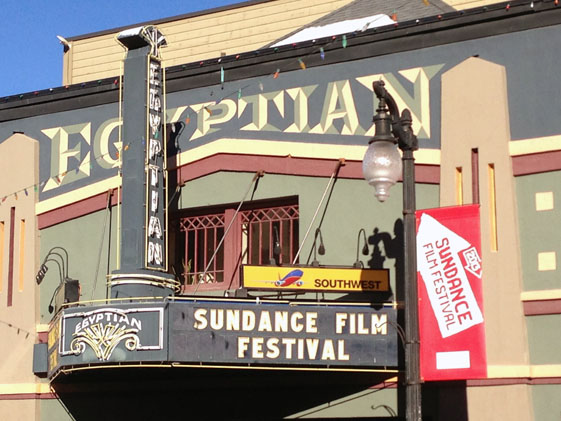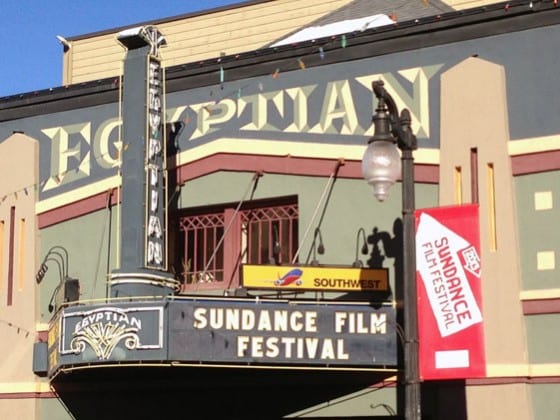 As the sun started to go down behind the ski slope, it got a bit chillier and we started to wish we'd bought some fleece jackets. We decided to bid farewell to the 2013 Sundance Film Festival and head back down to the office, but first we spent a few minutes listening to this trio.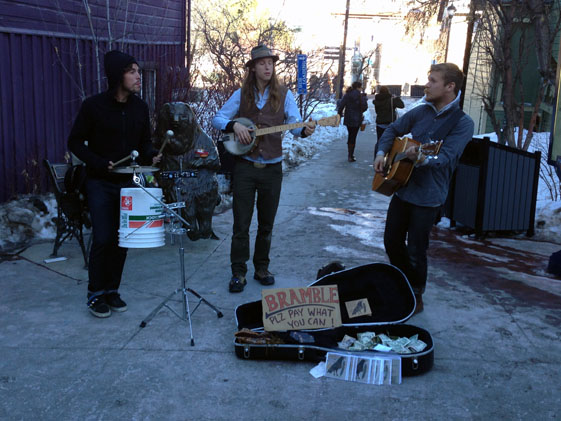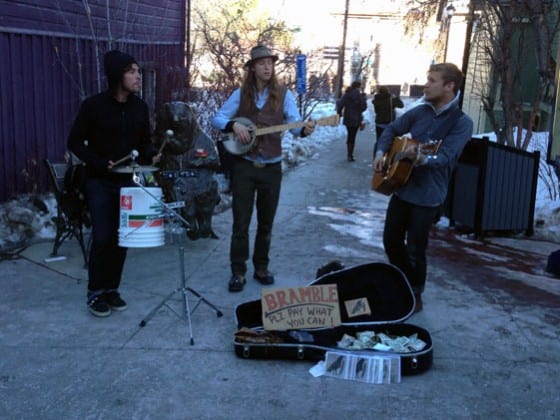 Clearly their signage wins the price for the most effective…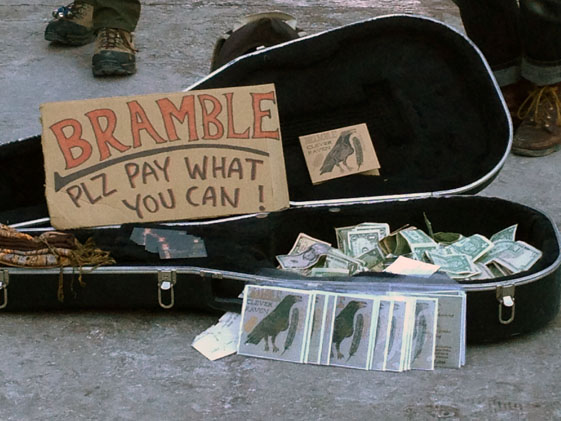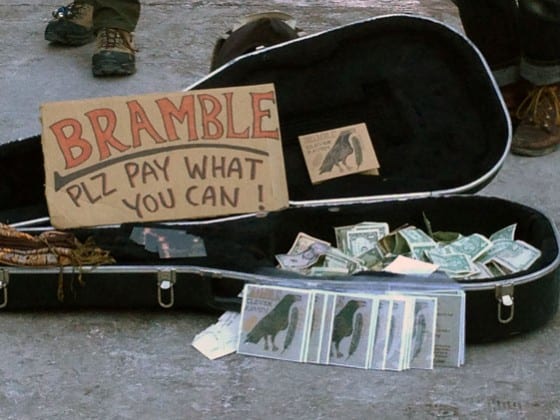 We had a great time checking out the signage at the 2013 Sundance Film Festival. Next year, we hope to do some "team building" at a few of the screenings. And maybe we'll see Brad Pitt.