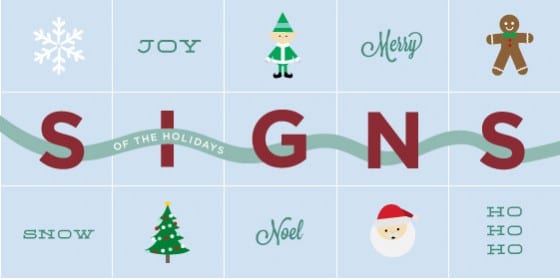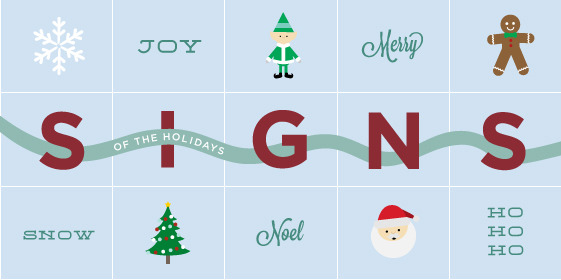 There was once a time when I would go shopping during the holidays and just… shop. I'd enjoy the music, the lights, the festive atmosphere. And then I was hired at Signs.com. To write about… signage. A lot. So now everywhere I go, I see signage. Turns out, those darn signs are everywhere. And you know what? Once you notice them, you can see how cool they are. So today, I thought I'd share a recent shopping trip with you, so that you can see the signs for yourself… the signs of Christmas.

One of the first signs that it's Christmastime in Utah isn't an actual sign. It's the road conditions. Like this. Yuck. Where's that sleigh and reindeer when I need them?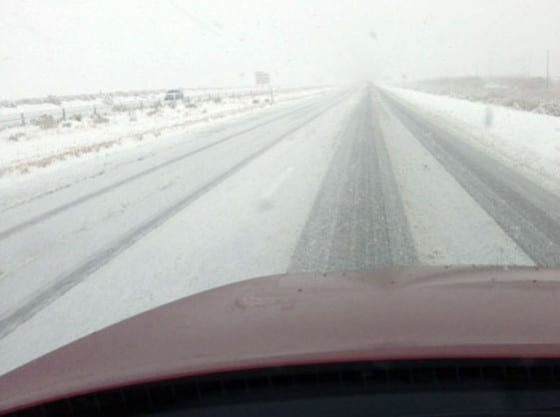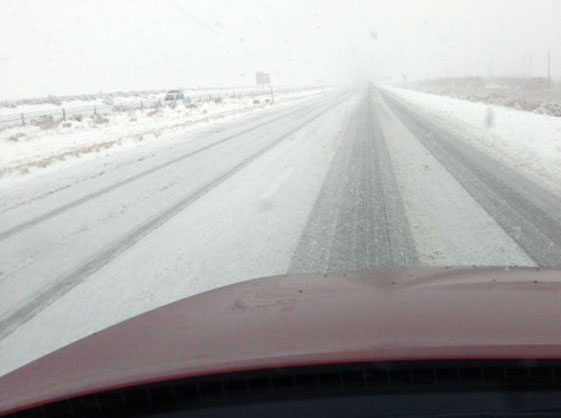 Sometimes a sign is just an ordinary sign, until it's embellished with a bit of holiday cheer. This is one huge wreath. I wonder… where do they store this thing all year long?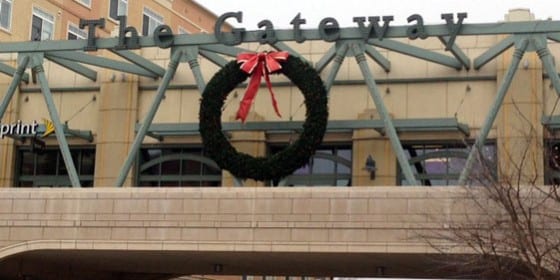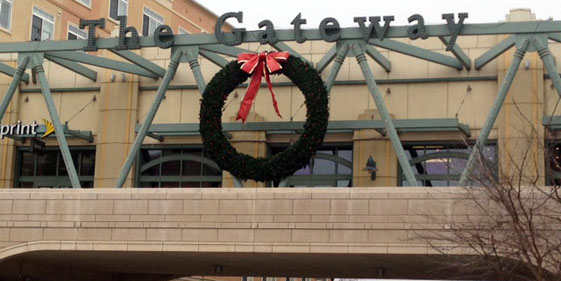 You know it's Christmas when you can visit Santa at the mall. Is it just me, or does the term, "Santa's Lounge" bring to mind a dimly-lit, smoke-filled jazz club? Merry Martinis, Santa. I didn't have the time or the inclination to visit (I haven't been a very good girl this year, so I really didn't want the interrogation. I'll just buy my own presents, thank you very much).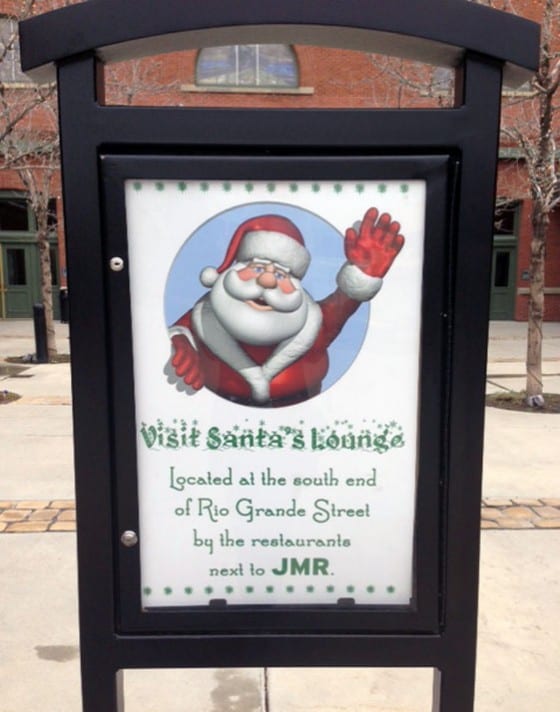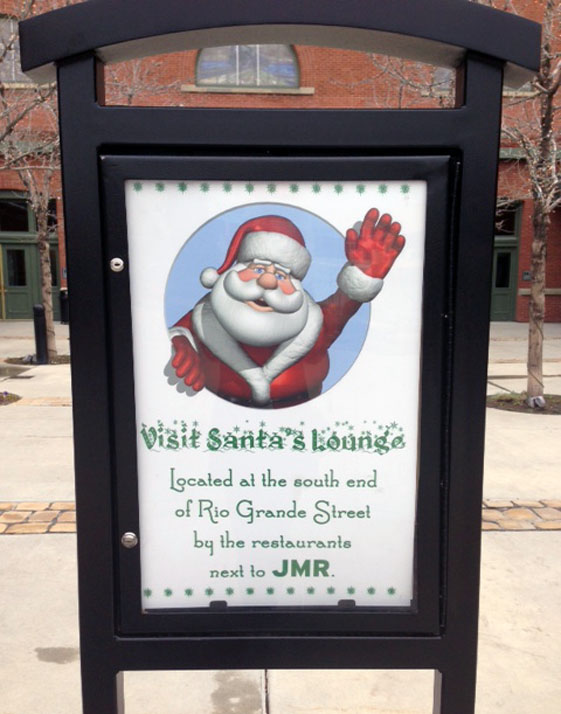 Here's one of the signs on the window of Urban Outfitters. I don't shop there; it's way too hip for the likes of me. But I love, love, love this campaign! Any store can offer a holiday sale. But someone in marketing thought outside the box a little. Urban Outfitters sells a lot of stuff to college kids. Brilliant.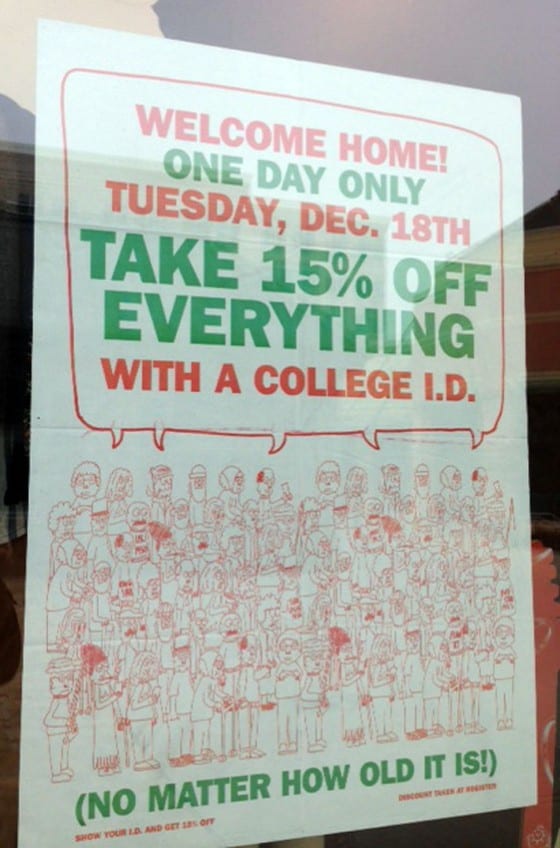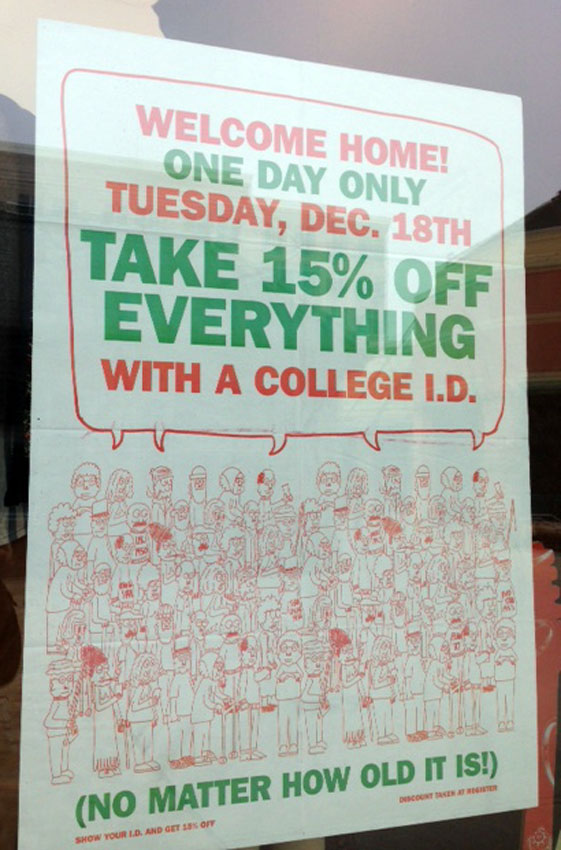 I like the holiday signage at Barnes & Noble. The design is warm and friendly. And the best part? It's consistent throughout the store. Every single section gets a holiday update with this design. I'm feeling warm and cozy with Winter Stories (and on sale!)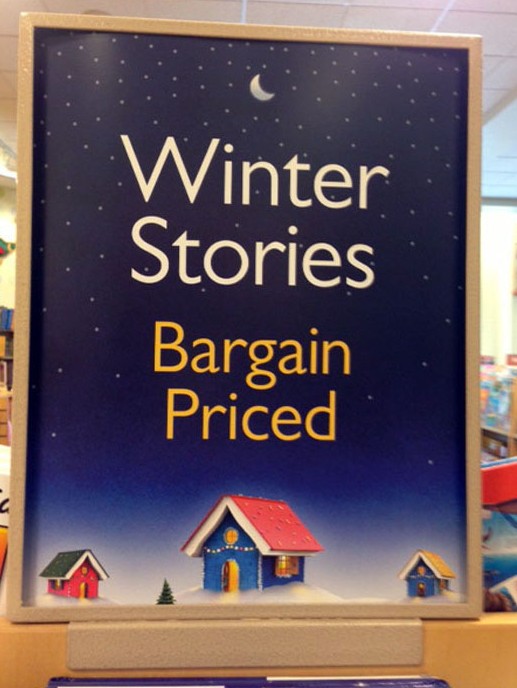 Well, now I have to buy at least two items. Obviously.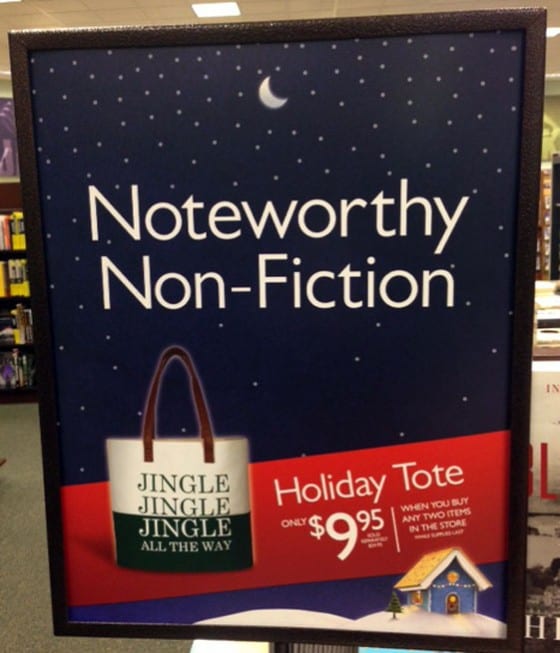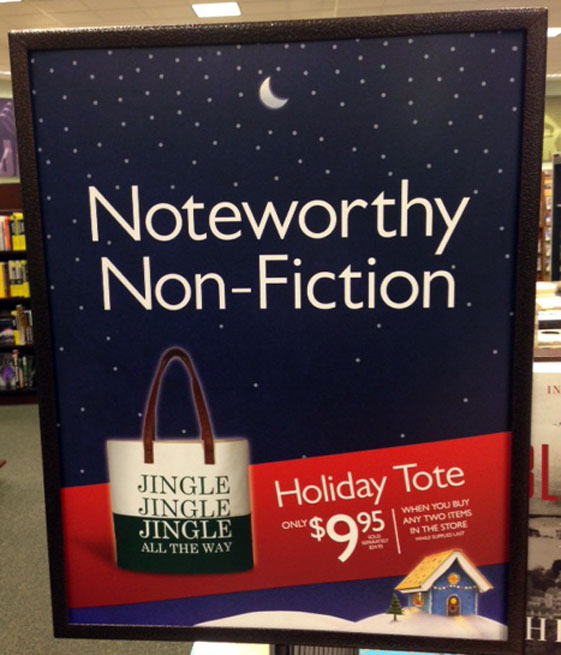 Oh yeah… I'm supposed to be buying stuff for the people on my list. Maybe after I just snag a couple things for myself. Because you know what's a great gift? A well-read friend or spouse. And I am willing to go the extra mile to give my loved ones that gift.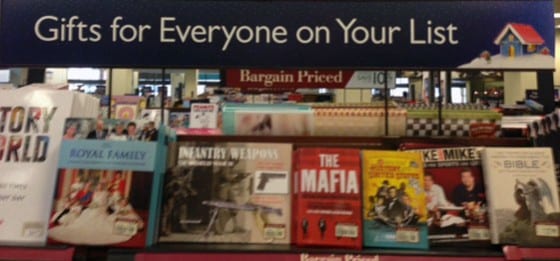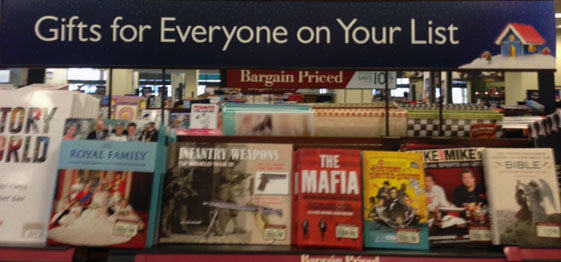 OK, so not every store is a great big behemoth like Barnes & Noble with its huge budget for holiday signage. But these cute little signs add a nice touch, don't they? Even a small shop could put in signs like this. First, a call to action: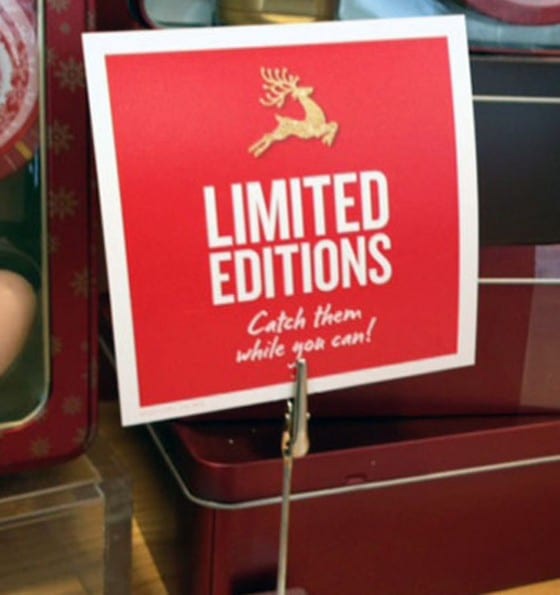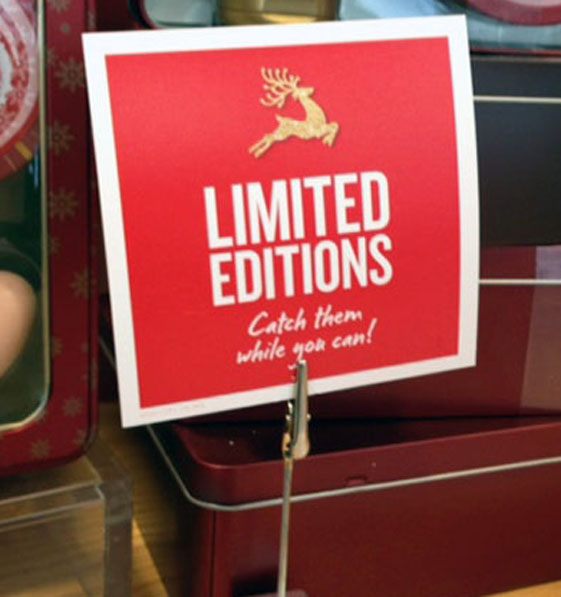 Then this little gem that calls attention to the store's commitment to community: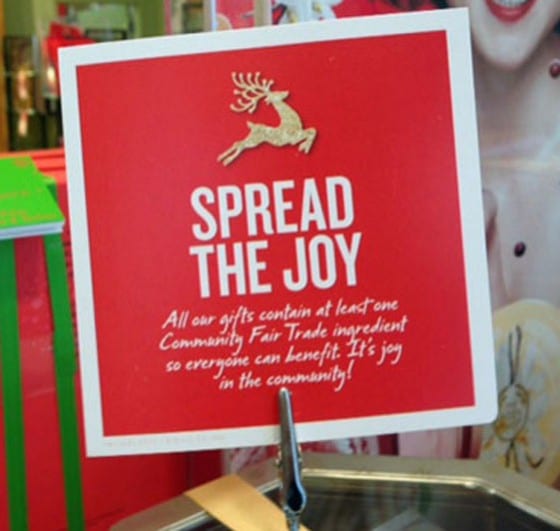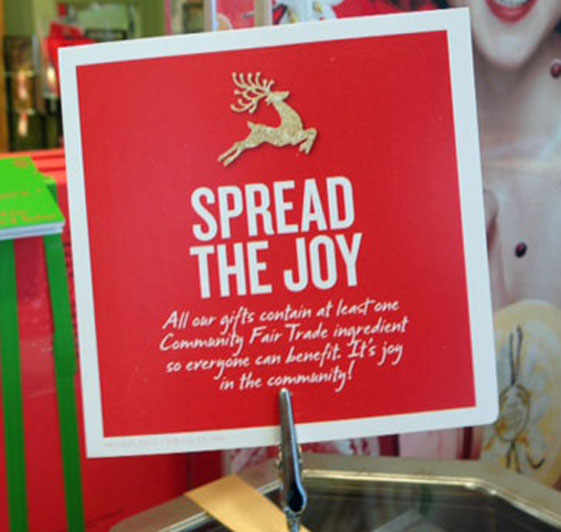 How do you know it's Christmas? Because there's a Jingle Bus, of course. Nothing like free public transit to make you feel all warm and fuzzy!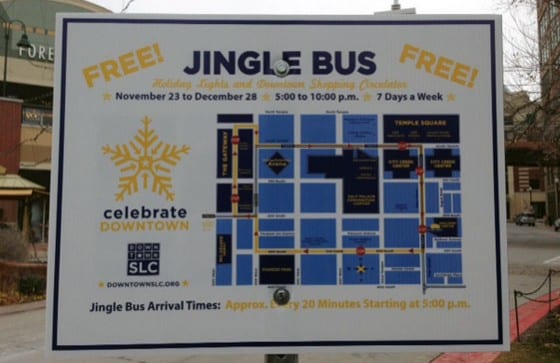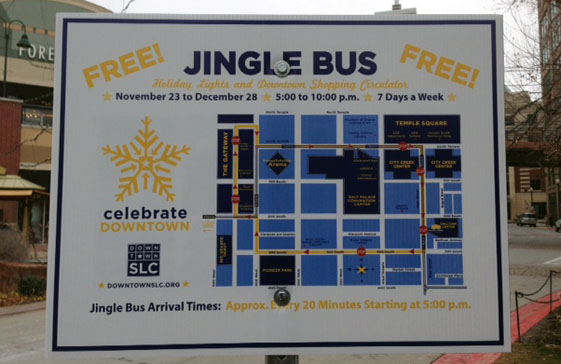 Feeling a bit selfish? Footlocker is the place for you. I suppose it might be hard for your loved ones to buy athletic shoes for you. After all, you probably have a very specific idea of what you want. And you probably have to try the shoes on to make sure they fit. So this marketing campaign is all about you. So much for the spirit of giving, I guess… bring on the Nikes!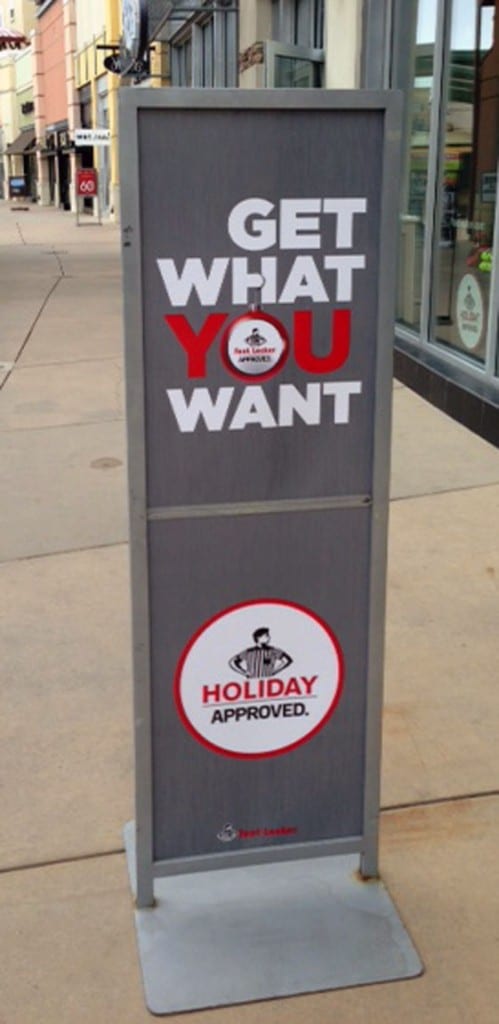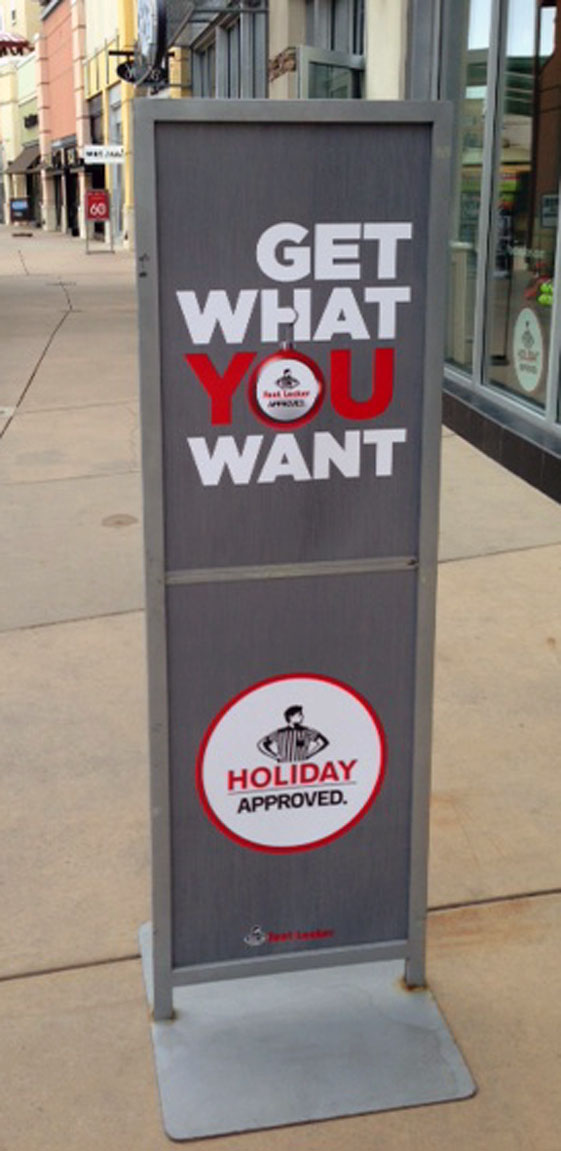 If you're still in the sporting goods frame of mind, hop over to Dick's Sporting Goods, where you'll find these nifty window decals on the front door. Give a gift that matters. Like a baseball glove. A pair of shoes. A golf club. Some winter gloves. A ping pong set. Or my favorite: a super hot guy wearing sunglasses. I don't golf, play baseball or ping pong and I don't need shoes or gloves. Guess that leaves the hot guy. I'm sure my husband won't mind if Santa brings me something nice from Dick's Sporting Goods.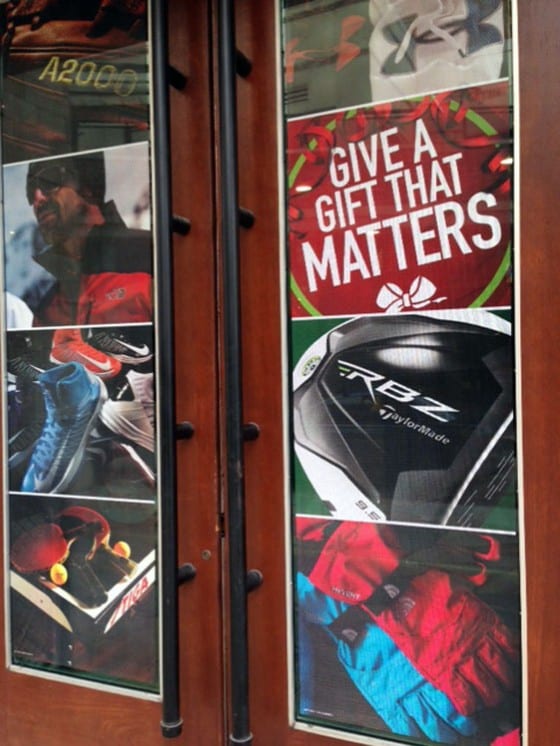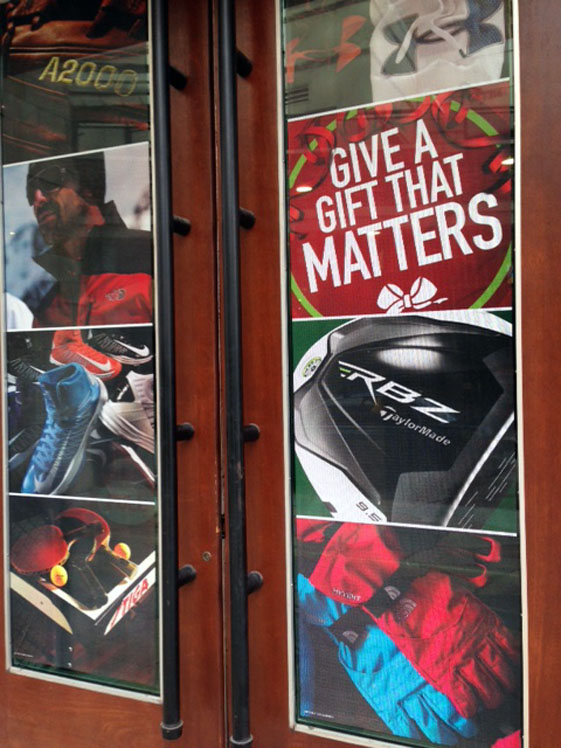 I love expensive kitchenware, though I rarely buy it. This store is one of my favorites to browse; it feels like real chefs would shop here (in reality, the store's demographic is just rich folks who can afford $500 copper frying pans). But I do love their Christmas signs. Clearly they have a sense of humor and they haven't forgotten to tailor their campaign to their merchandise. Kiss the cook! Better yet, kiss anyone who'll buy you a $500 copper frying pan.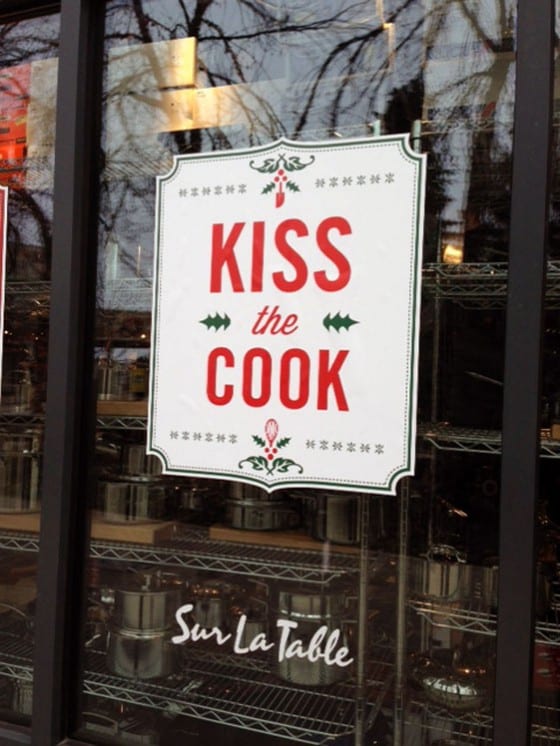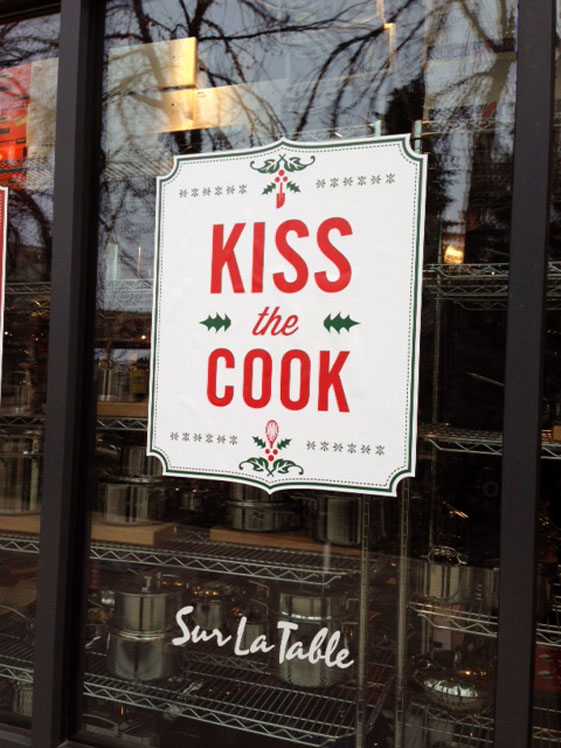 Heading home, and another sign it's Christmastime in Utah… here is Interstate 80 just a few hours later. Snow… no snow… grey skies…blue skies… yes, this is definitely December in Utah.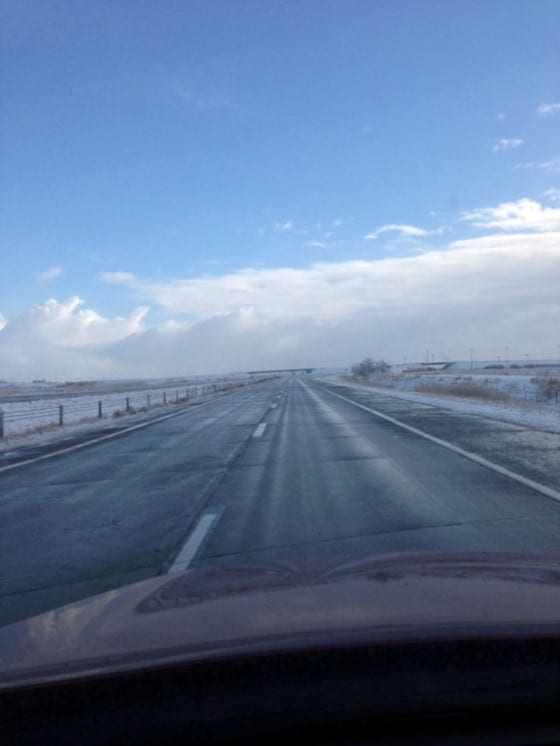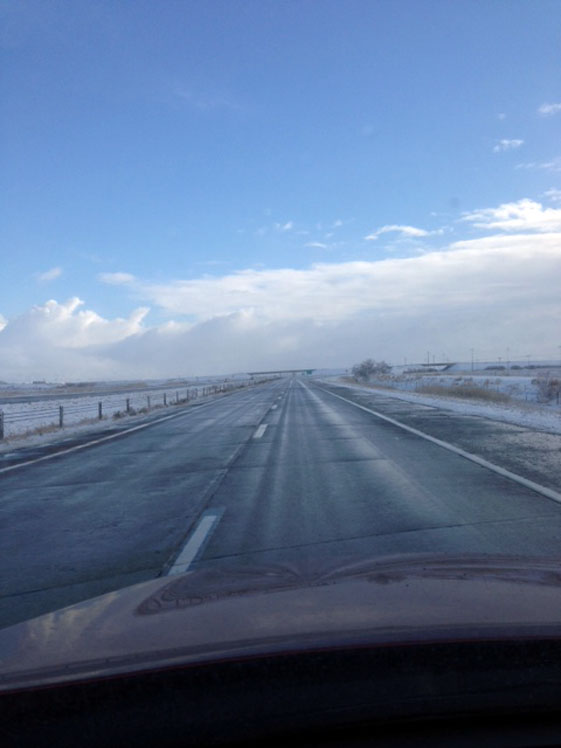 Retail signs aren't the only great signs that it's Christmas. I stopped to buy gas and the station was hosting a Holiday Coloring Contest. I think this should be the winner.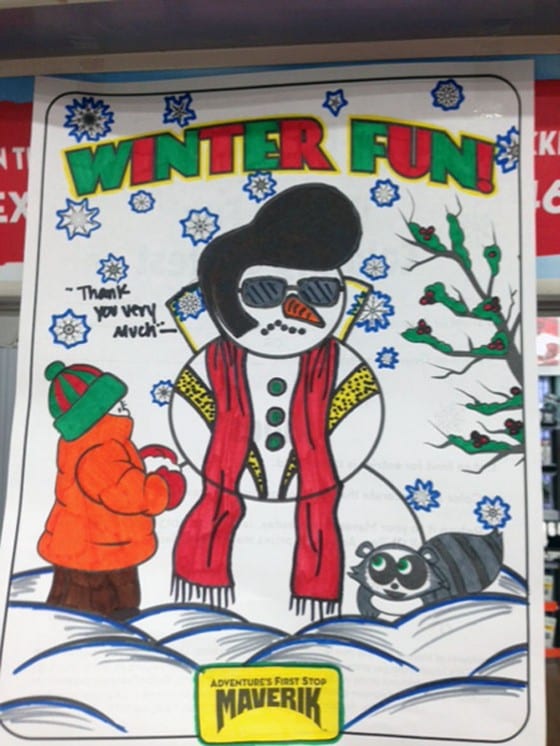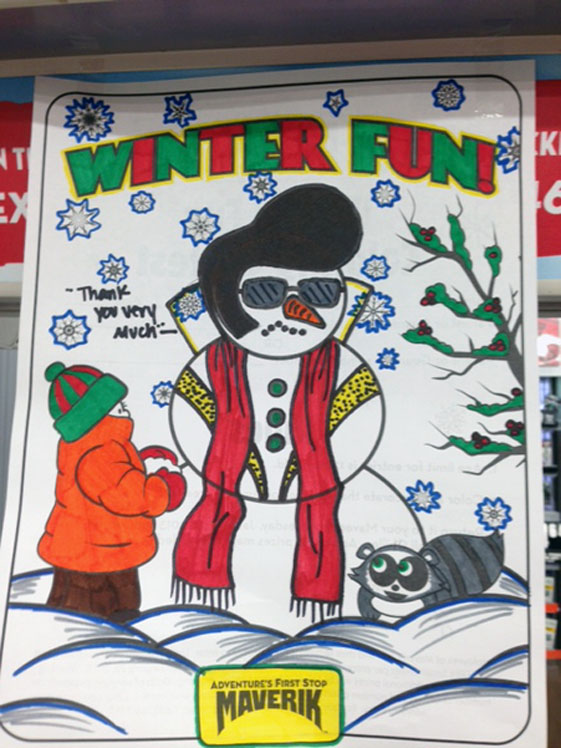 I love all the community events during the holidays. Here's a great banner advertising a production of The Messiah. One note: the original full-length production with orchestra and chorus is just over 2 hours long. If you  drink too much eggnog before you go you're going to want an aisle seat.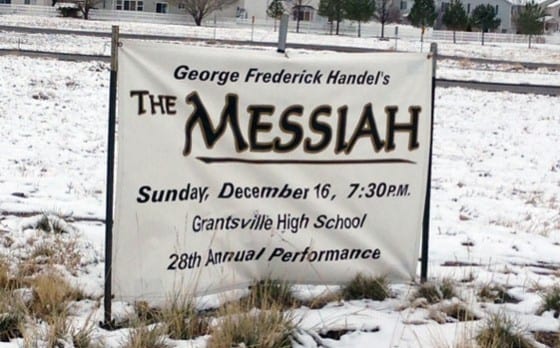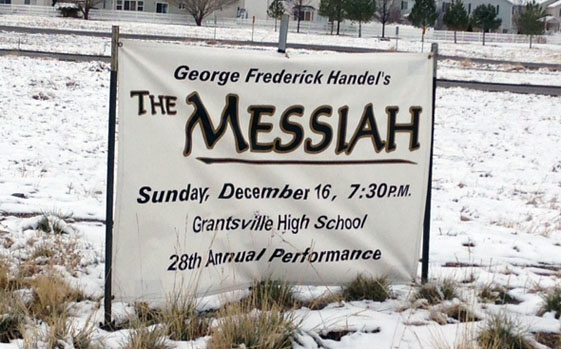 What is the best sign of Christmas, according to all school-aged children? This one. I think it's a very nice gift indeed that Parent Teacher Conference isn't until January… well after Santa has already doled out the goodies.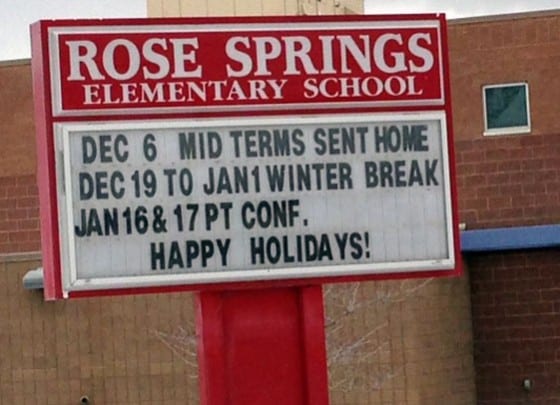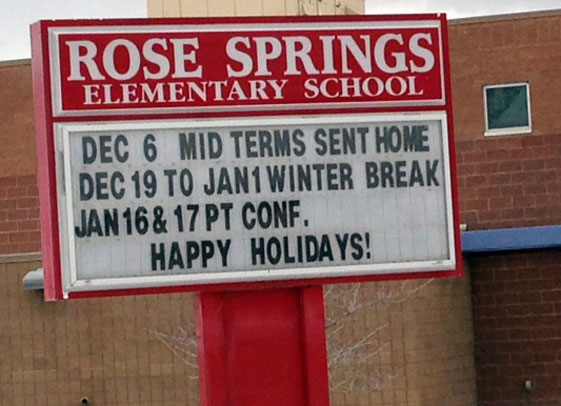 Merry Christmas from Signs.com! We hope you enjoy all the signs of Christmas; from actual signage to the little signs of the season you find all around you.