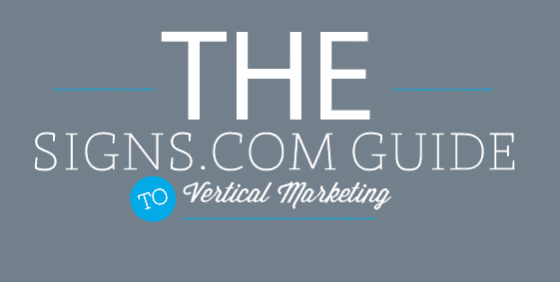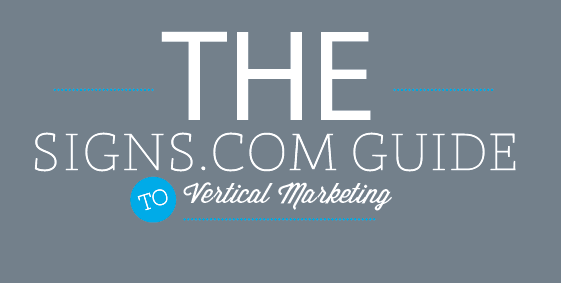 Some aspects of opening a small business come naturally to entrepreneurs: they're passionate about their product or services and they love talking to customers and clients. But entrepreneurs aren't always adept at marketing their services or thinking about how to focus their energy in ways that generate a profit. Our small business guide to vertical marketing will help you create and implement a plan. We'll also give you a marketing plan example so you can see how our ideas work in the real world.
Before you jump in and start throwing money at marketing, you need to do a little research to figure out who your target customers are, where you can find them and how to create an effective message. The first thing to do is identify your vertical markets.
What is Vertical Marketing?
In the most basic sense, there are two kinds of markets: horizontal markets and vertical markets. These two terms simply refer to the types of customers you're looking for.
Huge national chain stores like Walmart have horizontal markets. They market to everyone, because they carry a wide variety of products; such a wide variety that anyone might need at least some of the items Walmart has on its shelves. If you're a consumer with a pulse and a few dollars in your wallet, you are Walmart's market. So, the company directs its advertising to everyone—the general public.
Small businesses can't compete with Walmart. They don't have the buying power, or the square footage to stock in millions of products. So, they do better carrying more specialized products, and therefore, benefit more from vertical markets.
Vertical markets are very specific, narrow markets. Some businesses specialize in just one vertical market; others have several. Let's look at a case study that we'll use throughout this article to show you how to apply these ideas:
Brainy People Test Prep is a company that offers classes and workshops for people who are preparing to take standardized tests for all types of graduate schools.
Many graduate programs require prospective students to take a specific standardized test before applying. Some examples are programs in pharmacy, medicine, law and business (MBA). A large factor for acceptance into these programs is the score received on the standardized test.
Since it's so important, many students seek out tutoring or courses that help them prepare for the test so that they might receive the highest score possible.
Brainy People Test Prep offers tutoring for:
PCAT (Pharmacy College Admission Test)
MCAT (Medical College Admission Test)
LSAT (Law School Admission Test)
GMAT (Graduate Management Admission Test)
So, this company obviously does not have a horizontal market: many college students will not go on to graduate school. Rather, it has several vertical markets: people who want to earn pharmacy, medical, law and MBA degrees.
Where to Find your Customers
When you're focusing on specific vertical markets, you don't just throw marketing materials out into the world randomly; you have to go where the customers are. So the next step, after identifying your vertical markets, is to find your customers, so that you can be effective with your marketing techniques.
Brainy People Test Prep's vertical market customers are all people who are planning to apply for four specific types of graduate schools.
So where does one find people who are interested in medical school, for instance? Well, when those students first start thinking about the field, they often attend information seminars or talk to counselors on the medical school campus. So that would be a great place to start.
It wouldn't make sense for Brainy People Test Prep to advertise its services at a trade college for electricians. And marketing dollars wouldn't stretch very far if the company just advertised to the general public, because only a very small percentage of the population is preparing for those four types of graduate schools.
Narrow Vertical Marketing Can Produce Specific Results
While a company's vertical markets might encompass a small percentage of the general American population, that percentage may still represent a large number of people. There may be ways in which you can narrow your vertical and advertise directly to a very small sub-set of potential customers. You might do this for a number of reasons. Here are three:
1) Other companies are broadly advertising to all potential customers, so you can speak directly to challenges faced by a more narrow audience, and gain an advantage.
2) Perhaps you enjoy working with some kinds of clients more than others. These clients may be a sub-set of a larger vertical market.
3) Some clients may be more lucrative than others. If you can gain a larger amount of lucrative clients, you can make a higher profit.
While Brainy People Test Prep offers tutoring for four tests, the owners have found that they really enjoy working with pre-medical students.
Because the Medical School Admission Test (MCAT) is so difficult, and the medical school admission rate is so low, students often spend more time and money on resources to help them gain acceptance.
As a result, the company is able to charge a few hundred dollars more for MCAT prep services, as compared to law, pharmacy and business management programs.
In addition, Brainy People Test Prep has recently noticed a new phenomenon: in addition to the typical biology and chemistry majors, they're seeing more people with liberal arts degrees wanting to apply to medical school.
The medical schools are increasingly open to accepting these kinds of students. The only problem is that the requirements for liberal arts degrees don't always include the same rigorous biology, physics and chemistry classes as degrees in science fields. So, liberal arts students often need extra help with those subjects in order to be prepared for the MCAT. Which, for Brainy People, means extra tutoring services sold, which equals more money for the company.
So, Brainy People Test Prep decides to focus a marketing campaign on a very narrow vertical: People who wish to apply to medical school, but who have majored in a field other than science. To find those people, they'll talk to career counselors who work with liberal arts students, as well as advertising at liberal arts colleges and in liberal arts departments at larger universities.
Tell a Story
What will you say to your customer, once you know who he is and where to find him? More than ever, it's important to avoid blatant promotional advertising. Don't waste time and money telling your customer how great you are. Instead, tell a story that captures his attention… and his imagination.
To be effective at this technique, you really need to be able to get into your customer's head. What are his desires? His problems? His motivations? If you can't readily connect with him, find some people like him and ask them.
Let's say that the marketing folks at Brainy People Test Prep have done some research and have learned about the problems, desires and motivations of people in their narrow vertical marketing. They have three goals when writing the company's story:
1) Address the problem of the person without a science background, who wishes to enter medical school, and offer a solution.
2) Connect with that person's desire: to help others, to make a difference in his community.
3) Connect with that person's inner motivations: to achieve career success, to make money, to gain a good reputation.
There are many great books available that break down how to write such a story for your company. We like these:
It's Not About You: A Little Story About What Matters Most in Business by Bob Burg and John David Mann
Lead with a Story: A Guide to Crafting Business Narratives That Captivate, Convince and Inspire by Paul Smith
All Marketers Tell Stories: The Underground Classic that Explains how Marketing Really Works—and Why Authenticity is the Best Marketing of All by Seth Godin
Winning the Story Wars: Why Those Who Tell (and Live) the Best Stories Will Rule the Future by Jonah Sachs
Components of Your Vertical Marketing Plan
The components of your vertical marketing plan won't be any different than any other marketing plan—but they'll be tailored specifically to the vertical market you've chosen. The actual marketing pieces you develop will depend on your type of business, but might include:
A web site
A company blog
Brochures
Direct mail: Letters or postcards
Brochures
Signs
Unless you're a crack designer and a stellar writer, you might want to hire help creating these pieces. After all, they are often the first contact with your company that prospective customers have—they form the first impression. You'll want these marketing pieces to tell your story, look professional and be eye-catching.
Making Signage Work for Your Vertical Marketing Plan
At Signs.com, we know signage; it's what we do. So we'll focus here on the thing we do best—helping you design and create some fabulous signs that tell your company's story and look great doing it.
The Text
What will your sign say? That will depend on its purpose. If your goal is simply to alert students of your services, your sign might have your company's logo, a bit of text that tells some aspect of your story, and contact info.
Here's a great sign for Brainy People Test Prep to place on a liberal arts college campus: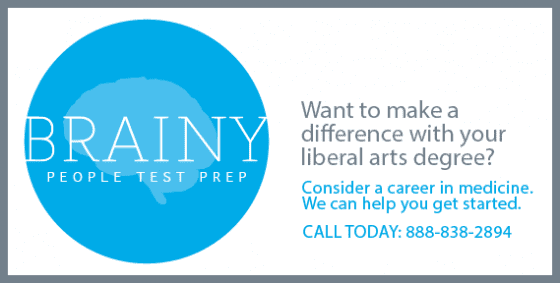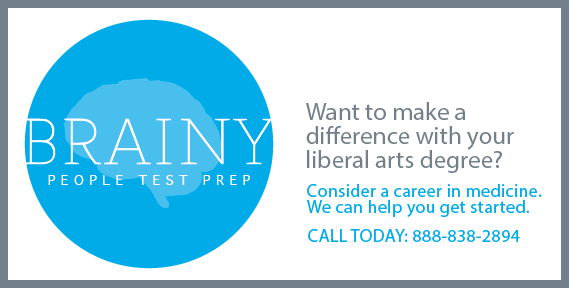 One way to find customers might be to host a workshop. To advertise, use a sign like this: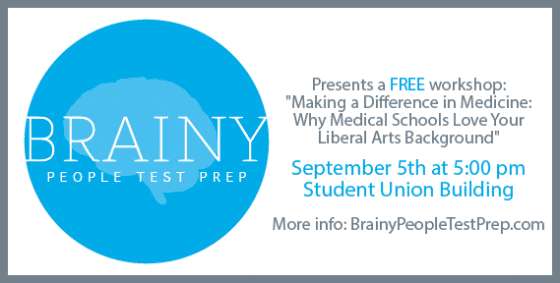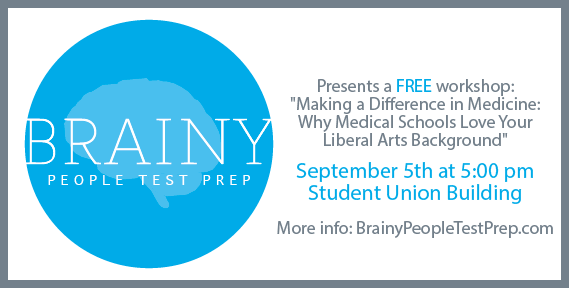 The day of the workshop, you'll need to direct students to the right location. For this sign, you just need your logo and a directional arrow: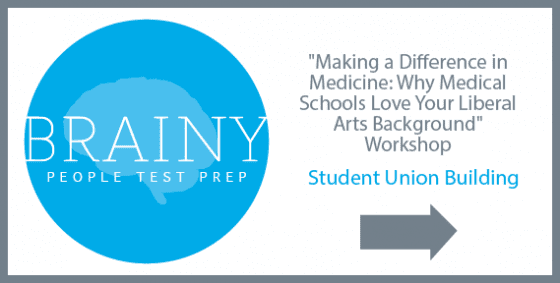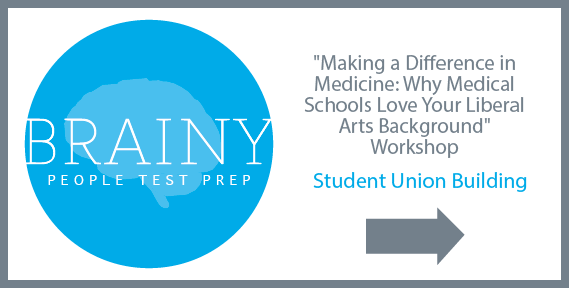 The Font
The design team at Signs.com has a lot to say about fonts. This article will give you some very specific advice about which fonts to use, and which to absolutely, positively NEVER use. In short: choose an easily readable, basic font.
The Color
Some colors work better than others. If your company already has a logo and other materials in particular colors, it's good to stick to those so that everything is cohesive. If you're creating your materials from scratch, here are the color combinations that have proven most effective: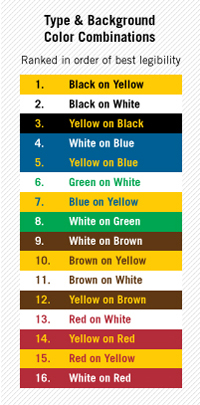 We've written a comprehensive article about Effectively Using Design Elements; check it out.
Vertical Marketing with a Purpose
The whole idea behind vertical marketing is that you are spending your marketing dollars to find customers who are interested in your products or services, which will be profitable for your business. Identify your vertical markets, write specifically tailored stories for each of them, and create marketing pieces (including signage!) that have narrowly-focused purposes.
Have you identified your vertical markets? If so, how will you create a marketing campaign for each? Tell us here!